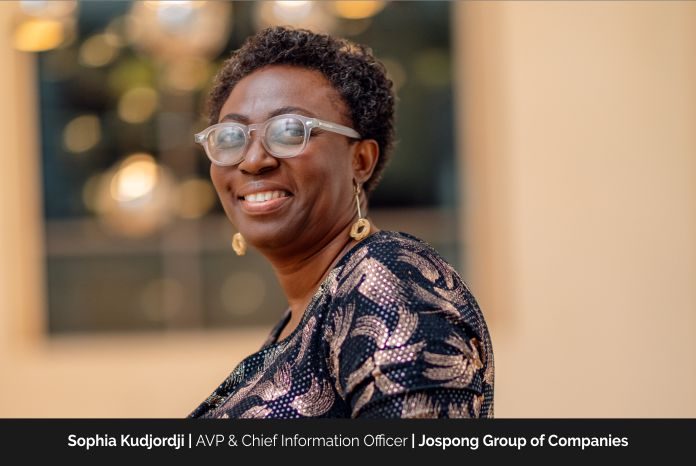 Sophia Kudjordji is the Chief Corporate Communications Officer of the Jospong Group of Companies. She is a Development Communications Expert with extensive knowledge in Public Relations (PR), Communications, and Sustainability. With over 26 years of experience, she has built a formidable reputation in the field and believes that to promote a company effectively; one must first fall in love with it. Despite facing challenges, Sophia remains driven to succeed, thanks to her passion for her work. As a result, she is among the top 10 most influential women leaders in PR and Communication.
"Success is the ability to touch and impact lives everywhere one finds themselves."
Early Life Journey & Education
Sophia came from a family of nine siblings and was born over five decades ago in Tamale. Her childhood was spent moving from one place to another as her parents (Police officers) were transferred for their work. Her secondary education was at Mawuli Secondary School, in the Volta region and Okuapemman Secondary School, in the Easter region of Ghana, followed by a diploma in journalism from the Ghana Institute of Journalism and a bachelor's degree in Sociology and Psychology from the University of Ghana, Legon.
Sophia holds a master's degree in Development Communication from the Ghana Institute of Journalism, an MBA in Leadership and Sustainability from the University of Cumbria in the UK, and a postgraduate diploma in Marketing from the Chartered Institute of Marketing in the UK and currently pursuing an MPhil in Stratetegic Public Relations Management at the University of Media, Arts and Communication, Ghana. Furthermore, Sophia has acquired certifications from the Chartered Institute of Marketing in the UK and the Ghana Institute of Journalism. She is also a member of several professional organizations, including the Institute of Public Relations in Ghana, the Chartered Institute of Marketing in Ghana, the International Public Relations Association, the Association of Public Relations in Africa, and the Ghana Journalists Association. As a member of the Climate Communication Chapter of the IPRA, she is a part of the team that developed the guidelines for Climate Communication, and she is a Board member of The Comms Avenue- An African Communication Network.
Journalism & Career Progression
Sophia started her career as a journalist with the Ghana News Agency in the Volta Region in 1994, where she rose to the position of a Senior Reporter. She also acted as a PR Advisor for the Volta Region Community Water and Sanitation Program supported by DANIDA. In addition, she hosted two programs, "Women's Corner" and "Youth World," on Volta Star Radio.
In 2000, she joined the British High Commission in Accra as a Website Editor. Subsequently, she was a liaison between the High Commission and the Police. For her extraordinary efforts in this role, Sophia was awarded a recommendation letter from 10 Downing Street, the official residence of the Prime Minister of the United Kingdom (UK).
Later, in December 2006, she took on a crucial corporate communications role at Unique Trust Financial Services (later renamed UT Financial Services and UT Bank). In addition, she supported the various businesses in the UT group, including UT Property, UT Logistics, UT Insurance, UT Private Security, UT Nigeria, and UT South Africa. While at UT Group, she held various positions, including Marketing and Corporate Affairs Manager, Corporate Affairs and Media Relations Manager, and External Affairs Manager.
After nine and a half years with the UT brand, she joined the Jospong Group in June 2016, and in November 2019, she was appointed as the Acting Chief Corporate Communications Officer for the Group. In her current position, she oversees a talented team developing strategies for integrated marketing communications, media and public relations, reputation management, stakeholder engagement, and corporate social responsibility, among other areas.
"One mantra of my life is "no one is indispensable, but I make myself irreplaceable."
Life at Jospong Group of Companies
The Jospong Group of Companies is considered one of the most diversified and significant entities in the private sector of Ghana, with a mission to improve people's lives. The Jospong Group's workforce comprises energetic, hardworking, and intelligent individuals, each playing a distinct role in driving the company's growth and success. It is the collective effort of all employees that have molded the company into what it is today, rather than the individual contributions of one person.
Founded in 1995 with a primary focus on printing and publishing, the company has evolved into a conglomerate with operations in 14 different economic sectors over the last two decades. Through the sterling leadership and vision of Dr. Joseph Siaw Agyepong, Executive Chairman and founder, the company has grown into a conglomerate that has received national and international recognition. Dr. Agyepong, is often called a "serial entrepreneur", "a gift to Ghana" and "ideas on wheels." The Jospong Group currently employs over 6,000 core staff and with over 250,000 job opportunities along the value chain.
The Group comprises more than 60 companies and is the largest waste management company in Ghana and operations in finance, technical and logistics, hospitality, multimedia, and more. It operates in Ghana, with some presence in Togo, Zambia, Angola, Sierra Leone and the United States. In addition, the company is presently exploring commercial rice farming. The Group's philosophy is centered around development through partnerships.
The company's operations are organized into five main categories: Environmental Sanitation, which represents over 60% of the firm's operations and includes the leading waste management company in Ghana, Zoomlion, which is a well-known brand for its work in the environment, sanitation, and circular economy. The Environmental Sanitation Cluster also boast of operations in liquid waste treatment, organic waste recycling to compost, dredging, and medical waste treatment facilities. Jospong also has interests in ICT and financial services, including two insurance companies, a pension trust, a venture capital firm, and a bank.
In addition, it has a strong presence in the technical and logistics space, including ports and terminal services, manufacturing, automobiles, plants and equipment, agriculture and agribusiness, and Commercial and Allied Services, which include a printing press, multimedia company, and hotel.
Sophia's expertise in strategic Communication and public relations has contributed to the management of the Jospong brand's reputation; the combined effort of all employees has ultimately led to the company's achievements. She firmly believes that life should be lived by taking bold steps of faith. Therefore, when presented with job opportunities, she only accepts them if she feels a firm conviction about the role. In the case of Jospong Group, she was drawn to building indigenous Ghanaian brands and was eventually convinced to accept the job offer due to the Executive Chairman's humility and generosity.
With divine blessings, Jospong is a conglomerate consisting of award-winning subsidiaries and individuals. Sophia hopes that the legacy of Jospong will endure and become a multinational group with a reach that extends across borders, taking locally recognized brands to a global arena, ready to contend at all levels and in every field. In addition, it is envisioned that the Jospong brand story will serve as a case study at Ivy League universities, challenging traditional ways of doing business and promoting the Jospong approach. This approach is characterized by tenacity, resilience, fearless risk-taking, and a heart-centered desire to improve lives.
"Success is all about people not money or fame, but the lives you have touched."
Definition of Success
Sophia has had the privilege of mentoring both in Ghana and Africa and has also participated in speed mentoring sessions through organizations such as Global Women in PR, The Comms Avenue, and Women in PR, Ghana. She attributes her success to grace and desires to continue giving back and assisting those eager to learn. She believes one may not be indispensable, but through mentorship, one can make oneself irreplaceable.
Sophia is also proud of the progress of the young individuals she has mentored, who are now making meaningful contributions. But, she says, "Success is all about people, not money or fame, but the lives you have touched." One of the guiding principles I live by is that success is only meaningful with someone to share it with. True success is having someone say, "if it weren't for you…" and look at you with admiration. But, ultimately, it's all about the people in our lives.
Awards and Achievements
Sophia Kudjordji has received over ten awards for her leadership as a woman, including recognition from India and Benin. However, one of her most memorable moments was when she was nominated for the Best Corporate Communication Personality for West Africa in 2019 by the World Marketing Award.
Sophia regards her most significant accomplishments as her efforts' influence on her organization and the wider community. She is proud to have spearheaded the transformation of the UT brand image, resulting in numerous accolades for the company and its CEO. Another noteworthy accomplishment was establishing the initial website for the British High Commission, and her contribution to the improved relationship between the High Commission and the Police.
Sophia has received numerous awards, including Ghana's Most Promising Public Relations Professional (2012), Public Relations Personality (2019), and being named as one of West Africa's top 20 Marketing and Communication Professionals (2019). In addition, she is a member of the Chartered Institute of Marketing Ghana, an Accredited Member of the Institute of Public Relations Ghana, and the African Public Relations Association.
In 2021, she was featured on the Y leader board series on YFM, where she shared valuable lessons to help young professionals develop their leadership skills. She also appeared on the "Real Show" on Metro TV, "Obaa Mbo" on TV Africa, and on the Lifestyle Cover of the Business and Financial Times Newspaper with the title "Sophia Kudjordji – The Making of the Silk and Steel Communications Juggernauts." Additionally, Sophia spoke at various events and platforms throughout the year as part of the Communication Masterclass.
Sophia was honored with the Corporate Communication Professional of the Year award at the 10th Marketing Awards and, along with her communications team, won eight awards at the National Communications Awards in 2021. She says, "I was deeply moved and tearful at that point in my career when I questioned my abilities. However, the greatest recognition for me came when I was preparing to give a talk to a group of young people, including my nieces and nephews, and I overheard my niece boast to her friend, "that's my aunt, and you don't want to miss her session!" I was humbled and overwhelmed to see my young niece's confidence in me."
Words of Wisdom for Aspiring Leaders
Leadership by example is a complex and challenging task. Sophia strives to live a life of integrity and recognizes the balance between art and science in public relations. She leads the team with a blend of flexibility and firmness, giving her team the freedom to generate new ideas and innovations while providing guidance and direction.
She adopts a nurturing leadership style, balancing support and care with firm direction. This approach allows team members to think, dream, and share ideas without fear of criticism or negative feedback, promoting an environment of innovation. There is a psychological need to prove oneself and to be acknowledged for one's unique qualities and contributions.
Leaders in various fields are responsible for mentoring and guiding the next generation, as they have had role models and mentors who helped them get to where they are. "I believe that as leaders in our various fields, we owe it to the next generation to share 'ourselves with them,'" says Sophia.
Tips for PR and Communication Professionals
As PR and Communication professionals on the African continent, we can shape and positively impact the perception of our countries through the power of storytelling. As the guardians of our brands and reputations, we must strive to be at the top of our game, even if we are not formally recognized or appreciated by our organizations.
PR and Communication are both an art and a science, but relationships remain pivotal even with the increasing demand for data-driven information. In light of the digital age, we must constantly train and upskill ourselves to stay relevant and engage with stakeholders effectively to build substantial brand equity. Despite the challenges and limitations that we may face, we must strive to be indispensable and remain relevant in the eyes of our organizations, shareholders, and the public.
Mantra for Work-Life Balance
Sophia says, "Everything in life comes at a cost. You have to make sacrifices in one area to excel in another." While striving for a perfect balance between work and life is desirable, achieving it can be challenging. In our society, the burden is often lightened due to the support system provided by family and others in taking care of household responsibilities. Ultimately, it requires good time management skills and setting priorities to find a balance that works best for the individual.
"Balancing personal and professional life – I often wonder if there will ever be that balance! It's more of a scale of preference! But, of course, one must give for the other to thrive. But the most important thing is to call for help when needed.
For women in a business setting, it is advised that they do their best, work as though working for God rather than for human praise, and trust that God will reward their hard work. She says, "…passion drives you even in the face of adversity." The message for aspiring businesswomen is to love what they do, work as if working for God, show respect to others, be humble enough to ask for help, and take things one day at a time.
Learnings From Challenges
According to Sophia, how people perceive and handle challenges varies depending on their beliefs and outlook. Sophia views challenges as a means for personal growth and development, testing her abilities. She says, "I have come to accept challenges as learning curves. I see them as the examinations of life that move us to the next level, depending on how we accept and deal with them."
Throughout her career, she has faced various challenges, some caused by her misjudgements and others as a result of misunderstandings from others. For instance, as a young journalist, she found herself in a dangerous situation at a stadium due to her impulsive remark. This experience taught her the significance of being aware of the emotions of others and the impact of her words.
Even the excellent book – The Bible states, "The tongue holds the power of life and death." Sophia has encountered instances in her career where she felt wronged and misconstrued, leading to unjust treatment. However, she always reminds herself that people are human beings first and foremost, regardless of any titles they hold. So, she strives to extend understanding and give people the benefit of the doubt as much as possible.
Sophia Kudjordji's Six Leadership Philosophies
Sophia Kudjordji's philosophies in life include that Everything that begins must end, but it should always end in praise. Her ultimate belief is that she is nothing without God.
Respect is crucial, and treating everyone with dignity and kindness is essential.
Remember that everything has an end, so don't assume anyone will always be there.
While no one is indispensable, strive to make a lasting impact and be remembered for your contributions.
When you help others succeed, you, too, will rise to new heights.
Be clear and confident in your beliefs and values, even if they are not popular or widely accepted.
Remember that your faith and confidence in a higher power are fundamental to who you are.
Conclusion
Sophia Kudjordji is passionate and enthusiastic about public relations and working with people. Sophia's biggest motivation is prayer, her family, and the word of God. She treats her team like family, sharing her highs and lows, giving praise when deserved, and providing constructive criticism when necessary. She trusts her team and is always willing to stand up for them. She says, "Be humble enough to show you are vulnerable and need help." It is essential to be able to ask for help when needed and to be humble enough to show your vulnerability.