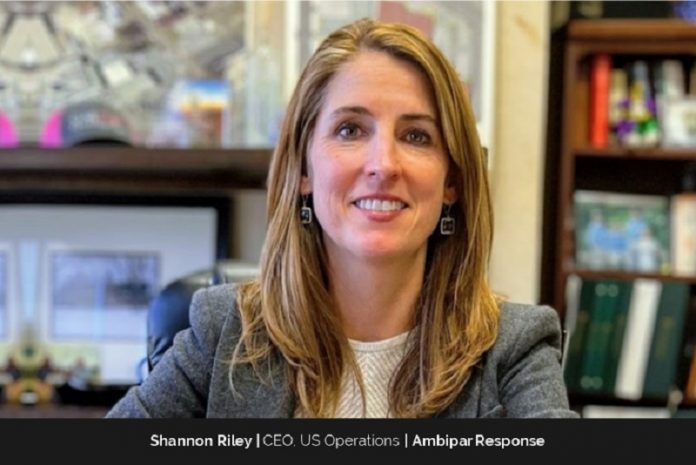 Shannon Riley is a "grinder." She believes in working hard to better those around her and making a positive impact in every aspect of their lives. She is, therefore, constantly pushing forward to be her best in every role she plays. Currently, as the CEO of Ambipar Response U.S., Shannon is demonstrating her remarkable leadership while managing the ongoing operations of the company's 16 bases across the country.
In January of 2022, Shannon took the helm of Ambipar Response's U.S. operations. In a short time, she has made a significant impact on how the company serves its clients in the country. At present, Shannon is integrating the company's service capabilities across its entire platform, to bring everyone together as one Ambipar team. "We have had great success combining teams to tackle large projects while maintaining our same level of quality and service," she says.
Under Shannon, Ambipar USA is committed to developing its employees, continuously improving its operating procedures, and automating its processes. She wants to ensure continued improvement in the quality of their service to clients.
Helping Companies Take Care of Planet
Ambipar Response is a leading environmental management and emergency response organization. It works from end to end in environmental management and waste recovery. The company's goal is to help companies take care of the planet, which it accomplishes through its strong environmental management and sustainability capabilities.
"We are a leader in hazmat response, environmental services, waste management, and training," Shannon says. "We believe that, from the work we do, we have great potential for reducing the environmental and social impacts we are experiencing today. We do this through our key pillars – Prevention, Preparedness, and Response."
Currently, Ambipar Response is represented in 16 countries, spread across 5 continents, with well over 200 bases. It has set a global benchmark in responding to environmental emergencies, involving both hazardous and non-hazardous products. Shannon points out that the company operates in all modes of transport – roads, railways, ports, airports, pipelines, and maritime – both onshore and offshore, across industries. It offers its services to manufacturing sites, mining companies, pipelines, transportation companies and responds to natural disasters.
In the U.S., Ambipar's headquarters is in Birmingham, Alabama. Shannon reveals that their US training facility is set to begin operations in late 2022, and it will be located in Pueblo, Colorado.
Life Before Ambipar
It is Shannon's education in Chemistry that made her interested in environment management. "I loved the work I was able to do with my professor from Furman University at the Los Alamos National Labs," she says. "That was probably my first introduction to the impact Chemistry can have on the environment." In 1999, Shannon founded Birmingham's One Stop Environmental.
She could take a plunge into entrepreneurship because of her husband's encouragement. At the time, she was a young mother to a 4-month-old. Shannon recalls that she was miserable with her state of life, and it is her husband's love and positive encouragement that instilled in her the strength, confidence, and courage to start up a business in a very male-dominated industry. The role of the businesswoman allowed her to fulfill her desire to be an active mom.
"My only business education was watching my father run his business," Shannon says. "My competitive nature; grit and determination that success was the only option; and later realized enjoyment of the process – kept me going through many rough patches of growing a new business."
She built One Stop Environmental into the Southeast's largest woman-owned, full-service, environmental company. It performed HazMat emergency response, environmental remediation, and industrial services for more than 20 years. In late 2020, she sold her company to Ambipar, where, post-acquisition, she served as President of the Southeast until her announcement as the CEO of the U.S. operations.
Shannon believes that Hurricane Katrina is what led to the start of her career as a "true" CEO – six years after she founded her company. Under her exemplary leadership, her team proved that they were capable of handling large projects. "It was our entrance to disaster response work, and the company grew 10-fold in one year," Shannon says. "Many processes had to be established, and some of our best employees today came aboard our team at that time."
Shannon received her undergraduate degree in Chemistry from Furman University and a Master of Chemistry from the University of Alabama. Outside of work, she serves on several boards in the community, including Christ Health Center, Southern Research Advisory Board, and The Leadership Board for the University of Alabama.
Shannon considers 2008 Entrepreneur of the Year and 2014 Stevie Female Executive of the Year awards as her proudest achievements. Her favorite award, however, is the 2015 Stevie American Business Awards. It is because her daughter came with her to Chicago for the awards banquet. Shannon says, "What a fun 'bring your daughter to work' weekend for me!"
Challenges Galore 
Shannon has encountered a number of challenges in her professional life. "There are really too many to list," she says. However, she believes that hard times often result in valuable learned lessons that produce great success in the future.
Very early on, Shannon figured out that cash flow would be her biggest hurdle. She explains that fast growth in a capital-intensive industry on a tight budget is manageable but requires constant oversight. "The phrase 'cash is king' was very evident and a valuable lesson as I grew," she adds.
There were many other roadblocks along the way, but they strengthened Shannon's determination to succeed along with her network of trusted relationships. She says that just as inside her business, it takes many people with different assets to be successful, that is also true for the company's external business relationships.
Shannon also learned never to accept "no" as an answer. Instead of giving up after a rejection, she would go back to her worktable and rephrase her question, improve her presentation, and strengthen her position. "There is always a 'yes' to the answer you need," Shannon says.
Regular Day Is Never Regular
Shannon's regular day is never regular. She points out that currently, they have 7 companies and 16 locations across the US that are becoming one. In addition to that, they are building their training center in Colorado and integrating ideas from Brazil. "I am certainly never bored," Shannon says.
She likes to spend time with her team, prioritizing relationships from field supervisors up through management and getting feedback on the needs they have, and the results of decisions made. Nearly every other week, Shannon tries to visit a different base location. In addition to that, she also spends a good amount of time over zoom speaking with their regional leaders.
"And my visits to Brazil energize me with inspiration for our teams and help me stay aligned with our board and vision for Ambipar's future," says Shannon, who is motivated by the impact she can have on her team.
"I try to motivate my team by walking by their side and then empowering them to continue forward implementing the vision and plan we built together," Shannon says. She derives her encouragement from growth in her people, growth in revenue, and increased client satisfaction.
Maintaining a work-life balance is "very hard" for Shannon at the moment. "I say often that you have to look at your work/life balance on a macro level and give yourself some grace," she says.
Right now, Shannon has stepped into a new role, and therefore, her balance has shifted more towards work. She, however, knows that as she achieves milestones and gets processes in place and key personnel hired, she will be able to "shift more central or a little family focused."
Shannon is married to Richard Riley, owner of Simpson Plastering, and she is a mother to four children – Griffin (24), James (22), Harris (20), and Reagan (17). Once she gets home, she likes to spend time around the dinner table with her husband and kids, which helps her shift to mom gear.
Both she and her husband take an active interest in their kids' school and athletic pursuits. And, as a family, their favorite place is in the back woods of Montana. "Our family has enjoyed Montana together since 2007," Shannon says. "We have spent time camping, hiking, fishing, skiing and those memories and dreaming of our next adventure keep me sane."
Edge Over Competitors
Ambipar's attention to high-level training and safety standards sets it apart from its competitors. It has a centralized call center that supports the teams in the field with resources, technical info, safety, and more. Shannon says that this helps them maintain consistency across their entire platform, providing the same standard of service to clients no matter their location in the world.
Ambipar is also a 360-degree company – committed to sustainability. "It is not just greenwashing," Shannon points out. Through their Ambipar Environment company, they provide a platform that features complete solutions for industrial waste valuation, post-consumption, post-industry, recycling of various types of materials, coprocessing, reverse manufacturing, and other waste management-related services.
Additionally, the company is a genuine carbon credit generator to compensate GHG emissions of its clients. Its focus is on low-carbon, circular economy, and ESG practices. "We are committed to innovation, and we prove that through our research and development center, where we have 22 patents that promote the concept of the circular economy by adding value to industrial byproducts," says Shannon.
Next-Generation Employees
Ambipar is committed to being a leading environmental management business. This commitment is backed by its greater understanding of factors related to environmental impacts, which can affect the planet as a whole. Shannon points out that bringing this awareness to the next generation is key to holding on to their leader position.
"Our business is a tough one," she says. "It is very exciting, but it requires the ability to work long hard hours out in the elements." The company has invested a lot in training, and it has developed a platform specifically for that. The platform enables Ambipar to develop all its employees worldwide by applying the same procedural, health and safety standards and using instructors that respond to actual emergencies in the field and training centers spread over Brazil, Chile, Peru, and the U.S.
"This investment in training gives our next generation of Ambipar employees the ability to excel and become a leader while working in a multicultural environment regardless of their level of education," says Shannon.
Plans for the Future
Shannon points out that in 2022, their focus has been on standardizing their policies, training, quality, and safety standards. The year 2021 was a period of intense and rapid growth, both organically and through acquisitions.
In the United States, Shannon says that they currently have 45 percent geographic coverage and the ability to combine resources to tackle large projects or cross-serve their clients. "My goal from here forward is continued growth to increase our geographic coverage, decrease response times, and offer more services to our client base," she adds.
What Is Success?
For Shannon, success means having a positive impact on the people around her. When it comes to business, it is all about knowing that every employee is developing into a better person – through training and advancement opportunities at work. "Our entire team's skills together are creating a quality company that delivers to the bottom line, and most importantly takes care of every client – consistently producing the quality, timely service they need," Shannon says.
When it comes to her personal life, success means being a "physically and emotionally engaged" wife to her husband and mother to their four children. "It is the time we spend laughing around the dinner table at night that keeps me smiling," Shannon says.