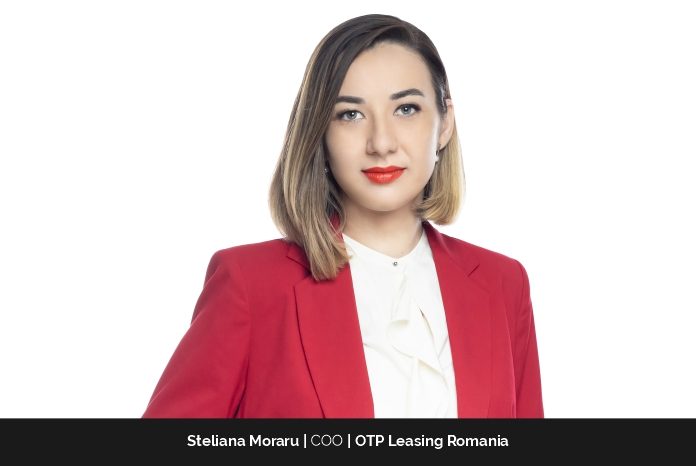 Steliana Moraru has a diverse background that spans business management, digital transformation, marketing, and corporate social responsibility. She holds a Ph.D. degree, obtained with a thesis rooted in two of her main fields of interest – Big Data in Communication & Public Relations. She has also completed a business management program at Maastricht School of Management, along with leadership training, customer care, marcomm, and operations.
Over the years Steliana worked for local and international organizations and her focus has been on developing innovative projects that harness the power of technology for social good and software product development. She has been part of teams that developed innovative tech projects, e-government, and social welfare technology projects. The primary markets she's worked in during her tenure include Central and Eastern Europe.
Steliana is Board member at Global Women TechLeaders and Board Member of UniHub – Bucharest University's Entrepreneurial Students Organization. She occasionally serves as a mentor and speaker. She is a guest lecturer at local universities, covering topics like leadership, marketing, lean startup, and digital marketing. Currently, she's a lecturer at Skillab, an international learning platform, where she teaches the "Women in Leadership" class.
In her current role as Chief Operating Officer at OTP Leasing, part of OTP Group, Steliana is responsible for contributing to the company's vision implementation, changing the status quo, process improvement, and acting as a liaison with all departments and their customers, ensuring they provide best-in-class services. She manages the company's back-office operations: marketing, IT, strategic projects, customer care, quality control, insurance, and logistics with the purpose of raising the bar in their services.
Steliana's inspiring journey to the top as a woman in leadership
Steliana comes from a modest background, being raised by a single mother in a small Romanian town. Her first aspirations were rather linked to her fears – not to be mediocre, not to level up from that particular situation, or not to be good or smart enough. She turned those fears into courage, which led her to become a high-achieving student, with plenty of diverse projects under her belt. These experiences inspired Steliana to want to become a lawyer, a politician, or a diplomat.
Her journey as a woman in leadership has been both challenging and rewarding. The challenges she has faced have not deterred her; in fact, she claims that they have made her realize the strength of her resilience and the depth of her determination. "They've also taught me the importance of empathy and collaboration in leadership roles," she further states.
As a woman leader, Steliana's aim is to influence the next generation in a way that encourages both men and women to question and break down gender biases in leadership. She aspires to lead by example, showcasing that leadership qualities aren't gender-specific and that women can lead just as effectively as men.
To make an influential impact on the next generation, Steliana focuses on mentoring and coaching, sharing her experiences, and volunteering. She believes in fostering an environment that empowers individuals to take on challenges, learn, grow, and ultimately, take on leadership roles themselves.
Success can mean different things to different people.
"Defining what success means for each of us might be correlated with a lighthouse, either guiding us towards the shore or through the storm, or it might be our foe if it is established on shallow pillars," Steliana says.
Currently, her definition of success is rooted in the belief of keeping her curiosity and love for continuous learning fueled. It is still a fulfilled ambition, a bid for lasting change brought to life, yet it is comprised of consistently good enough work, not only peaks of excellence.
Setbacks and challenges are a part of growth.
"I have often found myself as the only woman in a room, and the youngest. I have learned how to transform my challenges into ways to differentiate myself. Being a young woman in a board full of men, I bring a different perspective, challenge assumptions, and provide a unique positioning. Being a businesswoman in a room, I bring cultural diversity, openness, and new opportunities for growth," states Steliana.
Steliana has countless stories of lessons learned along the way:
Having a great organizational culture is not enough if you don't also have a great product.
one single person can negatively impact an entire team.
lack of discipline is an important contributor to our development.
learn to set the system right from the start; success is a lousy teacher.
learn to give and accept feedback in a constructive way.
hire the right person for the job and link it to the company's vision – be ready to make tough calls when these shifts.
don't let unresolved important conflicts fester.
make uncomfortable choices.
Being a supportive hands-on leader
In terms of keeping the team at OTP Leasing motivated, Steliana approaches it from a position of an enabler. Firstly, she focuses on her behavior towards every member of her team, which is based on curiosity, respect, trust, and continuous learning. Secondly, she believes that motivation comes from team empowerment.
Steliana encourages her team members to take ownership of their roles, ensures they have the necessary resources, tools, and information to perform at their best, removes obstacles that hinder team performance, foster collaboration, and provides mentoring and coaching. She wants to provide them with the best conditions to perform and achieve their goals.
Maintaining a work-life balance
Steliana believes more in a dichotomy that relies on the balance between achievement and enjoyment. There are periods when the professional side takes the reins, and there are moments when she prioritizes her personal life.
"I strongly believe in discipline and time management to use my time as efficiently as possible," she states.
As an early riser, Steliana always has a well-planned day ahead. Her morning routine revolves around self-care, including activities like exercise, reading, and planning the day. The day itself is dedicated to daily business, like meetings, strategic work, reading, and hands-on work with her team. In the evening, Steliana usually focus on her personal life, spending time with her loved ones, or working on personal projects. She says that her favorite leisure activities are related to art and creativity, such as visiting exhibitions or theater performances to discover new creative places.
A go-getter, fostering a culture of innovation.
Steliana's personal goals revolve around continuous growth, both as an individual and as a leader. One of her primary short-term aspirations is to work towards enriching her experience in the international market and contributing to building more value by connecting and enabling people at a higher, more complex level.
In the long term, she aims to achieve even more breadth and depth in her managerial journey by taking up new challenges as a top manager. As part of her growth plan, Steliana also aims to cultivate a strong entrepreneurial mindset.
"In the changing times we live in, I want to be able to identify new opportunities quickly and foster a culture of innovation within the teams and companies I work with," she says.
Advice to Aspiring Women in Leadership
Steliana encourages all aspiring female leaders to maintain a keen sense of curiosity and embrace a continuous learning mindset as you strive to make a meaningful impact in your field of expertise. She further advises to be courageous, seek out opportunities, and trust in your unique perspective and strengths. Steliana also motivates women to be surrounded with mentors and allies who support and uplift you, and don't hesitate to advocate for yourself and your ideas.
Conclusion
Steliana Moraru is extremely passionate about how technology can change communities, data in all its forms, and working with people who want to drive positive change. She is dedicated to advancing the topics of #womeninSTEM and #entrepreneurship for students.