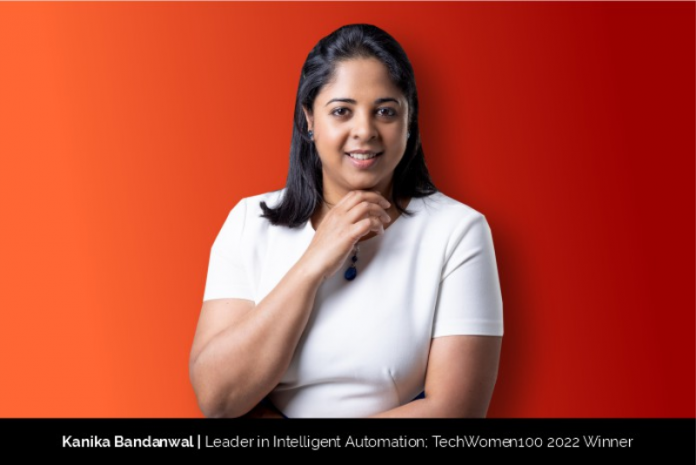 In this edition of our Cover Story, we have the privilege of speaking with Kanika Bandanwal, the Head of Automation for the UK & Ireland at her current organization. She is a renowned name in the digital technologies industry and has earned a place on the "Iconic Businesswomen to Follow in 2023."
Kanika, when asked to describe herself in one word, chose "courageous." Her professional journey has been anything but straightforward, starting as a field engineer at Schlumberger Oilfield Services in a desert camp in Libya. After outshining in that role, she left her promising career to earn an MBA at Wharton Business School, University of Pennsylvania in the US right at the height of global financial crisis in 2009. Transitioning to campus life and adjusting to a fast-paced B-school environment was no small feat after working 4years without weekends.
After gaining experience in consulting in the US with Deloitte Consulting, Kanika moved to the UK and pivoted to a completely different area of expertise and industry. She then ventured into an unknown and emerging field and progressed her way to leading the Intelligent Automation team in her current role. She credits her success to her incessant curiosity and her unwavering determination.
Kanika says, "Along the way, sometimes I won, and other times I learnt! I can't wait for what comes next."
From a young age, Kanika has displayed an unwavering spirit of a self-starter, carrying this trait throughout her academic and professional life. During her first job as a field engineer, she went above and beyond the expectations of her role, consistently striving to do things better and faster. This dedication and hard work earned her swift promotions, leading her to become the youngest Lead Engineer at a client's request at Schlumberger.
As she climbed the corporate ladder, Kanika's definition of success metamorphosed. No longer solely centred on professional progression and external validation, it now encompasses her overall well-being and that of her loved ones. Additionally, Kanika recognizes the significance of fostering growth and development among her team, taking the time to understand their unique circumstances and aspirations.
In her words, "beyond the sales targets and the metrics, we are all people before professionals; if we as leaders and businesses focus on taking care of the people, professionals will be taken care of."
Join us as we delve into Kanika's incredible journey and glean the wisdom she has acquired along the way.
The Beginning of Kanika's Professional Career and the Event That Sparked It
Kanika, who holds a bachelor's and master's degrees in technology from the Indian Institute of Technology Delhi, began her professional journey at Schlumberger Oilfield Services (SLB), the world's largest oilfield services company, as a wireline field engineer in Libya. During her three-year tenure in Cairo, Egypt, she rapidly advanced through the ranks in the field and encountered the challenges of being a woman in a male-dominated environment. However, she found the experience rewarding, as it allowed her to develop her skills in working with people and gain a deeper understanding of herself and her strengths and developmental opportunities.
After gaining valuable experience in the field, Kanika sought to expand her skillset by pursuing an MBA from Wharton Business School at the University of Pennsylvania, where she specialized in strategy and finance.
Following her MBA, Kanika joined Deloitte's supply chain and manufacturing operations practice in Houston, where she advised mining and oil & gas clients on operations excellence. She later moved to Deloitte's UK practice. Kanika reinvented herself as a sourcing and procurement subject matter expert in the financial services sector, where she gained experience in digital procurement. When an opportunity arose within Deloitte to join its robotics and cognitive automation practice, she made a move and continued to upskill herself in intelligent automation.
Kanika's Burgeoning Passion for Digital Technologies
Kanika's interest in digital technologies was sparked by her role as a management consultant, where staying ahead of industry trends and advancements was crucial to success. Her research into digital supply chain networks directed her to the exciting field of robotics process and intelligent automation. She was drawn to the versatility of Intelligent Automation, which could be applied across industries. It allowed her to combine her strategy and operational excellence expertise with technical experience gained as part of large-scale software rollout programs. It made intelligent automation the natural next step in her professional journey and solidified her passion for the digital technologies industry.
Kanika's Path to her current role
Kanika is a lifelong learner driven by a passion for digital and its potential to create value for businesses and improve the lives of individuals. That's why she switched from supply chain consulting to intelligent automation. With McKinsey predicting that 60% of jobs will be impacted by automation over the next decade, she saw this as a prime opportunity to make a meaningful impact in her professional life. She concurs, "Intelligent automation or IA has the opportunity to significantly disrupt our professional and personal lives over the next decade."
"With so many exciting things happening within IA, I felt stagnated in my previous role. I sensed that I had learned whatever I could." says Kanika.
Her quest for professional growth and her passion for digital technologies led her to seek out an organization with a solid technical foundation in automation which led her to her current organization and role.
Challenges are Blessings in Disguise: Kanika's Take Away!
Embrace the uncomfortable, for it is where growth happens. Society only celebrates success, but actual evolution and learning come from facing and overcoming failure. Kanika encourages young professionals to embrace challenges and overpower the fear of failure. She asks them not to shy away from it. Kanika says, "honestly, if you haven't failed a few times by the time, you hit 20, try harder, and you will be thankful for it later in life."
She recognizes the value of challenges in personal and professional growth. With a successful career spanning 15 years and multiple continents, she has encountered and beaten numerous obstacles.
One such challenge was being a woman in a male-dominated oil & gas industry, where she faced constant sexism and was underestimated by her colleagues. However, this experience taught her to hone her work ethic, stand up for herself and understand the importance of self-confidence and ambition.
Another challenge was leaving behind a great personal and professional support network and a flourishing career to relocate to a new country and getting acclimatized to a completely new culture, market dynamics and subject matter. Kanika recollects that she struggled to give herself time, permission and space to adapt to a new country and organization and instead threw herself in the deep end from day one. As a result, Kanika eventually faced burnout, anxiety, and clinical depression, leading her to realize the importance of balancing work and personal life.
Kanika learned the hard way that you are not your job and that taking care of yourself is essential for long-term success and happiness. These lessons have made her a stronger and more resilient professional, and she is passionate about sharing her experiences with others to help them grow and succeed.
Kanika expresses, "recovering from that burnout has been the hardest thing I have had to do. But it gave me the wake-up call that the buck stops with me. Period. I need to prioritize myself. And it is my responsibility to create the life I want, and my career and professional life should fit within it, not the other way around."
Kanika's overall experience taught her valuable lessons that have completely transformed her outlook. Although she could write pages about the lessons learned, here are a few highlights.
Self-reflection was essential to Kanika's journey, as she realized that her career and identity were inextricably linked. It led to a period of soul-searching for Kanika where she recognised, she needed to better understand her overall goals and priorities to determine how her career progression fit in it.
The realization that "Nothing changes if nothing changes" highlights the importance of taking action and making a difference. Kanika learned that simply accepting the status quo will not bring about any change. One must take the initiative and make an effort to create a shift.
She also highlights the importance of understanding that a career is a marathon, not a sprint. "Don't lose sight of the big picture in the race towards your next step up the corporate ladder", she says.
Starting from where one is and gradually building up is crucial to success in any aspect of life, including one's career. Like a marathon, success is achieved through consistent effort and dedication. Kanika learned the importance of taking small steps and showing up daily, one day at a time.
Setting boundaries is essential for personal and professional growth, as well as for maintaining one's well-being. Kanika's previous experience in a demanding job with a taught her the importance of being intentional about her boundaries and ensuring she was not sacrificing her health and well-being for her career.
Asking for help is not a sign of weakness but confidence and self-awareness. Kanika struggled with this initially, as she was used to being independent and figuring everything out independently. However, she learned that accepting help and seeking support is crucial to personal growth and success.
Kanika reflects on her experience as a valuable lesson in building a sustainable career and life. She believes that taking a step back and reassessing the basics – such as prioritizing health and well-being – is crucial in building a stronger foundation. Furthermore, the power of acceptance and perspective in overcoming challenges cannot be understated. With these tools, Kanika feels ready to tackle any obstacle and build a brighter future.
Kanika's Expertise That Has Facilitated the Growth and Success of Her Teams
Kanika has taken a structured approach to drive growth in her current role, focusing firstly on delivery excellence. It involved developing strong client relationships, standardizing delivery methodologies, and creating learning pathways to support the growth of junior team members.
In parallel, Kanika turned her attention to building the pipeline and the project portfolio. She worked closely with the pre-sales and sales teams to drive sales and actively recruited talent to grow the team threefold in 18 months. Kanika was a senior member of the team that got recognized as UiPath's Public Sector Partner of the year in 2021. In 2022, Kanika led the team to win Blue Prism's Partner Excellence Award.
Her efforts have earned her recognition from clients and the industry, and her focus on ensuring delivery quality with sales and team building has resulted in a thriving intelligent automation practice.
Cultivating a Culture of Integrity with Kanika
"If we all understand that half of our lungs are trees – we don't need to be convinced to care for them, do we? (Credit: Sadhguru)" is a beautiful analogy and the concept by which Kanika lives.
For Kanika, fostering a culture of integrity starts with building trust and open communication between leadership and team members. It enables both sides to discuss expectations and align on delivery quality, experience, and culture. It also allows for honest conversations about strengths, weaknesses, and aspirations and how the organization and leadership can support them.
Kanika also prioritizes empowering her team, encouraging them to take ownership of the team's direction, work, and culture. By involving them in strategic decision-making, she creates a sense of accountability that reinforces the importance of integrity.
Nurturing a Culture of Innovation
Kanika, a renowned expert in intelligent automation, recognizes the significance of working with passionate individuals about technology and continuous learning. In her role, she aims to continually fuel their fire for knowledge, growth, and development.
To create and maintain a culture of innovation, Kanika believes enabling the team to do more and do better is crucial. She emphasizes that innovation can come in various forms, from eliminating tedious tasks to cleverly utilizing technology or processes.
As a team, Kanika regularly encourages her colleagues to come together to discuss and explore the latest developments in the market. She requires each team member to research and present on two topics of interest annually, as she believes that teaching others is a great way to learn and grow.
In addition, Kanika works closely with technology partners to introduce her team to the latest technologies and products, ensuring they remain up to date with product advancements and are equipped to anticipate their client's needs proactively.
Lastly, she believes reward and recognition are crucial in boosting team morale and motivation. By recognizing their efforts, she lets her team know their work is valued and appreciated by the leadership.
Award-winning Businesswoman, Kanika, Honoured Among TechWomen100 2022
On 6th Dec 2022, Kanika was among the esteemed recipients of the TechWomen100 awards, recognizing and celebrating the achievements of women working in technology. The awards, held annually for the past seven years, have honoured some of the most talented and innovative women in tech.
Kanika, who has not followed a traditional path to a career in technology, expressed her excitement and humility upon receiving the award. She conveyed that it's been a labour of love, passion, and a laser focus on honing her craft, combined with a relentless drive to learn and improve, which has led to her success in the industry.
Despite the numerous rejections, failures, and missteps, Kanika never lost faith in herself and her abilities. She credited the encouragement and support of her family, friends, and professional network for helping her persevere through the tough times.
Kanika emphasized that it is not just about accolades and recognition. The courage, enthusiasm, and resilience displayed daily in even the simplest of tasks can genuinely make a difference.
With her inspiring story, Kanika has become a role model for aspiring businesswomen and has motivated countless others to chase their dreams and never give up on themselves.
Managing the Unpredictable: A Day in the Life of a Leader in Intelligent Automation
According to Kanika, no two days are alike in management consulting. Despite initially planning for a two-year tenure, she has now been in the industry for over a decade and counting.
A typical day involves assisting clients with their requirements and outlining programs that fit their needs and budgets. Kanika also checks in on delivery teams to ensure progress and provide support. Bid and proposal responses are often prioritized, given their typical tight deadlines. In post-pandemic times, as travel has resumed, she tries to regularly connect with team members and colleagues in person.
As part of her role, she also enjoys keeping up with the latest developments in the market and with products. She has written an interesting Point of View on intelligent automation application in healthcare sector which she is looking forward to getting published. And is in the process of storyboarding for another one.
Achieving Work-Life Balance: Insights from Kanika
Kanika acknowledges the challenges she faced in balancing her personal and professional life early in her career. She worked almost four years without weekends as a field engineer and was always on call. She attributes her struggles to a combination of her work ethic, ambition and lack of boundaries. However, Kanika has since worked on these aspects and established a life structure that has allowed her to excel personally and professionally.
The Drive to Succeed: Kanika's Personal Goals and Message to Aspiring Businesswomen
Kanika aims to be the best version of herself and continually learn and explore new opportunities. Her goal is to push the boundaries of what she believes she can do, both personally and professionally. Kanika's message to aspiring businesswomen is never to stop striving for self-improvement and constantly to challenge themselves. She believes this is especially critical in today's time, where technology will continue to evolve faster and faster, and whatever job one might be doing today might not exist or look very different in 5-10yrs time.
Empowering Women: Kanika Bandanwal's Message to Aspiring Businesswomen
Kanika emphasizes the importance of being true to oneself in business. She encourages aspiring businesswomen not to let society or circumstances dictate their potential or what they can or cannot be. She highlights the importance of having the courage to follow your passion, "do it anyway", she says.
She concludes, "Between confidence and courage, choose courage. Confidence will come; it's a muscle that can be trained like any other muscle. Most importantly, keep showing up for yourself."