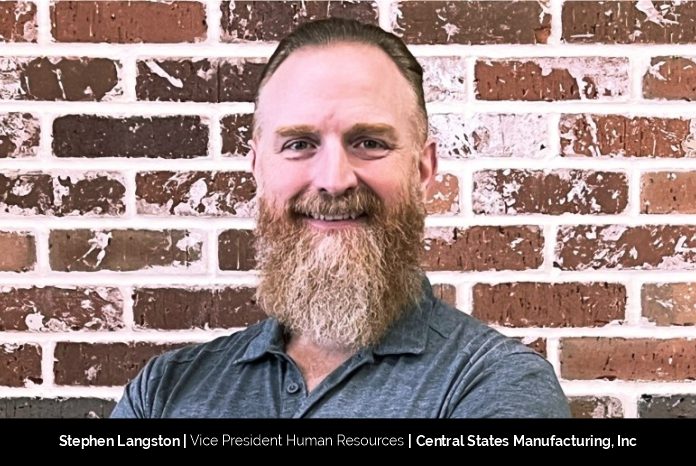 Meet Steve Langston, a seasoned industry veteran in the construction and building product sector, and the Vice President of Human Resources at Central States Manufacturing, Inc. Holding a bachelor's degree in history from the University of Arkansas, an MBA from the Keller Graduate School of Management, and a PhD in Organizational Development from Capella University, Steve brings a wealth of knowledge and expertise to his role.
Steve, along with his wife Susan, is excited to return to their roots in Arkansas after relocating from northern Virginia. They have five children, and the family holds a special place in their hearts.
Having joined the Central States Manufacturing family in November 2022, Steve's career in talent management spans over twenty years. He strongly believes in the adage "it's all about the people," which serves as the guiding principle for his approach to managing Human Resources. With his extensive background and dedication to fostering a people-centered workplace, Steve is poised to make a significant impact on the company's growth and success.
From Unexpected Heroism to Embracing HR Leadership
Steve had an early mentor who identified his potential. Prior to entering the HR industry, he was searching for his path and exploring different avenues. One day, while at work, he encountered a situation where an employee had a medical emergency. Steve took immediate control of the scene, responding to the emergency and directing the other employees to continue their duties. He also made sure to protect the privacy and dignity of the employee in need. Impressed by his calm and decisive actions, the HR Director approached Steve and asked why he remained composed. Steve explained that he didn't want to create panic among the employees or the customers, as they had a business to run. He took charge of the situation, working towards restoring normalcy while ensuring the employee's well-being. Recognizing his leadership qualities, the HR Director suggested that Steve's mentality would be a strong fit for HR. She recommended that he take an assessment to apply for an open HR leader role. Steve followed her advice, and the rest, as they say, is history. He never looked back, feeling that the industry had chosen him rather than the other way around.
Perspective on Challenges
Steve expresses his perspective on challenges, stating that he believes it is not solely the challenges themselves that make a person stronger, but rather the courage to take on those challenges that enhances one's strength. As a coach for numerous aspiring HR professionals, Steve encourages them to embrace difficult assignments that others might shy away from and to step out of their comfort zones. According to him, it is in these uncomfortable situations that wisdom in the industry is forged, and leaders are strengthened. Leading becomes effortless when circumstances are comfortable, but true growth occurs when individuals push beyond their limits.
Setting the Standard in Metal Building Components
According to Steve, Central States Manufacturing is a remarkable and motivating company. It specializes in producing top-tier metal building components for residential, commercial, and agricultural projects. The company takes pride in its products, which are meticulously designed with cutting-edge features to provide exceptional durability and safeguard against fading, dents, and rust.
Central States has earned its reputation as an industry leader by consistently surpassing customer expectations. It is also committed to creating financial opportunities for its employee owners. By prioritizing customer satisfaction, the company aims to cultivate a base of enthusiastic supporters, or "raving fans." Additionally, Central States actively contribute to the betterment of the communities in which they operate, demonstrating its dedication to corporate social responsibility.
Reintroducing Fun and Well-being in the Workplace
Steve strongly believes that it is his personal calling and mission to reintroduce enjoyment, fun, and employee well-being into the workplace. He recognizes that in the face of the challenges endured over the past few years, many individuals have lost sight of the idea that work can and should be enjoyable. However, Steve sees Central States Manufacturing, Inc. as a company that holds this belief at its core. According to him, there is no reason why work and fun should remain separate entities. It is essential to foster the right culture within the organization to fully embrace the benefits of integrating fun into work.
Living and Breathing Core Values for Success
At Central States Manufacturing, Inc., the company's core values of Own It, Can Do, and Act in Love play a crucial role in shaping its decision-making process. Unlike many organizations that merely display their values as statements on office walls, Central States Manufacturing, Inc. truly lives and embodies these values on a daily basis. They guide the behaviors of its employees and serve as a compass for decision-making.
Being an Employee Stock Ownership Plan (ESOP) company, Central States Manufacturing, Inc. places its employee-owners at the top of the priority pyramid. This unique structure necessitates constant consideration of how each decision will impact the employee-owners on a day-to-day basis. This aspect of the organization is particularly wonderful and sets it apart from others striving to achieve a similar level of engagement.
With every individual being an owner of the company, integrity and innovation naturally become integral parts of the business. The sense of ownership instills a deep commitment to upholding ethical standards and drives a culture of continuous improvement and forward thinking.
Central States Manufacturing, Inc. truly embraces its core values, allowing them to permeate every aspect of the company's operations. This commitment to living out its values and prioritizing its employee-owners contributes to the organization's success and sets it apart as an exceptional workplace.
Pursuit of Work-Life Balance
Steve prioritizes maintaining a healthy work-life balance, valuing the emphasis on family in Central States Manufacturing, Inc.'s culture. He has overcome challenges to achieve this balance through discipline and dedication. Steve believes in motivating employees to find equilibrium and personal growth, advocating for HR's well-being.
To keep himself motivated, Steve reminds himself daily of the reasons behind his hard work. He often humorously mentions that he works alongside the CEO but ultimately works for the benefit of his family. Steve's beautiful wife, Susan, and their five children—David, Chloe, Lewis, Lily, and Atley—are his primary sources of inspiration and motivation. Their happiness and well-being drive him to give his best in both his personal and professional pursuits.
A Commitment to Innovation, Integrity, and Customer Satisfaction
Central States Manufacturing, Inc. continues to forge ahead, unwavering in its dedication to innovation, customer satisfaction, and maintaining a reputation of integrity. With an unwavering commitment to progress and the utmost enthusiasm, the company eagerly embraces the future while drawing inspiration from its proud heritage and cherished customers.
Individually, Steve is determined to continuously improve his leadership abilities. He has recently joined a networking group comprised of Chief Human Resources Officers (CHROs), seeking opportunities to expand his professional connections. Steve recognizes the importance of having a mentor in his own life and actively engages in mentoring other emerging professionals. Moreover, he ensures that work remains enjoyable, understanding that in this Age of Talent, there are boundless opportunities for growth and success.
With a resolute mindset and a positive outlook, Steve is excited for what lies ahead. The company's dedication to excellence, coupled with his personal drive to excel, promises an exhilarating journey filled with achievements and satisfaction.
Recognizing Resilience and Learning as Key Markers of True Success
To Steve, success is defined by the faithful utilization of his bestowed gifts and talents, maximizing their potential to the fullest extent. It is not solely about achieving victory in every endeavor, but rather a continuous process of learning and growth. Steve understands that many leaders fail to recognize genuine success when they encounter setbacks. True success is often found in the moments when one's talents stumble, yet they find the strength to rise and persevere. It is crucial not to underestimate or confuse success. Some of Steve's most significant triumphs in his career have arisen from overcoming obstacles that could have easily defeated him, had he not employed his gifts to surmount them. This perspective allows Steve to appreciate the value of resilience and use his inherent abilities to triumph over challenges, contributing to his personal and professional achievements.
HR's Role in Future Business Strategies
Steve advises aspiring HR professionals and business leaders to prioritize talent in their future strategies. He emphasizes that growth is impossible without people, and it's crucial to consider human capital needs and their impact on every initiative. Steve highlights the importance of HR's involvement as a key contributor to any business strategy.