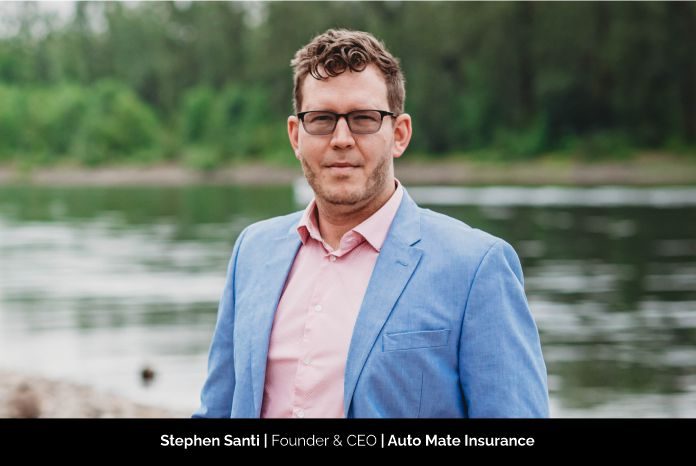 Being a high-school dropout and walking the rough patches of life with his head high, Stephen Santi, Founder and CEO of Auto Mate Insurance, is a living example that personifies the quote, "Nothing is impossible." Winning several awards and accolades for himself and his companies, Stephen aims to impart his expertise and knowledge to others so that they can succeed in their ventures.
He expresses, "Some of the most rewarding times in my life have been hearing I've inspired others to follow their dreams and take risks. Your dreams are always a reality when you put in the work, and I want to help people get there, even if it takes an extra step to do so."
Staying focused against all the odds
Stephen's path has been filled with hurdles. He states, "I've never done well under the thumb of others, being told to accomplish tasks that seemed low value. I wanted to create a difference, and that required bigger tasks, more risk. Sometimes, I've stepped out to a platform that hadn't yet been built – hoping something would be there. Sometimes, I've hit hard surfaces, and at others, I've fallen. It's those failures that have taught me how to prepare the next time."
For Stephen, success means more than money. It's the effect a person has on the world around him/her. On his road to success, several influential people have pushed normal procedures to provide wisdom and educate him with what's needed to create the life of his dreams. Stephen aims to do the same for the others. So, he created Auto Mate Insurance to make a difference and give people an upper hand on their insurance and brokerage issues.
Crawling his way to the top
"I think the world continually lays challenges at our feet and depending on what we're willing to push through determines our overall growth," Stephen adds. The tough times will not go away, so it is important to buckle up and stay strong to face the challenges.
He mentions, "My first business did great on paper but demolished me both mentally and financially. My 2nd business was stripped from me suddenly at the height of its success. I don't know that I'd be succeeding now without learning the difficult lessons of defeat and what it takes to overcome. It takes a lot, but if you're putting in the work and willing to adapt, you can make it happen. Learning can take one more roadblock out of your way. Auto Mate was my 3rd startup, so don't let failure be your end."
Ameliorating insurance with Auto Mate Insurance
The company does business, home, and auto insurance. Stephen adds, "We're a broker, with 70+ company options. Google has us ranked at 4.9* and we've become the guys your agent calls when they can't figure it out. Our customers get free education, professional advice, and the best deal in the industry."
The team wanted to make insurance better, which meant finding new ways to help customers and having that help be simple. To achieve this goal and revamp the industry, they have developed 10x the options of an independent agent and invested in digital systems to make it easier for both customers and agents to get what's needed quickly.
Infusing the power of the latest digital technologies has grown the company into a dominating force in the insurance industry.
Disrupting the insurance domain with limitless services
Stephen is leading the team to move ahead in two aspects, namely, access and availability. By partnering with 70+ companies, they are emphasizing on accessing exactly what's needed regardless of circumstance. Becoming limitless for the customers, he aims to render the best services that all customers expect without any compromise.
Further, the franchise/independent agent program speaks of their dedication to helping independent agents succeed. He says, "Having seen the pitfalls early in my career, our program allows agents an avenue to go independent with all the resources and connections of a large firm. We're very proud of it and intend to devote resources to help others in their own quest for success."
Stating his vision, Stephen states, "I envision investing in our digital infrastructure. I want to make it easier for people to get what they need, whenever they need it."
When COVID-19 hit, they introduced Live Chat online, automated text reminders, and currently are working towards devising an AI for providing all vital answers for 24/7 assistance. In this way, they plan to ameliorate the experience of the end-users.
Wearing the CEO Cape
As the CEO of Auto Mate Insurance, Stephen holds the main responsibilities of creating the company's vision and leadership. Being a malleable leader, his days go into adapting to everything that is required; be it, maintaining seamless relationships with vendors, implementing new processes, working with agents one-on-one, or bringing in larger accounts. He enjoys this shifting into new roles every day and overcomes all the challenges swiftly.
Sharing his biggest recognition, he states, "My greatest recognition has come from individuals; friends and acquaintances who've known me since before the success, who've mentioned I've personally inspired them to push for their dreams, start their own company or go after what they once thought was unobtainable."
Me Time is Important
Taking out time for oneself is the key to keeping everything in harmony. This means that Stephen has learned the art of taking breaks and searching for different ways to improve himself. He shares, "Being happy internally reflects in the efforts I put into my work and relationships." Thus, he always tries to understand the heart of his feelings and works on them.
Moreover, he constantly encourages his team to create goals for themselves and formulate a steady plan in fulfilling them. To keep their spirits high and morale boosted, he says, "We give out occasional awards and ask for input from the team on what things would be important to them. It helps us each be the best version of ourselves, subsequently giving it to our clients."
Forward Planning
With a motto to help others help themselves, Stephen firmly follows the saying – "Teach a man to fish and feed him for life." His personal goal is to create a non-profit firm that provides real-world education on different life skills to underprivileged groups. He hopes to ease the lives of others by making them follow his path to achieve greater success and recognition.