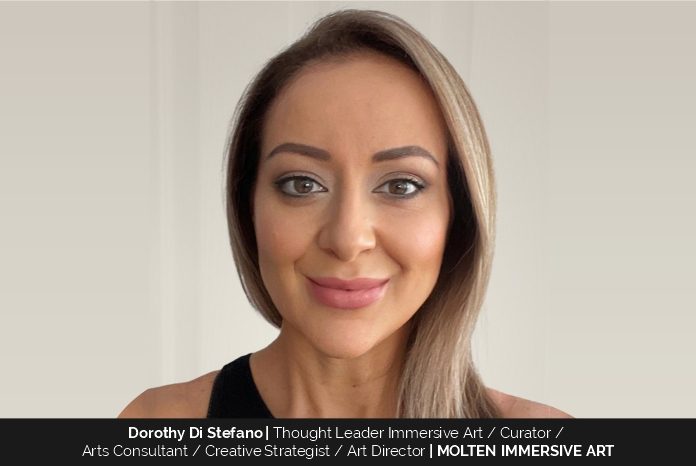 The creative journey is never linear
Dorothy Di Stefano, Thought Leader Immersive Art, Curator, Arts Consultant, Creative Strategist and Art Director at Molten Immersive Art, considers herself to be extremely lucky to be exposed to lots of art and creativity at a young age. She swears to have loved all of it.
Dorothy studied music for a while, but her appreciation for the form did not extend to her commitment to the career. Like others, she wanted to find where she fit, where she could express the creativity in herself. Soon she found herself working in marketing for a graphic design company and was enthralled with the talent and imagination of the artists, but the strict boundaries of commercial work were creatively frustrating. So, she teamed up with Ryan Stephens, who is a friend and phenomenal talent as a designer and creative director, to create MOLTEN, where they began exploring film, animation, exhibitions, and all sorts of projects.
About two years ago, they added a long-term colleague in the performing arts and anthropologist, Michael Allen making them the trio that is now MOLTEN IMMERSIVE ART. "It feels like a lot of threads that have been slowly weaving together over the last 25 years or so, are all coming together now in awesome ways I could never have imagined. Now we consult on festivals, museums, art galleries, new commercial buildings, here and in the new world of the metaverse. Working with world-class artists across every medium imaginable that just blows my mind. We are all just so excited, and humbled, by the chance to keep making cool, fun, and meaningful experiences all over the world," says Dorothy.
Ingredients needed to craft great immersive experiences
Immersive for Dorothy in a nutshell means including all the senses and guiding imagination, an all-encompassing journey. In that sense she claims she is always looking to do more than just put up some fancy tech and pretty pictures. "There must be substance, and that generally comes from narrative. Telling a story is so important. And that's not just narrative stories of characters; it might be the story of a particular piece in the place it is being presented or peoples. By approaching it this way we create pieces that are unique, NOT UNIFORM. It's also about engagement and interaction," she explains.
Immersive art, like the technology that makes it, almost demands audience interaction, and that is another great opportunity to tell narrative. All these components must conclude with the conversations that happen between people on the way home. "In that way we know the work continues to ripple through personal and collective imagination. It's like immersing your mind, not just your senses, in a state of wonder," she states.
Changes in the audiences' expectations & behaviours
This particular space is like so many other sectors, especially in the arts. It is fast paced and competing with constant stimulus or the next gimmick.
Immersive art is similar in the sense that audiences are looking for authentic moments and experiences. That was evident before COVID, but for the past 2 or 3 years of restricted social movement, that appetite is bursting. Of course, the 'wow' moment will always be significant, but audiences are sceptical of those for their own sake. If they aren't connected to something bigger, more meaningful in the experience, then they tend to move on quickly.
The booming growth and experiences of Immersive Art
As a business sector, Immersive Art is certainly booming, and that's where lots of cash, shifty players who cut corners to save a dollar (what they call 'cowboys'), and people jockeying for status start to influence the environment. Often these players come with high profiles and lots of seemingly shiny new things for people to see and do. It can be dangerous because if they dominate and stuff it up with cheap and nasty production-line quality, it will ruin it for everyone.
Personally, Dorothy prefers to look at it with a bit more positive optimism. "Healthy (and I emphasise the word) competition can be awesome. It drives technology and imagination. It can create opportunity and, when done well, can influence cultural behaviour," she states. At Molten Immersive Art they have already seen how competition in technology keeps making it more accessible to anyone who wants to make creative content and art. And now, they are seeing institutions starting to formally train the next generation with new methods, techniques, and standards. "When they start to graduate just look at what happens next," says Dorothy.
Competition and the drive to push boundaries is a natural ingredient of creativity. It has been proved throughout history that meaningful art, a piece with authenticity, ingenuity, and connection, somehow holds up over time.
Evolution of technology and its possibilities to shape the future
"Oh my, there are so many new toys out there to play with. To be frank, our creative director, Ryan, is a font of information across the space," exclaims Dorothy.
She further states that the things that really excite them are the advanced technologies that are gradually becoming more accessible, this is the technology that compliments the visceral immersive experience they are after. For example, the potential of Microsoft's HoloLens 2. Sure, it's a little way off being nailed, but the potential for its use has already been amazing in medicine and design for example. "Applying that to integrated metaverse space would be amazing. And that leads to all sorts of technology that can process immediate, real-time visuals," she explains.
However, there are older technologies that often go overlooked as well. Simple theatrical techniques with haze and temperature can be complimented with technologies in haptic tech, motion sensors and spatial audio. Honestly, any industry technology can be applied to an immersive experience.
Opportunities and challenges in other parts of the cultural sector
If artistic expression is integrated into broader social events and experiences, then the potential opportunities are endless. For example, museums can have a combination of a traditional museum experience and an augmented experience.
Also what shouldn't be done is alienate people but rather open it up to a broader audience. In that sense, no one really thinks of art as something different to 'normal' life. Art shouldn't be thought of as sprinkled on top of culture as an afterthought, but, an integrated creative expression into everyday form and function of life.
"There are some exciting opportunities. However, with every opportunity comes a challenge, and there are many of them. One challenge, in Australia I guess, is funding. 80% of a budget for an immersive experience tends to go to hardware so it's balancing the need to be relevant and attract new, exciting audiences whilst looking for additional philanthropic funding, or balancing with an ROI model," says Dorothy.
Managing innovation and evolving creative practices
Potentially, the most overused word over the last couple of years is agile. However, this industry is built around this. "We reflect that as a small team individual creative's, each with over 30 years of various experiences. From trade to teaching, to academia, to animation, to marketing, management, writing, and this list goes on," states Dorothy.
In the end everything, contributes to their process. "Our clients and projects are crucial in this space too, because without their demand for us to be better every time, we wouldn't seek out the most diverse and innovative people out there," she further asserts.
Being named LinkedIn Top Voice and growing a creative community
Recently, Dorothy was named a LinkedIn Top Voice. Her LinkedIn profile began as a creative expression of its own, born of frustration at the mechanical replication of other creative artists. She just wanted to celebrate amazing art and share the work she thought was beautiful and meaningful. From there it's just grown amazingly because it resonated with the business community particularly.
Like the artists who commit to their art, Dorothy commits to celebrating her art and never veers from her mission to post 6-7 times per week. The curated posts are developed from a combination of research and artist submissions. She personally edits the video content and researches each artist and their work, to ensure what she is posting really communicates the piece's (or the artist's) meaning to her.
"I think that authentic touch helps break through that production-line style of promotion. It has started to create a community which I have loved watching grow into celebrating some of the best artists in the world," she says.
Creative entrepreneurship and collaboration for success and sustainability
Collaboration – the best creative experiences are communal, collective, and collaborative from the first meeting. Dorothy is surrounded by innovators, creative thinkers, and eccentric geniuses that bring their knowledge to the table. She strongly believes that being able to learn from each other is the foundation of this industry.
Collaboration has got to be about the right team of people first and foremost. "I start with our core team of myself, Ryan, and Michael," states Dorothy. As a team they immerse themselves in research and creative development to create concepts and projects. They then scour the globe for the best artists who can best bring them to life. From there they have an extended family of people they call on regularly to help with production management, staging design, content creation, and A/V production and continue to reach further and further out as they need to find people.
She expresses herself further by saying, "Practically, it's useful to have most of this world-class team based in Australia, with a store of talented artists from around the world to draw on. Like I mentioned, agility, flexibility and adaptability are crucial in this sector."
Dorothy's plan for the future of Immersive Art and herself
In the most immediate and practical sense of the future, new projects are coming in on a daily basis, particularly in consultancy, curation and experience or event design. However, Dorothy tends to think more in terms of her future goals, because she is in the unique position to pick and choose the projects she wants to do a little more carefully and she's focussed on projects that keep pushing that first principle; to make meaningful and joyous experiences of art as accessible as possible to anyone, anywhere.
Longer term, Dorothy claims she would love to work more with Australian governments and institutions to develop the sector in this country. There are so many talented artists in Australia, and she is often more connected with them on work overseas than she is here. She says that she would love to see that change and find a place for this work in their culture.