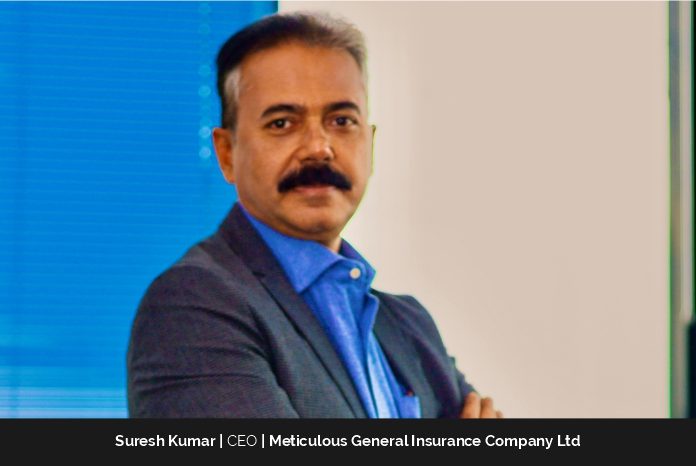 Effective use of Data, digital, and availability of alternative capital are the three key problems the insurance industry, especially in developing countries, is currently facing. For a data-driven industry like insurance, it is imperative that companies adopt technology as a key enabler to run their business.  Exposure to new perils like cybercrime and the influence of AI in our lives will dramatically change the traditional underwriting model one is familiar with.
Leaders should put their time where the trend is going since technology will change the insurance sector over the next ten years. Having begun his career in India, Suresh Kumar, the Chief Executive Officer of Meticulous General Insurance Company Ltd, has been in the insurance business for more than three decades. He had the chance to work in many locations in Africa and Asia, and all of these roles—broker and underwriter—had a significant influence on his career.
Suresh was involved in the recovery of a struggling firm and founded three greenfield insurance businesses in three separate nations with success. One of the biggest accolades Suresh earned for his leadership was the fact that individuals in other nations recognised him as one of the people who contributed to their professional development. Many of them are now CEOs and General Managers, they still cherish the connection and the influence Suresh had on them.
The Beginning of a Professional Journey
Suresh began his insurance career as a Management Trainee (AAO) with New India Assurance Co. Ltd., Hyderabad, India. During his ten years there, he worked primarily in the operational area.  He later relocated to East Africa, where he was part of the core team that founded Jubilee Insurance in Dar es Salaam, Tanzania. During this time, he obtained vast expertise in the establishment of agency offices and branches around the country.
He went to work for Jubilee Insurance operations in Kenya before setting up Phoenix Assurance in Uganda. He was Secretary of the Uganda Insurers Association and recipient of the Best CEO Award from the Uganda Brokers Association. Suresh later joined Aon Uganda as Chief Operating Officer after moving to India as the Executive Vice President in charge of the Aon Risk Services Division.
Suresh returned to Africa in 2009 and worked for APA Insurance in Nairobi for more than 6 years, first as the Chief Operating Officer and then as the CEO/Principal Officer. He spent a year in Namibia establishing a new business for Phoenix Assurance Group and serving as the Group CEO for operations in Swaziland, Zambia, Botswana, and Mozambique.
As the CEO located in Dar es Salaam, Suresh is now employed by Meticulous General Insurance Company Limited. The Company was formerly known as Metropolitan Tanzania Insurance Company Limited.  As the Chief Executive officer of Meticulous he is responsible for the organization's overall strategic goals and outcomes.
Getting Ahead with Every Challenge
Suresh strongly feels that every leader should develop resilience.  Resilience is not something that can be taught at a university. One must confront the storms, endure them, and come out stronger once they pass. There have been several storms throughout Suresh's career as well. He learned to deal with them by being firmly convinced of his choices, having the backing of his team, and, of course, his family. He says, "Every challenge teaches us valuable lessons which, if not learnt, the next storm will be bigger and may drown us."
Leading Insurers in Tanzania
One of Tanzania's most rapidly growing general insurers, formerly known as Metropolitan Tanzania Insurance Company Limited, Meticulous General Insurance Company, is now wholly owned by Tanzanians.
The company meticulously provides general insurance services to both personal and commercial clients.  The Company is committed to promptly paying claims from clients in order to maintain such relationships.
Living a Joyful and Purposeful Life
Like most managers, Suresh too faces s difficulties in balancing his personal and professional lives. He observes how narrow the distinction is. He says, "There are many times that we think and worry about the company while at home and get concerned about our personal problems while at work." He further adds, "It is not possible to be a machine and shut off one part completely."
Suresh derives joy and peace by comparing himself to other people he knows who lack worldly possessions yet are incredibly happy and joyous in order to keep himself inspired. Additionally, he supports his co-workers by attempting to identify their strongest qualities and focusing on those.
Tanzania's First Paperless Office
According to Suresh, realizing one's aspirations is not a place you reach one day. It's an ongoing process since aspirations evolve and can alter to become bigger and more diverse. As a result, he observes that he has arrived at several locations, but the voyage continues.
In the future, Suresh wants to make Meticulous one of the top three businesses in the nation and the nation's first paperless workplace. His personal objectives are to guarantee that he develops the country he is working in and that all of his expertise and experience are shared with thousands of others.
Quote: "Dream big but have your feet on the ground"