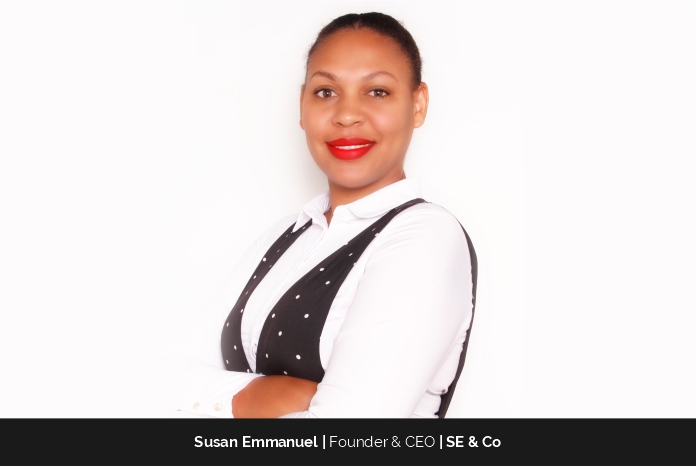 Business consulting is the act of internal consulting by analyzing and recommending solutions to human resource-related issues. HR business consultants advise management on the formulation and administration of plans and policies for human resource activities.
Susan Emmanuel is the Founder & CEO of SE & Co – a proficient human resource and business consulting firm established to assist companies in acquiring and developing human capital.
Having started from scratch, in less than two years of operation SE & Co has successfully placed hundreds of professionals across industries and functions in more than ten African countries. They are a start-up, but according to Susan, they can proudly state that they are associated with the best notable brands in the market. "Our state-of-the-art mode of work and best human resources database made us enjoy a fair share of business in the industry," she says.
Challenges are experiences worth having in your professional journey
"I believe that the perfect lessons are the lessons learned through challenges because you get to experience unacquainted events, and solving these events becomes very motivating," Susan says.
Throughout her professional journey, she has encountered numerous impediments but the most prominent one she states certainly changed her life. Susan got a new job; and she got a promotion to a different role before her joining date. It was a completely different sector that she never worked in before, it was very stressful, but she worked day and night to sharpen her skills because she had a team to manage. "I remember enrolling in an evening course after my long working hours in order to catch up. I will forever treasure this challenge because it gave me the business I am running today. It made me believe that if we are pushed out of our comfort zone, we can achieve almost everything we set our mind on," recalls Susan.
Achievements as a successful leader and entrepreneur
Susan, who describes herself as an achiever or a go-getter, started her career over a decade ago as a business development professional; she had the chance to work with various brands across industries in numerous senior positions before she became an entrepreneur two years ago.
Amongst her significant professional recognition, she has also gained the below-mentioned achievements:
She was selected to present at CEOs Roundtable discussion on Sustainable Investments projects in Africa alongside UN General Assembly, Manhattan, New York in September 2018.
Established a mentorship program for girls in Tanzania that is providing training and career grooming for young underprivileged girls, 2021.
Participated in World Oil and Gas Summit 2018 – Johannesburg, South Africa.
Organized and lead Tanzania leadership awards (TLA 2016), Hyatt Regency, Dar es salaam Tanzania.
Participated in International Electoral Symposium – Electoral solutions for African Governments, Mauritius 2015.
Successfully organized various ICT summits including East Africa ICT summit 2014 & 2015.
Miss Tanzania 2009-2010 – Managed various community development projects.
Responsibilities before and after becoming CEO of SE & Co
At SE & Co, Susan is responsible for securing a long-term stable and predictable business operating environment, establishing, and maintaining a strong business and political network to support business growth activities, managing the key stakeholders, controlling the execution of projects, and keeping internal and external communications in line with management and business objectives.
Before SE & Co, Susan worked in the oil and gas industry, ICT industry, and FMCG. Overall, she was responsible for identifying, attracting, and acquiring new business to improve the organization's market position and achieve financial growth through leading the sales team, marketing staff, and managers to increase sales opportunities and thereby maximize revenue for the organization.
Susan states that she has not yet achieved everything that she has dreamed of, "I am not there yet, but I'm closer than I was yesterday. Success is a process, and I am enjoying every step of the way," she exclaims.
Success is achieving a work-life balance
Susan believes that success is when you achieve a seamless equilibrium between your professional and social life. Integrating all the essential aspects of your life that as work, family, leisure, health, hobbies, volunteer work, and social networks is very fulfilling, to her, this is the highest form of success.
"Home is where our hearts soar and work is where our professional pangs of hunger are fed. One can't work without the other," she states.
Susan is a firm advocate of the work-life balance theory. She claims to always plan her monthly calendar beforehand to avoid last-minute stress and missing out on significant activities. So, on her calendar, all her essential activities are prioritized accordingly and the same applies to the team.
"We stay motivated through our achievements and incentives. We also maintain a very active social life," she says.
Susan's personal and professional plans for the future
"As the company philosophy dictates that we want to be a cutting-edge human resources and business integration firm that positively impacts people, corporations, and government through empowering our clients with the best and the right innovative services that drive their business and careers forward," Susan explains.
Personally, she aspires to be the most successful female entrepreneur in the country. It is her passion to share her success and life journey with young aspiring female leaders through their mentorship program.
To all the aspiring entrepreneurs out there Susan's advice is: It gets hard before it becomes bearable, don't give up on your dreams but make sure that they are big enough to scare you.