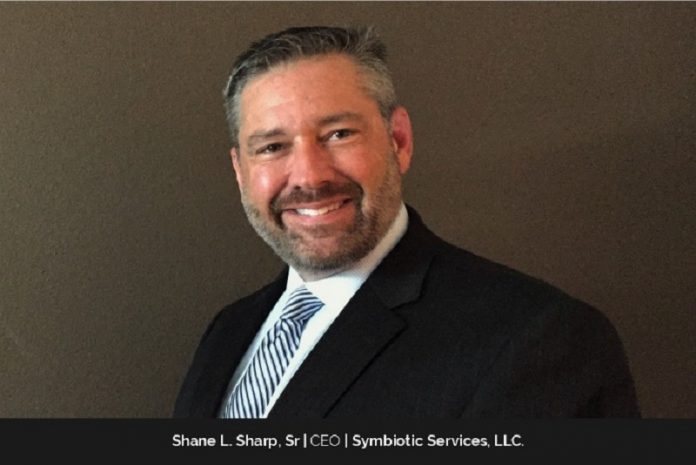 Fairness and trying to do what is right are the hallmarks of Shane Sharp's leadership. Sometimes, as CEO of Symbiotic Services, LLC, a Certified Veteran Owned Business that focuses on staffing across multiple industry positions, he must make tough decisions — necessary but unpopular. Even then, he strives to be firm but fair.
Shane knows that some of his decisions can affect the lives of Symbiotic employees, their families, and the lives of their clients' employees. But, as someone who leads a company, he cannot avoid making hard decisions. Many people rely on him to make such decisions to ensure the company's continued growth and success and the well-being of employees, clients, and partners. "Some decisions I make as the leader of Symbiotic are very difficult and require firmness," Shane says. "Even if the decision requires firmness, I always want to be fair – firm but fair."
Leading by Example
Shane is among those leaders who lead by example. And he follows a participative leadership style. "I lead our company, but I do not lead alone," he says, adding, his right hand is his Executive Vice President, Steve Bianco, an absolute rock and a man of integrity. Together, Shane and Steve have more than 40 years of staffing experience.
In addition to Steve, Shane also has a team of incredibly smart and passionate individuals. "I may not be the smartest CEO in the country, but I am smart enough to surround myself with individuals smarter than me," he says. And he encourages everyone to share their ideas and suggestions.
A good listener, Shane listens to his team members' suggestions with rapt attention, and he respects their inputs. He points out that it is not his job to come up with all the ideas. His job is to implement the best ideas to forge long-term growth and success.
At Symbiotic Services, labor turnover is near zero, and the team's morale is the best Shane has ever witnessed. The credit for that largely goes to teamwork culture under his exemplary leadership.
Foundation of Symbiotic Services
Symbiotic Services helps place the right people in the right positions. As a trusted advisor to both candidates and clients, it connects exceptional professionals to extraordinary career opportunities.
Late Walmart CEO David Glass opined that, over time, a company develops a soul, and the company's soul is nourished by doing good, or the company's soul is destroyed by doing bad. Shane says that as CEO of Symbiotic Services, which he launched in 2013, he strives to walk this difficult path.
"In every business decision I make for Symbiotic Services, I want to, and I try to, do what is right," he adds. "Even if my decision costs the company short term profits, if it is the right decision for the right reason, in the long run, the company will be successful – this is the foundation of Symbiotic Services."
Disruption due to Pandemic
The Pandemic changed the world, as well as the landscape of the staffing industry. It disrupted the way staffing companies do business. "If a business did not adapt, the business did not survive," Shane points out.
Because of the pandemic induced, paradigm shift, medical recruitment and staffing for large national accounts became the lifeblood of staffing companies. In this same vein, remote work for IT companies became the norm, Shane notes, adding, manufacturing recruitment required increased hourly pay by clients coupled with moving expense and rental assistance for candidates to fill the labor pipeline.
For companies in the staffing industry, it was time to innovate or perish. Historically, the staffing industry worked to find appealing business models to net stronger results for clients and to increase net profit, but post-pandemic, a successful staffing business model requires stronger placement results measured by objective standards for clients. "Both are needed, but very few of our competitors have solved the riddle of how to provide stronger placement results measured with objective metrics," says Shane.
Under Shane's guidance, Symbiotic Services developed a new model:  – Partner On Demand™ or POD Model that uses the benefits of the Retained Model and the positives of the Contingent Model, innovatively creating a KPI, short for Key Performance Indicator, Model. The POD model offers a win to both the client and Symbiotic Services alike. Shane explains that the result is that the Client has a dedicated team that adds horsepower to the Client's in-house Human Resource Team. Leveraging the KPI driven POD model, the Client's CFO can accurately project and budget staffing requirements. And, as Symbiotic Services's work is married to KPIs, its compensation for services is determined based on objective, quantifiable Key Performance Indicators.
The Partner On Demand™ Model is redefining the relationship of staffing companies and their clients. "Our KPI model significantly contributed to stabilizing the recruitment and staffing industry for clients in what was during the Pandemic an unstable and unpredictable human resource nightmare," says Shane.
As a result of developing and implementing the Partner on Demand (POD}™ Model, Symbiotic Services' monthly gross revenue has increased fourfold; and the projected annual gross revenue increase is tenfold.
Veteran of Recruitment and Staffing Industry
Shane has worked in the recruitment and staffing industry for over 25 years. He began his career as a Hospital Corpsman in the United States Navy. After that, he joined the prestigious Pharmacological Program at the Naval School of Health Sciences in San Diego, CA. "The strong medical foundation aided me in landing my first job in recruiting with Merritt Hawkins and Associates," says Shane.
Prior to joining Symbiotic Services, Shane worked for several staffing companies. He calls many of them "ungrateful," but his unpleasant experience at such companies has not turned him bitter. "Grateful" is how he likes to describe himself in one word.
Keys to Success
Once, Microsoft Founder Bill Gates reportedly said, "90 percent of being successful is just showing up." Shane does not completely agree with this statement, as being successful is more than just showing up.
The business world requires one to show up for work, ready to work and be willing to work until the task is completed, Shane explains. In addition to that, it is also important that one does the work that they enjoy. Employees are successful if they are blessed with work they enjoy.
Shane says that even when he has worked for difficult taskmasters, he enjoyed his work, and the work supported him and his family successfully. For him, this work ethic coupled with gratitude is the key to success.
Over the years, Shane has received numerous accolades. For him, the best recognition, however, is not what he has received from others. "The best recognition I have received as a leader is my own personal satisfaction knowing that I have walked closer with God and have been blessed with good health, loving family and a successful business," says Shane.
Challenges "DO NOT" Make Leaders Strong
Shane does not believe that challenges make one stronger. They "DO NOT," he says. One becomes stronger when they make the right decisions for the right reasons and conquer challenges. To stress his point, Shane gives the example of Ukrainian President Volodymyr Zelensky. "He has confronted the challenge of his country being invaded by Russia," Shane says. "Even though his decision to stay in his country may cost him his life, President Zelensky made the right decision for the right reason – he did not flee but stayed to fight for freedom; he conquered this challenge, and his country is stronger."
A Difficult Goal 
For Shane, balancing his personal and professional life has been a difficult goal. At times, there is no balance, and his life often is a blend of personal and professional – becoming one. Shane and his fiancé have a blended family with five (5) children. On weekends, he makes sure to focus on his family. He also tells his employees to, "always make family first."
"In the business world we are all expendable but not in the eyes of those who love us," Shane says. "Symbiotic is not different from other companies, in that, if we lose someone, we have a job posted the moment that person is gone."
Motivation is needed to accomplish professional goals. Shane keeps himself motivated with prayer and meditation, while he motivates his employees with Company information, events rewarding performance, and inhouse recognition. He also offers his employees a sincere "thank-you" from the heart.
Plans for Symbiotic Services and Personal Goals
As CEO of Symbiotic Services, Shane believes that their "future is very bright," they have a lot to be thankful for, and they have a lot going on. "The introduction in 2021 of the Partner On Demand™ Model and the upcoming launch of our software platform has us very busy," he says. "We're just getting warmed up."
On the personal front, Shane is looking forward to marrying the love of his life this year. He, his fiancé, and their five (5) "healthy" children are a blended family, and according to Shane, "it has created a new layer of excitement."
Shane wishes to continue working on himself, both personally and professionally. And, as he and his family follow their Christian faith, Shane says that they intend to continue their works by giving.
Speaking of whether he has achieved everything that he dreamed of Shane says, "In some areas, yes. In some areas, no. In other areas, achievements and dreams are works in progress."
Advice to Aspiring Business Leaders 
Shane's advice to aspiring business leaders is full of wisdom, reflecting his genuine, loyal, passionate, and compassionate personality. "Embrace passion and find a band of brothers that are just as passionate as you," he says in his message to them. "Breed loyalty amongst yourselves and people will flock to your organization. Be compassionate but disciplined."
"One will never lose if one chooses to learn from pitfalls along the way," Shane adds. "Life is fragile. Be grateful."