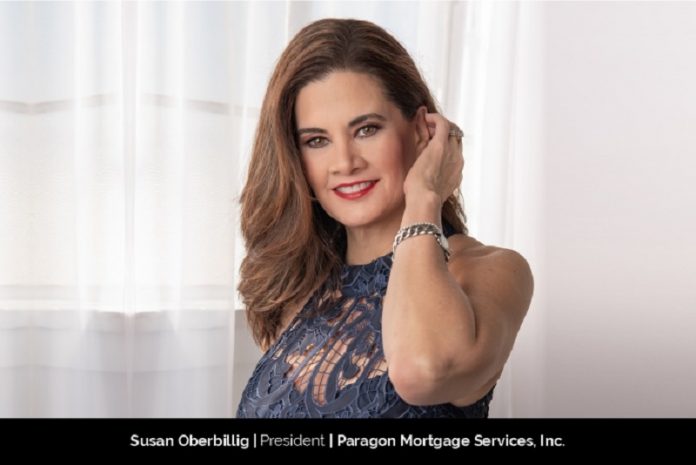 Susan Oberbillig is an embodiment of courage, commitment, confidence, and compassion. And, therefore, it is not a surprise that one of her favorite phrases in Latin is Sine Timore, which means "without fear" in English. As Founder and President of Paragon Mortgage Services, Inc, a family-owned mortgage brokerage, Susan has established herself as an inspirational women leader and prominent voice in the Mortgage industry. She now wants other women to emulate her success in the industry by dreaming big and going after what they want.
A Career Transition and Founding a Company  
In October of 2001, Susan founded Paragon Mortgage Services, Inc. Her career, however, started in 1988 in California after she had received a Bachelor's degree in Economics and Business from the University of California, Los Angeles. Originally, Susan had planned to go to law school. However, she opted to switch to a new career when she found out that she was expecting her daughter. "Because I wanted to raise her and experience her first steps, first words, and her milestones, I chose a career in real estate, appraisal, and then eventually mortgage," Susan says. "This career path seemed the best choice to achieve success while having the flexibility to be a wife and mother."
Susan again made a career switch when her family relocated to Colorado in the 1990s. She segued into Telecommunications, instead of starting over by building her network and book of business in Mortgage and Real Estate. To further enhance her career, she earned a Master's Degree in Telecommunication and Technology from the University of Denver, Colorado. Susan worked as a Director for many service-delivery groups and she says that she enjoyed Telecommunications immensely.
In the early 2000s, the Telecommunications industry began to move in various directions. Susan decided to leave the industry and moved back to her turf, the Mortgage industry. "When the telecommunications industry reorganized in the early 2000s, it made sense to consider coming back into the Mortgage industry," she says.
After working as the in-house lender for ReMax Professionals for a while, she decided to branch out on her own. "Carefully, over time, Paragon Mortgage Services, Inc. was born," Susan says. In 2016, she also founded Mortgage Moxie, Inc., a small mortgage consulting company. Its mission is to bring consumers and professionals together to simplify and streamline the home loan process through education and collaboration.
Paragon Mortgage Services, Inc.
Founded in 2001, Paragon Mortgage Services, Inc. specializes in residential mortgage loan origination, and offers Conventional, FHA, VA, Jumbo, Reverse, USDA, and Renovation mortgages. The company is licensed in seven states – CO, FL, AZ, CA, UT, IA, and ND.
Susan says it is an amalgamation of years of hard work that has enabled them to build an amazing team, a solid platform, a network of impressive colleagues, and multiple bank and lender relationships to support clients. "My team and I will treat you with the respect that is due to an esteemed customer and give you the personal service you deserve," she says.
"The milestone of buying and financing a home is one of the biggest achievements that a person will undertake," Susan adds. "We understand this and it is our mission to assist and support our clients with clarity, unmatched customer service, excellence, and integrity."
Most Painful Lessons Are Most Profound
Susan has faced numerous challenges as Founder and President of Paragon Mortgage Services, Inc. but she has never let tough times weaken her resolve. She handled challenges thrown at her with integrity, chose to learn from them, and became stronger. Quoting her favorite motto, "What doesn't kill you, makes you stronger," Susan says, "Sometimes the most painful lessons are the most profound."
She also believes that challenges create opportunities to find the courage and develop depth of soul. And "it is courage and character that allows us to grow and to make a positive impact on the people that surround us, both professionally and personally," Susan says.
Success Is About Being Proud and Content 
Monetary gains, profits, or company expansion are not among Susan's parameters for success. For her, success is about being "proud" and "content" in both your personal and professional life. And, it is about "achieving the goals that you set forth and the lessons learned throughout the journey," Susan says.
She also believes in supporting others and celebrating their successes. So, for her, success is also about "lifting up others to achieve their goals and being a positive role model."
Redefining the Mortgage Industry
Susan has made significant contributions to the Mortgage industry. "I feel that my biggest impact is two-fold," she says. The kind of support that Susan and her company offer to their clients has set a benchmark in the industry. "We ensure that our clients are supported not only during the mortgage process but also once the loan is closed," Susan says. "It is a pleasure and a privilege to remain in touch with past clients, offer them guidance and opinions on various mortgage and real estate topics, so that they feel educated and supported to make future decisions."
Susan is also proud of creating a company culture that offers dynamic nurturing and support to their valued Paragon Mortgage Services, Inc. team members, colleagues, and clients. "When all of these areas are in balance, the result is a team that stands strong for one another, so that everyone grows and flourishes," she says.
Relatable and Approachable Leader
Susan is a committed leader who wears multiple hats. "I originate and close mortgage loans myself, which I feel is important to keep abreast of the industry challenges and changes," she says. "That, in turn, allows me to be available as a subject matter expert – all day – every day – weekends and evenings included – for all of our team members, colleagues, and clients."
Additionally, she recruits new members, handles payroll, participates in industry calls and meetings. She also serves as a Board Member for the Colorado Association of Mortgage Professionals (CoAMP).
"Relatable" is Susan's strongest leadership skill. She believes that in order to lead, one must be approachable and offer kind and relevant support to all.   As a leader, she also recognizes that it is important to surround herself with people smarter than herself, in order to learn from them and further sharpen her leadership skills.
And Susan believes in appreciating her team's efforts and achievements. She praises and recognizes each individual, as according to her, a word of encouragement is one of the most motivating forces out there.
Professional Achievements as a Leader
Assembling a dynamic and diverse team of mortgage professionals, Susan says, has been her proudest professional achievement as a leader. She points out team members support and genuinely like one another. And because of that, a majority of employees are loyal to the company. "In an industry that has a lot of turn-over, Paragon Mortgage Services, Inc. has not had a lot of attrition over the years," Susan says.
Future Plans for Paragon Mortgage Services, Inc. 
Susan highlights that obtaining a mortgage can be challenging and frustrating. So she would like Paragon Mortgage Services, Inc. to remain a trusted mortgage advocate for both new and existing clients. She wants her company to continue to engage on their behalf, to provide clarity and support that big banks and online lenders don't appear to offer.
Susan also wants Paragon Mortgage Services to be an employer that mortgage professionals want to be part of.
Give Yourself Permission to Have Personal Time
Susan feels that it is a challenge to balance one's personal and professional life. But she also says that it is possible to have a successful work-life balance by doing a few things. One of the techniques that she suggests is, understand that it is okay to have a personal life and be at peace with it. "If needed, formally schedule time in the day to work out, take a walk, eat a good meal, or sip a favorite beverage," Susan says. "Bottom line: give yourself permission to have personal time in your day, along with tackling the professional workload."
Don't Be Afraid to Dream Big
Susan lives her life with integrity, which according to her, is "a commitment to live consistently with what you know to be true about life."  She hopes that her life emulates a message and an example. She says that women need to understand that they are powerful, not only as leaders in their homes but also as leaders in any industry that they choose, adding, they should not be afraid to dream big and go after what they want.
Susan also believes that it is all right if one fails to accomplish things perfectly. "It is equally important that women understand that it's okay not to do everything perfectly and to reach out to others for ideas and support," she says. "It is by interacting with other like-minded individuals that we learn new and positive skills to incorporate into our daily lives."
She has noticed that women yearn for the support and mentorship of other women. "Finding a woman mentor and advocate is truly a treasure! I feel that it is important that women understand that it is not necessary to 'be a man on the job'," Susan says. "Rather, they should bring their wisdom and leadership as a woman – to any role that they fill."
Message to Aspiring Women Leaders
Susan wants aspiring women leaders to feel confident in their ability and to offer strength and wisdom to all of the people that they touch – both professionally and personally.
"You don't have to be perfect – just have an open and generous heart. It means being willing to impart positive support and guidance to all that seek you," Susan says.