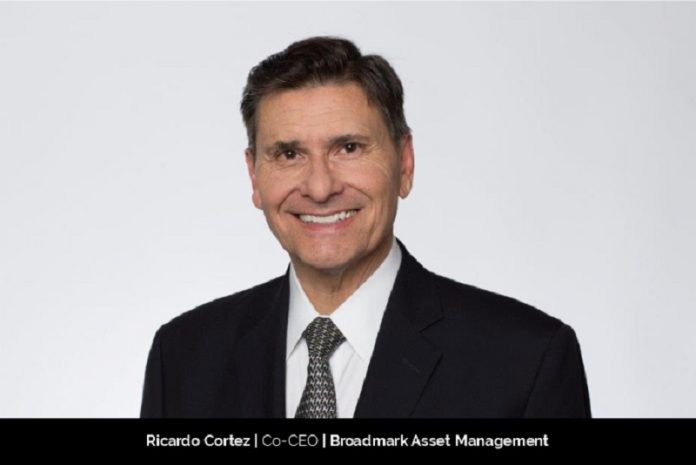 Managing risk in a time of uncertainty requires an intelligent investment strategy, combined with persistence, passion and integrity.
Even though every investment involves some risk, investors like to know that their hard-earned money is protected from extreme market fluctuations. Calculating risk-adjusted returns can help investors and portfolio managers make better portfolio allocation decisions that help them reduce risk with the potential for increasing returns.
That's the basis of the investment strategy used at Broadmark Asset Management LLC (Broadmark), an investment firm with $1.4 billion of assets, co-managed by Co-CEO Ricardo Cortez. Passion, persistence and integrity are what drive him and, in that, he epitomizes the core values of Broadmark – integrity and respect for others.
His belief that managing people's money is a valuable and worthwhile calling was what led him to become the Chief Risk Officer at Broadmark, where he now leads global sales and marketing efforts and helps oversee business operations.
Putting together a team of smart, talented people and bringing together individuals to pursue a common purpose is how Cortez sees his role and it's what excites him. Driven by the passion to grow and succeed, he also hopes to fire up that passion in others and inspire them to share his goals.
A multi-disciplinary approach to investing
From a career in music, to a fascination with philosophy, Einstein and Quantum Theory, and building a distinguished career as a financier and asset management specialist, Cortez defines integrity as thinking of the individual first, despite the winds of change in business.
Integrity is thinking of the individual first, despite the winds of change in business.
His multi-disciplinary approach to investment stems from his rich and varied life experiences, from becoming a trained classical guitarist and studio musician in high school and college, to touring with Rock 'n Roll Hall of Fame rock groups like Mitch Ryder, Jay and the Americans and the Coasters.
As the first in his family to go to college, Cortez wanted to be a philosophy major and worked on a Ph.D. at Columbia University in the hope of becoming a professor of philosophy and mathematics.
When fatherhood beckoned, he found he needed a job and joined Merrill Lynch as a senior stock market analyst. He went on to work as the president of Liberty Capital Management and the president of Cortez Capital Management.
He then served as the Senior Vice President at Prudential Financial, a Vice President at Goldman Sachs, and president of Torrey Associates LLC, in addition to becoming a member of the board of advisors for the Investment Management Consultant Association.
"Each has its own benefits and drawbacks," he says. "But I have found that if I were to be laid off or fired from a job, I would rather it be because I have made the mistakes, rather than my boss making the decision that I was not wanted."
Cortez takes a big picture approach to economics and the market and believes that for those who work in the stock market, it also helps to draw inspiration from the study of psychology, politics, philosophy, sociology, historical and cultural trends, in addition to knowing the fundamentals of finance, economics, and math.
Investment management involves knowledge of many disciplines and bringing all these disciplines together to make real decisions in the real world with real money has always been exciting to him and remains so to this day.
Taking a balanced approach to life
Cortez was certified as an Investment Management Analyst (CIMA) at the Wharton School in 1993. His alma mater, Queens College, awarded him the President's Medal, the school's highest administrative honor in 2020.
In 2021, he went on to receive the Albert Nelson Marquis Lifetime Achievement Award from Marquis' Who's Who, the world's premier publisher of biographical profiles that considers factors such as position, noteworthy accomplishments, visibility, and prominence in a field.
He also keeps a firm foothold in academia by serving as an adjunct faculty member at Harvard University, a guest lecturer on investment policy and hedge funds at the Wharton School, as well as a lecturer at the University of California Berkeley, and the New York Institute of Finance. He is also the past chairman of the business advisory board for Queens College.
In addition to being published in many professional publications, Cortez co-authored a book called, Industry and Stock Forecast, and contributed to the book, The Cosma Hypothesis: Implications of the Overview Effect, by noted author Frank White.
Despite such impressive professional achievements, Cortez believes in staying humble and maintaining a healthy balance between his professional and personal life by looking at the ten things that he loves most in life and comparing them with the time he spends on each.
He knows that if they don't match, there's a disconnect he needs to look at, if he wants to prevent his personal and professional life from getting out of balance. And while he never got to be a professional musician, professor of physics, or tennis player, he still devotes a great deal of time to those endeavors.
"This helps to balance my business life, and it also keeps me humble!" he says.
The importance of finding a role that fits
Cortez credits the challenges that his daughter, Natalie, faced in her career, with teaching him more about success and being persistent at trying to find a role that fits.
"I learned a lot about this from my daughter Natalie," he says. "She has been on Broadway in several hit shows and has had the experience of auditioning for many roles and not being selected. The reason she was turned down for a role was not lack of talent or drive. It was because she did not fit that particular role."
With the belief that experience is one thing you can't get for nothing, he accepts the inevitability of the occasional failure, or even the humiliation at having tried something new and come up short, as the price we pay for experience.
"The take-away here is that you must be persistent at trying to find the role that fits you. The way to get the necessary experience is to be persistent, to try over and over again, which means you are going to make mistakes and fail a lot. Don't be afraid of mistakes or failure. Just try to make those mistakes small ones!" he says.
"Experience is one thing you can't get for nothing." 

~ Oscar Wilde
Building a culture of integrity and innovation
Integrity and the respect for others are the core values of Broadmark, and Cortez believes that integrity involves fulfilling their responsibilities to their clients, employees, shareholders, and the public, with the highest possible ethical standards.
He takes pride in the fact that every person who works at Broadmark feels heard and is treated with respect, whether they work from the corner office or at the reception desk.
Cortez believes in welcoming change and keeping up with new technology. His willingness to adapt to new environments and innovations has helped his firm overcome the challenges of finding new ways to communicate with financial advisors and their clients during the COVID-19 pandemic.
Redefining the investment and asset management industry
Broadmark's goal is to produce positive returns every year regardless of the market environment, and Cortez swears by Warren Buffet's famous rules of investing: "Rule number one: Don't lose money. Rule number two: Don't forget rule number one."
"Rule number one: Don't lose money. Rule number two: Don't forget rule number one."

~ Warren Buffet.
He believes that this approach has been positive for the company's growth, particularly when investors are worried about the economy and the stock market.
Cortez also quotes Benjamin Graham's seminal book on Security Analysis (1934) that says, "The management of portfolios is the management of risk, not the management of returns."
What differentiates Broadmark from other asset management companies is that their goal is to manage the downside risk and help investors protect their capital while achieving good long-term returns.
They have historically mitigated risk better during adverse market conditions by only investing in the broad market indexes, and not in individual companies.
He defines the Broadmark strategy as one that is designed to provide positive, risk-adjusted returns in any market environment and uses a directional equity long-and-short strategy that can be fully invested, fully in cash, or short.
To persist and resist
Cortez believes that there is substantial risk in equity prices due to the record levels of global and U.S. debt, elevated equity valuations (that by some measures rival the dot.com bubble and even 1929), and the disruptions due to the COVID-19 pandemic and Delta and Omicron variants.
Their plans for the future of Broadmark are to protect and grow client assets by navigating these potential market risks. His message to aspiring business leaders is to follow Marcus Aurelius' advice: "Persist and Resist."
"The two factors that hold one back are the lack of persistence and the inability to resist temptation. If you can do that and always act with integrity, you will succeed," he says.
"The two blackest vices are lack of persistence and the inability to resist temptation."

~ Marcus Aurelius
Dealing with increasing competition
Cortez explains his four-step strategy for dealing with the increasing competition in the equity risk management industry as:
Differentiating one's investment strategy from the competition and demonstrating the value of one's strategy.
Show how one's strategy complements the other strategies that an investor may already be using.
Show why now is the time to use the strategy.
Clearly demonstrate why the strategy has worked in the past and is repeatable in the future, regardless of the competition.
"You must communicate that your strategy is valuable for an investor, whether there is a lot of competition or no competition," he says.
Building solid partnerships through tough times
Broadmark's Founder, Chris Guptill, who created the investment strategy that they have used for the last 20 years, takes the lead in the management of the assets. Their COO, Laura Hespe, manages day-to-day business activities for the firm and runs the business.
Cortez is a member of the Investment Team and serves as the firm's Chief Risk Officer. He is also responsible for the management of their day-to-day business activities, ensures that they serve their clients with excellence, and oversees their sales and marketing efforts.
At the core of Broadmark's investment philosophy is equity market risk management, and one of the biggest challenges that they had to overcome was when the stock market was going up and their investors believed that they did not need risk management.
It took a strong belief and confidence to keep going at a time when their company's investment management strategy was out of favor and investors simply did not want to invest with them.
Cortez realized that a lack of preparation, or not facing the fact that there will be always hard times, was one of the major roadblocks to overcoming challenges.
He also learned that, as much as investors don't want to think of tough times when things are going well, that is exactly when they must plan for potential bumps in the road.
Cortez credits their greatest achievements as having been able to come through the tough times with partners with whom he is still close and takes pride in the fact that many of the largest brokerage houses and banks in the world now entrust their client assets to Broadmark's management.
"As anyone knows who has had partners in life or in business, partnerships can be difficult," he says. "It is still awe-inspiring for me to realize that some of the large global companies I have worked for are now my clients."
Cortez considers these solid partnerships as one of the greatest compliments to Broadmark's investment management acumen and their added value to financial advisors in their recommendations to clients.
Teamwork, focus on building solid partnerships, persistence, passion, and integrity are the defining culture of Broadmark. This has helped them ably manage risk in a time of uncertainty and is reflected in the $1.4 billion that they manage today.