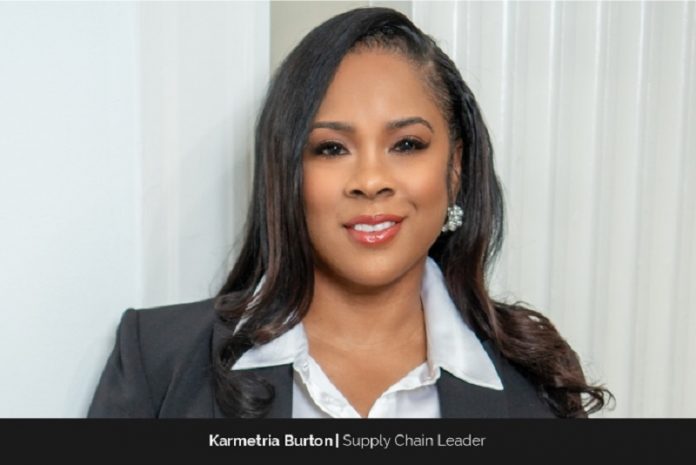 Karmetria Burton, a seasoned veteran of the supply chain industry, always oozes positive energy. If one had to describe her in a few words, it would be a "glass-half-full person." She is always looking for good and finds it in everything. And for her, success means living life on one's own terms and making the world a better place through one's contributions.
About 15 years ago, Karmetria used to define success in terms of a good career, a certain income level, a certain type of house, and vacation spots – based on things and what people can see. "But, as I've matured, I feel successful when I'm making the world a better place and adding value," she says.
Karmetria is currently serving as a Supply Chain Leader. She wants to influence a change in today's generation by making women and minorities know about the career paths in the supply chain.
"People don't know about it [supply chain industry] or think about it, and they don't understand it," Karmetria says. "So, I want to create awareness, mentor women and minorities in the supply chain, as well as make sure that I stay abreast of supply chain trends."
Supply Chain Chose Her
Today, it would be difficult to imagine Karmetria working in an industry other than the supply chain. She is very much entrenched in it. But she didn't choose this industry. "The supply chain chose me. I didn't choose it," she often says.
Armed with a marketing degree, Karmetria wanted to make a career in the marketing field. After graduating from college, she, however, was not able to land a job. "I was just not landing my dream job. I was going for interviews, but for whatever reason, it was just not happening," she recalls.
At the time, her father, a small business owner, was starting a recycling business. When she went to him to get some tips on how to get a job, he asked her to work for him. He told her that he could really use her energy and business acumen. She turned down his offer, saying, "I don't want to work for some small business." Karmetria wanted to work for corporations and give back to them.
In college, she had always seen powerful career women, and they were all corporate women. That is what she also wanted to become. But then, more than a month later – still had not received any job offer – she went back to her father and said, "Okay, I'm ready to help."
Karmetria recalls that all her friends who had graduated from college were landing great jobs and had cute apartments, and she had to move back home and live in her parents' basement, and help her dad grow his business.
"I took on the challenge because I knew that the success of the business depended on me," she adds. "I worked the business, created the business plans, and the client listing."
During a meeting with a leading company, she successfully sold her company's services and won the contract, and after that, she also landed her first corporate job.
After the meeting, the guy who was the decision maker came up to her and said, "Wow, you were great, and we were impressed with you. We want you to come to work for us. We could use you here."
"That is how I got my first corporate job – on a sales call working for a small business. It was in the supply chain," Karmetria says. "That is why I say, supply chain chose me, I didn't choose supply chain."
She does not see her decision to join the supply chain industry as a risky move. "I had everything to gain because I was asked," she says. Now, when she looks back on the choice she made, she feels that it was a very calculative move as it set her up for success.
Wanted to Be a Disruptor
When Karmetria started working in the supply chain, women were almost non-existent – let alone black women. It was completely a male-dominated industry, and because of that, she never had a mentor. Men preferred to mentor other men at the time.
"There was no minority woman in the supply chain, and it was not a 'sexy field' to be in," says Karmetria. She, however, took it as an opportunity to learn a new business acumen and change the face of it. And, when she got into the supply chain, she enjoyed the work so much that she started telling other women about it. She wanted to be the black woman who could bring other women along in the supply chain space.
And, in spite of the challenges, Karmetria kept going because she also wanted to be a "disruptor," and didn't want to get disrupted. And this is something she tells other women as well: "Be a disruptor and don't get disrupted."
And Karmetria believes that challenges create character and teach one to be resilient, and they also teach one about things that they never knew. "Without challenges, you are not rowing," she says. "We don't want to go through life easy. We have to be stretched – that makes us bigger, better, stronger, and more resilient."
Supply Chains Are Critical 
Karmetria points out that the supply chain is one of the fastest-growing trends right now in business. The COVID-19 pandemic has definitely put it on the map. "It was a big deal during covid because we couldn't get products and food," she points out. People now have a better understanding of supply chains because of their disruption during the pandemic.
"Things that we order online, that is a supply chain. Groceries reach grocery stores through the supply chain. It is critical to not only how we do business but also to consumers," she adds.
Always Been a Leader
Karmetria believes that leadership is about influence. It is about the ability to get people to see the vision and buy into it. "If you can influence somebody, you are a great leader," she says. And she has been a leader since she was very, very young.
Even as a little girl, she was always somewhere taking charge and giving instructions. "I'm the oldest cousin of nine boys," Karmetria points out. "I was the only girl and that too the oldest, so I kind of always had to speak up for myself. Because they were all boys, and I didn't have any siblings at the time."
She says that she began to lead at a very young age because she wanted to be seen, heard, and valued. "I was told that I always spoke up for myself and I was always taking up for other people. I was always making sure people were okay and always giving directions," Karmetria says.
Leadership Is Not Easy
Karmetria believes that leadership is service and that leaders have to serve. "When you come from a place of service, it always shows how you lead," she says.
She, however, also feels that leadership is not easy. It comes with a lot of responsibilities as leaders have to lead teams, people, and projects. And one thing that Karmetria has learned as a leader is that: "you have to take care of your people."
"You have to understand that everyone is motivated by different things," she says. "I think you really have to build relationships with not only your people and the team but also with stakeholders. It is all about relationships."
Karmetria has a group of close-knit people, who, according to her, are one of the factors for her success. She trusts them and calls them whenever she has an issue or needs a thought partner or needs to have somebody to help her think through a process. "Your community and the value of your relationships are what I've really learned in being an effective leader," Karmetria says.
Two Ways of Looking at Competition
Competition, according to Karmetria, can be looked at in two ways. One of the ways is: to consider oneself as the competition. "I'm my biggest competition," she says. "I don't look at people as competition."
She looks at other people as a way she can learn from them, and she never feels threatened or that she is competing against them. It is because she believes that everyone brings different skills to the table.
And, if there is competition, Karmetria is not afraid of it, as she feels it can make someone better. And, according to her, one may notice the gaps when they start doing something or are trying to achieve something. That, she says, is an "opportunity for you to close those gaps through training, learning, reading, through going back to school, and through having a mentor."
A Regular Day of a Leader
Karmetria starts her day with a stretch, waking her body up. She then meditates, and after that she thinks of the day and prepares her mind. She has a journal where she notes down her ideas and things she has to do. And, once she has a light breakfast or exercised, she checks her phone.
Earlier, she was one of those who check their phones immediately after getting up. "That did not serve me well because that would throw my energy off," she says. "So, I'm no longer the person who rolls over and grabs her phone. I grab it after I have commanded the day to be peaceful, productive, successful, and then I dive into." After she checks the phone, all the madness starts.
And, Karmetria has always managed to strike a balance between her personal and professional life. It is because she has set boundaries and is not afraid to say no. "No is a complete sentence," she says.
No is often hard for women because they feel bad when they say it, but they have to set the boundaries because if they don't set the boundaries, they won't be good for anybody, according to Karmetria. For her, setting boundaries and saying no are a form of self-care as well.
Greatest Achievements
Karmetria is proud of the people she has been able to help and support along the way. She has mentored many people who are now in executive positions. "They come back and tell her, "Thank you." She has also mentored business owners who have got corporate contracts. They, too, have come back and said to her, "Thank you for your knowledge and your help."
"I am most proud about the influence I've had on people who I've mentored and how I've been able to change the lives of suppliers and get them corporate contracts," Karmetria says.
Paint Your Lips Red
Karmetria was raised by her grandmother. She was not very educated, but she believed in family. And she always instilled the value of education in Karmetria. Paint Your Lips Red (PYLR) is a leadership moment that she started in honor of her grandmother.
Karmetria was her grandmother's caretaker when she was very ill – she was on dialysis and had congestive heart failure. Whenever she had to go for a doctor's appointment, she would get up, do her prayer and meditation, go to the bathroom, and then come back and say, "Give me my red lipstick."
She wanted to be jazzy about going to the doctor's appointment. "It occurred to me that it was her cape for the day. She wasn't feeling her best. She didn't know what the doctor would tell her. But she showed up bold and in a red lip," Karmetria says.
So, red lipsticks, she explains, is not a fashion statement but a call to action now; for women to be bold to speak up and be fierce and fearless, and to be more measured. "So, PYLR is a leadership movement for women that focuses on sisterhood, service, and leadership development. And your red lipstick is your reminder. Women have been wearing it for years."
Karmetria points out that nurses in the war would wear red lipstick while tending injured soldiers because it would put them in a good mood. Back then, nurses wore all white, so the red lipstick was therapeutic for the soldiers that they were serving.
"We for so long thought that lipstick was a fashion statement, but it is a call to action, and PYLR is there to help women get more measured. It is not a moment. It is a movement."
Plans for the Future
Karmetria is in the process of writing a book. It is about women's empowerment and leadership in business, and it will talk about her journey. Karmetria says that it will be like a playbook, which she wants to pass on to women who are navigating corporate and entrepreneurship.
As she never had a mentor, she is committed to mentoring, coaching, and helping others by passing on the playbook. "The book will be a blueprint for women to be successful in business and life," adds Karmetria.
About two years ago, during the COVID-19 pandemic, Karmetria launched a podcast called "Mind Your Business." It focused on helping entrepreneurs who were frustrated because of the business slowdown during the pandemic. She invited high-level entrepreneurs to be on her podcast to educate and inspire other entrepreneurs with thought leadership, tools, and resources. Karmetria intends to refresh the podcast, in addition to getting on the speaker circuit more.
She is also thinking of starting a Mastermind for Women. "I've a lot of things on my head about what I want to do to create the next generation of leaders," she says, adding that it is important that women leaders think about their successors. And she wants to continue to inspire, touch, and encourage a lot more people, as well as help them reach their potential and purpose.
"And Karmetria Burton is here to stay for a while," she adds.
Message to Aspiring Businesswomen
"Get rid of the limiting beliefs," Karmetria says in her message to aspiring businesswomen.
She points out that sometimes women have been told things, and they themselves tell things, and they believe all of that. "It paralyzes us, and it doesn't allow us to be our full potential. So, get rid of the limited beliefs. You are enough," she adds. "You do deserve that role. You can do it."
Karmetria also notes in her message that a lot of women talk about imposter syndrome. They are afraid that people are going to find out that they are not actually qualified. She tells them to "fake it till you make it." She points out that there are a good number of people who have faked it to get a job that someone else deserved, and because that someone didn't fake it, they didn't get the job.
"So, get rid of those things that you tell about yourself and get rid of those things that people tell you about yourself," Karmetria says.
Personal Mantra
Karmetria's personal mantra is "Show up every day. Show up every day." It means to show up with a positive attitude every day. Show up expecting good things to happen. And show up prepared.
"Just show up, and when you show up, you beat half the competition," she says. "Showing up is half the battle. Once you show up, everything else falls into place."