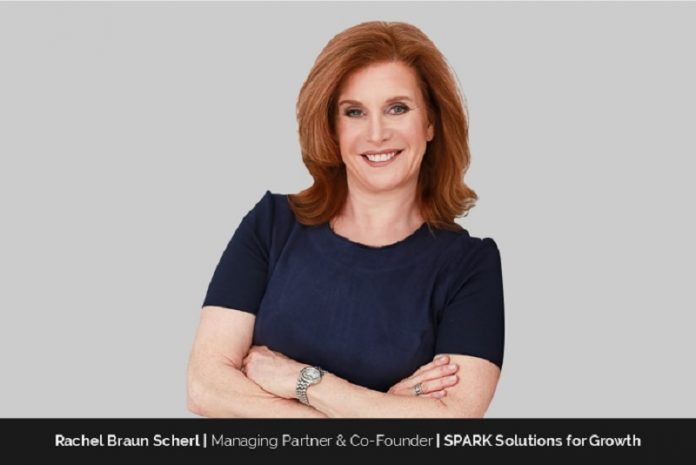 The first Vagipreneur®, Rachel Braun Scherl is a champion for women's health and a pioneer in the space, who has passionately focused on driving the conversation on the business of women's sexual and reproductive health. She has worked on women's businesses "from the tops of their heads to the tips of their toes" over the course of her multi-decade career.
As Managing Partner and Co-Founder (1998) of SPARK Solutions for Growth, a strategic and marketing consultancy, Rachel has built an international client list that includes Johnson & Johnson, Allergan, Pfizer, Merck, Bayer and Church & Dwight, as well as venture-backed start-ups. The focus of the work over the past two decades has been on driving top line growth.
In addition to building businesses in consumer wellness, pharmaceutical, and devices, Rachel has built a global reputation as a "go-to-person" to build and grow women's sexual and reproductive health.
Rachel continues to drive growth for brands and companies and identify breakthrough solutions in the space, bringing deep experience and meaningful results to businesses in menstruation, fertility, sexual disease prevention, birth control, pregnancy, menopause and incontinence, among others.
Rachel serves as a trusted board member and strategic advisor for a number of companies. She is a sought-after Keynote Speaker at conferences, universities and companies on entrepreneurship, leadership, and the business of women's health.
In 2018, Rachel authored the bestselling book, Orgasmic Leadership: Profiting from the Coming Surge in Women's Sexual Health and Wellness, focused on the trials, tribulations and triumphs of building businesses in this space. In addition, Rachel is the co-host of the podcast, Business of the V, which highlights the intersection of patient care, unmet needs and the companies created to solve unanswered questions.
A fearless advocate & relentless warrior for women's sexual health
Rachel takes on women's long-neglected needs and satisfaction with a strategic business focus, humor, insight, passion, and in the process exposes an incredibly complex tangle of outdated barriers and challenges that still stand in the way of the successful commercialization of women's health products and services.
During quarantine, Rachel interviewed 100+ Vagipreneurs, academics, health care professionals and investors and shared learnings on IGTV and BlogHer's platform, Quotes from Quarantine, that focused on leaders in Femtech and Sextech, and ways to survive and thrive personally and professionally during COVID.
Female founders in the women's sexual health and wellness space shared what they had done to continue their businesses, stay sane, and keep their teams healthy and motivated.
Being effective in this complex, and often stigmatized, area of health requires Rachel to be a fearless advocate, and relentless warrior in the multibillion-dollar global women's sexual health marketplace.
Building a career in the wellness industry
Rachel earned an MBA from Stanford University Graduate School of Business, after graduating Magna Cum Laude and Phi Beta Kappa from Duke University.
She continues her connection to both schools by serving on boards and task forces, including the Center for Entrepreneurship & Innovation at Duke's Fuqua Business School and Stanford Women on Boards.
When she graduated from Stanford Business School, her dream was to run Johnson & Johnson. Her first job at Johnson & Johnson was in product management on the iconic TYLENOL® brand.
"I adored the role and felt as if I was working on the crown jewel of the company," she recalls. "I was inspired and motivated by the leaders, and the non-stop learning about the fundamentals and levers of running a $1B business."
The relationships that Rachel formed there were foundational to her entire career, in terms of mentorship, business-building, skill development, and client relationships. Interestingly, Rachel worked with or for Johnson & Johnson as an employee or service provider for 20+ years.
SPARK enjoys a roster of relationships and has provided services for clients who hire her again and again, as they move to new roles within companies or at other companies.
When she transitioned from product management to consulting; first for a large company and then a strategy boutique, Rachel was always able to parlay her corporate relationships into client work.
"I learned a few core lessons very early on that have been constant pillars for me: I effectively build relationships, I love to sell, and I am continually energized by solving complex problems," she says.
Following the call of entrepreneurship
When Rachel was in her second job, after graduating from Stanford Business School, she found herself doing exciting strategic and growth work at a terrific consulting firm, which included Johnson & Johnson as a client.
"I felt like I was learning at an amazing pace, building colleague and client relationships, and delivering high-quality work in the more technical and scientific aspects of healthcare," she recalls.
The work was non-stop, late nights, weekends, and included constant and long international travel, and giving birth to her first child. Rachel always knew that she would continue to build her career when she had children. So, after her maternity leave, which was not nearly as generous as today's programs, to say the least, she went back to work as scheduled.
"I was put on a project in Europe that required me to travel to Europe once a month, for a week, for 7 months. The hours were long, the jetlag was constant, and all of those were exacerbated by having an infant," she says.
But when Rachel experienced pay discrimination, harassment, and a toxic workplace environment on top of all of that, she decided to start her own business, having realized that she never again wanted anyone but herself to be in charge of her financial future or life.
"At that point, I realized that even if they were paying me $10M a year (which they certainly weren't in 1995), the job was not worth the physical, emotional, or family toll," she says.
"I vowed that, moving forward, I would only work with people I like, on work that I like. And I have done my very best to keep this promise to myself in the forefront of my brain, when starting SPARK Solutions for Growth, and in every business and client relationship since."
Driving top-line growth with the SPARK growth strategy
Rachel explains that, over the course of its life, SPARK has always focused on driving top-line growth – or what she likes to call pragmatic strategy – outlining the SPARK growth strategy as follows:
A: SPARK Growth: Develop growth strategies with actionable steps and measurable milestones for realizing the success companies envision.
B: SPARK Strategic Partnerships: Identify and connect with business partners, both internal and external, who can help grow businesses strategically, financially, and efficiently.
SPARK Innovation: Develop, message, offer, and invent products, solutions, language, pricing strategies, distribution, and advice – whatever it takes to encourage people to engage in a transaction or to buy what the company is selling.
Becoming a Vagipreneur® with Semprae Laboratories Inc.
After building a successful consultancy with her long-time business partner, Mary Wallace Jaensch, Rachel and her partner co-founded and served as President of Semprae Laboratories Inc., a venture-backed company engaged in developing and marketing women's sexual health products.
Semprae experienced robust growth in retail and direct-to-consumer sales, attracting media attention and industry interest, and was ultimately sold to Innovus Pharmaceuticals in 2013.
In the process of running Semprae, Rachel helped create a new category, and build conversation around women's sexual and reproductive health, a conversation in which she continues to take a lead today.
After Semprae's products were rejected by 95% of media outlets (online, print, website, cable, and network included), Rachel became a fire brand and spokesperson for her company and the category, highlighting the disparity between advertising for men's and women's sexual health companies.
"If I couldn't buy media, I was going to earn it," she says. Her efforts ultimately resulted in a successful national public relations campaign, including appearing in The New York Times, The View, Good Morning America, and ABC news – – all of which served to drive significant company growth.
Following the sale of the company, the first leading Vagipreneur® brought her experience and passion for the space to become a market-maker in the multibillion-dollar global women's sexual health subsector.
Her first book, Orgasmic Leadership: Profiting from the Coming Surge in Female Health and Wellness, was published in May 2018, and became an international bestseller.
Orgasmic Leadership tells the story of what drives, inspires, and sustains entrepreneurs in the rapidly growing global women's sexual health and wellness space. It reflects a wellspring of deep personal experience in pharmaceuticals, consumer products, women's health, as well as in-depth interviews with leaders in the sexual wellness field.
It provides lessons learned about challenges and opportunities, and highlights how entrepreneurs, investors, and health care professionals capitalize on existing trends to build their businesses.
A fearless champion for women's sexual & reproductive health
For many years, Rachel has been a fearless champion for the business of women's sexual and reproductive health. She is a frequent fixture on panels at conferences, companies, and industry meetings.
Her personal passion and successful market experience have enabled her to catalyze conversations, raise awareness, and build businesses in a space that has historically been challenged by limited focus, societal discomfort, limited access to capital, and double standards.
"Creating companies and conversations in women's sexual and reproductive health is a heavy lift – and often feels like pushing a huge boulder up a mountain," she says. "I have always been driven by the fundamental belief that, without the right vocabulary, we don't have the tools to have meaningful and important conversations around difficult or uncomfortable topics. Today, there are so many entrepreneurs, investors, academics, researchers, and health care professionals who are helping us get up the mountain. While we still have a long way to go, we have truly made meaningful progress."
Within the industry, Rachel speaks publicly, loudly, and passionately, to drive the conversation around the business of female health, in all its complexity.
A thought-leader on leadership, entrepreneurship, and women's health
Today, Rachel is an established authority on leadership, entrepreneurship, and women's health, and a frequent speaker at universities, including Stanford University, Duke University, Yale, and Columbia, as well as at Fortune 100 companies and at national and international conferences.
She has been interviewed for major platforms including The New York Times, San Francisco Chronicle, The Philadelphia Inquirer, Forbes, CNN, Lifetime, Oprah Radio, and WPIX among others, and penned dozens of articles in her unique voice for Huffington Post and Inc. Her television appearances include ABC News, AdAge, CBS News, FOX News, and MSNBC.
She hopes that her work in the space of women's sexual and reproductive health inspires entrepreneurs to build businesses, motivates investors to understand the enormous business opportunity in solving challenges in women's sexual and reproductive health, convinces Facebook and other advertising channels to stop the double standard, contribute to important conversations in these areas, and be part of the solution.
Persevering in the face of adversity
As a product manager, business strategist, entrepreneur, and Vagipreneur®, Rachel has experienced first-hand, the challenges that stand in the way of building businesses, and the perseverance required to make that happen.
"Kelly Clarkson has a great line in a song – What doesn't kill you makes you stronger. I find that's generally true. That doesn't mean that challenges aren't hard, enervating, and complicated," she says, sharing her inimitable advice on coping with challenges in business and life.
Rachel has always believed that perseverance, discipline, and focus are critical to success – which is often not a straight line. Over the course of her career, she has shared some fundamental principles that she believes are critical to embrace:
There are many paths to success – the path may be over, under, or around the most direct route to the goal. You don't have to like these extra barriers, but to succeed, you'll have to acknowledge them, and find ways to circumvent them —and be prepared ahead of time for the extra distance that may be added to achieving your goals.
Never, ever, ever take "No" for an answer. You may hear "No" a dozen times. You may hear it a hundred times, but somewhere out there is your "Yes." and if you stop before you get there, somebody else will hear it — not you.
It's not only OK to ask for help from people who have fought the same battles — it's a best practice. You can preserve sanity, time, and precious resources, if you can turn to others who have "been there" as part of your own personal business brain trust.
Never ever lose your sense of humor or sense of perspective.
Make sure you have a thick (massively thick) skin and effective coping mechanisms.
A relentlessly direct leader with infectious energy and passion
One of Rachel's proudest achievements is building a trusting and successful partnership with her long-time partner, Mary Jaensch, which has spanned over three decades, and included multiple types of successful businesses and incarnations.
"I have always placed a high premium on building long-lasting relationships, which I believe have been critical to any success I have had," she says. "I have worked with so many people who hire us at one company and then continue to take SPARK with them in their subsequent roles. The fact that they trust and value my advice is quite meaningful to me."
Describing herself as relentless, and someone who does not give up, Rachel spends her days solving problems, speaking, learning, writing, thinking, selling, and mentoring – over and over and over.
With an "infectious" energy and passion for her work, Rachel lives and works by a core value that is central to her personal brand: "Always say what I mean. Always do what I say." A tireless leader, Rachel makes decisions from an unshakeable set of ethics learned from her parents.
"I don't sugarcoat things. I state my opinion strongly and clearly," she says. "I communicate points of commonality and difference with a team. I share bad news and good news with alacrity. I don't like to be surprised by new information in a meeting or partnership, if possible, and I try very hard not to put other people in that situation."
Rachel believes that a good leader is one who is smart enough to know what she doesn't know, and comfortable enough to surround herself with the smartest people possible.
"As a continuous learner, I read constantly, ask questions, research, and have conversations with people from whom I can learn. I push myself to continue to improve fundamental and critical skills, always looking for ways to enhance my communication and leadership style, improve my negotiating and selling skills," she explains.
Setting Big Hairy Audacious Goals
As a working mom for her children's entire lives, a devoted daughter, wife, family member, community volunteer, and friend, Rachel refuses to buy into a concept of work-life balance that implies there is some moment at which point you will achieve this elusive goal, if only you work hard enough.
"I find that life moves in phases – some are fabulous, some are unbearable, and many are in between, and, at each point, we are all literally doing the best we can," she says. "I prefer talking about the work-life journey, because I feel it acknowledges and responds to the realities of life as a process, and reflects an understanding of the complexities, desire for flexibility, and general unpredictability of life. If someone has found the perfect balance, I haven't heard about it."
Rachel also recognizes that success has many different facets to it, including building and enjoying a healthy and happy family, doing meaningful work that lets her provide opportunities for her children, being a devoted family member and friend that can be counted on to be loyal, honest, and steadfast, and making a measurable impact on her broader community.
"I know that these objectives can't all be met at the same time," she says. "I do like having BHAGs (Big Hairy Audacious Goals) – shout out to my business school professor and mentor, Jim Collins – as goals keep me focused, purpose-driven, disciplined, and present."
Rachel also enjoys taking on new roles and does a tremendous amount of public speaking, podcasts, panels, and workshops on leadership, and the business of women's sexual and reproductive health.
She co-hosts the Business of the V podcast (businessofthev.com) along with Dr. Alyssa Dweck, where she interviews and discusses women's health businesses, patient care, unmet needs, unanswered questions, and the businesses being created to answer those concerns.
No time outs, no substitutions
Rachel draws inspiration from the many sports movies (think Rocky I to V, Rudy, Breaking Away, Brian's Song) she watched with her dad growing up, though her primary inspiration came from the classic 1976 movie, Rollerball.
In the original movie, (where grown men on skates, with sharp gloves and weapons, play the brutal sport of rollerball, a deadly version of roller derby, to the death), before each match, the referee describes the rules to players: "No time outs, no substitutions."
Her father, who was clearly her idol for her entire life, translated that concept into all areas of life and work. He taught her that there's no one on the bench to take your place, in your company, in your family, in your community. Rachel believes that the same applies to entrepreneurship and life.
"Your best effort is required. Every day, you need to get in the game, play hard, play fair, and focus on the most important things that need to be done – for as long as you can. The success of not only your business, but your life, depends on it."