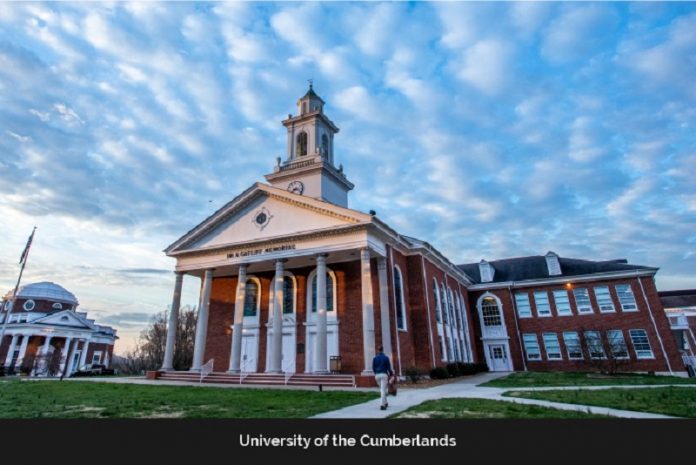 University of the Cumberlands is a private, nonprofit university located in the heart of the Appalachian Mountains in Williamsburg, Kentucky. According to the Chronicle of Higher Education, University of the Cumberlands is one of the fastest-growing colleges in America.
It is also the third-largest university in Kentucky and one of the biggest and most affordable private institutions in the state, with a total enrolment of more than 19,000 students.
Founded in 1888, Cumberlands has a long history of providing students with access to a quality, affordable education while also preparing them for lives of service to local communities.
Committed to preparing students for the future
As an institution of distinction, University of the Cumberlands offers more than 170 undergraduate, pre-professional, graduate, doctoral, and certificate programs and provides undergraduate degrees in more than 40 major subject areas.
"Our approach to education is personal," says Larry L. Cockrum, President of University of the Cumberlands. "We value and are committed to the success of every student. Whether it is a first-time undergraduate student, a working parent coming back to school, or a professional seeking to further their career, we strive to meet the unique needs of each individual so they can achieve their goals."
Cumberlands is different by design and is built on the belief that a quality education provides a variety of learning opportunities – not just textbook learning but practical, hands-on learning. Through cutting-edge programs, experiential learning, and research, it is committed to preparing students for the future.
Along with academics, the university places a strong emphasis on student work and service to others. The end goal is to develop keen minds, warm hearts, and helping hands.
Cumberlands' growth is propelled by career-focused and accessible academic programs, affordability, and dedication to providing helpful and timely customer service. The faculty focuses on the student and has adapted to their needs at every turn.
The mission of Cumberlands is to provide a quality, affordable education to students from all backgrounds through broad-based academics. The founders recognized the need for education in this area, and the very first graduates were a doctor, lawyer, minister, and teacher.
"I believe we were all put on this earth to help people," says President Cockrum. "I feel that, as long as that remains our focus, we can continue to be successful. In my mind, Cumberlands has been a reputed college from the very beginning."
Achieving stupendous growth through online programs
When President Cockrum first joined University of the Cumberlands, it was a traditional campus for undergraduate students, as online programs did not exist. But innovation takes many forms at the institution, and in 2005 it opened its virtual doors to the world of online education, which was a turning point for the university.
The University launched its first online programs by offering degree opportunities for Kentucky teachers in 2005. Since then, Cumberlands has continually adapted to new technologies and launched new programs to meet the demands of the ever-changing world around us.
President Cockrum notes that their online degree programs are increasingly popular because they've been able to expand their commitment to academic excellence by offering programs that are convenient, affordable, and flexible.
Over the past two decades, Cumberlands has increased access to higher education for adult learners through online degree programs, and its online programs allow busy professionals to work and raise a family while pursuing a degree from home.
"The education market changed, so we adapted to meet students' needs. The enhanced opportunities provided to our students has propelled our growth, and motivated us to continue innovating in new ways," notes President Cockrum.
When Cumberlands launched online programs, the collective mindset had to expand, as they used technology to deliver affordable educational opportunities into the homes of the students.
Traditional barriers, such as transportation and the time and cost of travel, have been eliminated by online learning opportunities. Since 2005, University of the Cumberlands has grown from 1,300 on-campus students to over 19,000 students across the globe.
President Cockrum points out that technology is a great equalizer because it allows Cumberlands to bring an affordable, quality education into small towns, rural communities, and locations around the globe.
He also notes that the entire process of moving to online education was a challenge and took an immense amount of work, but, because they held true to their mission, the transition was successful.
Enabling students to graduate debt-free
As the success of the online programs continued, Cumberlands recognized that their on-campus growth had slowed. President Cockrum felt that many students were questioning the affordability of college in general.
This presented another opportunity to change the scope of what the university offered, so they could better serve their students. Recognizing that the cost of education was too high, Cumberlands decided to lower higher education costs by cutting on-campus undergraduate tuition by 57% in the fall of 2019 and also began offering free textbooks in the fall of 2020.
Today, nearly one-fourth of its traditional on-campus students graduate debt-free. Cumberlands students are able to enter the workforce with a strong education and a desire to work but with much less debt than their peers.
These adjustments solidified the university's commitment to making a quality, private college education accessible and affordable for hardworking families and students. That impact has again resulted in positive growth for the university.
"I highly commend every faculty and staff member who has handled the ripple effects brought about by restructuring our students' financial experience in these ways. Not only did our Financial Aid team pull extra hours before the tuition cut was announced, but many others were also impacted by the sudden influx of students," observes President Cockrum.
He notes that the Office of Admissions took in many more applications. Some professors taught larger classes for a time. Their Operations team converted a university-owned hotel into a residence hall to house more students. These were just a few examples of the hard work their faculty and staff members put in to adapt to this new horizon for higher education.
In addition to online advancements, Cumberlands refined its programs to be more career-focused, staying on top of societal and job market trends so that programs were formatted in ways that made their graduates market-nimble.
"We look for opportunities in the job market, align our programs to those opportunities, and then give students an affordable approach to education that can define their place in the workforce," states President Cockrum.
Staying ahead of the curve in higher education
University of the Cumberlands was also one of the first institutions in the nation to offer a degree in blockchain technology. That kind of approach to higher education helped them stay ahead of the curve and remain focused on their students' needs while also helping the institution maintain a strong level of integrity.
"We want to deliver programs that can move people upward in the workforce. Traditionally, we are a small private college in rural Kentucky; however, we have programs built in many areas of information technology that have earned us recognition as a Center for Academic Excellence from the Department of Homeland Security and National Security Agency," states President Cockrum.
The university offers a robust on-campus experience with 43% of recent graduates earning a 3.5 GPA or higher and performing 46,674 hours of community service, equating to a total contribution worth $1.18 million.
In 2022, Cumberlands was awarded Gold status as a Military Friendly® School. It has also been named the best online college and the safest college in Kentucky.
President Cockrum notes that U.S. News and World Report also ranked Cumberlands among the top universities in the South for "social mobility," an honor that he is particularly proud of, because it proves that they are not only providing an education to students, but changing their lives.
"I believe in the work that takes place on this campus, and the faculty and staff at Cumberlands believe in our mission and understand our vision. We all work together to stay focused and committed in our mission to help students," states President Cockrum.
Painting a vision for the future of Cumberlands
As a former basketball coach, President Cockrum notes that being a university president has a lot of similarities to coaching. He believes that the job of the president is to paint a vision for the university and inspire people to join the work of accomplishing that vision.
"The key to any good team is hiring the right people, placing them in a position suited to their strengths, and giving them the freedom to make things happen. The success of a president isn't defined by position or power, but by the positive impact they have on the lives of others. We are here to serve our students. As a university, our success is defined by the success of our students," he affirms.
President Cockrum also notes that hiring the right people is a critical component for any organization and that Cumberlands seeks to hire faculty and staff who embrace the university's mission of providing people of all backgrounds with access to an affordable education.
"Our faculty and staff are motivated by the knowledge that their work has value and enables our students to pursue and fulfill their life goals. Ultimately, the community here at Cumberlands is made of phenomenal people who care about others and want them to succeed," states President Cockrum.
He notes that while Cumberlands' methods of delivery may have changed over the years, its mission to serve students remains the same. He believes that education has the power to transform lives, and, as a university, Cumberlands will continue to seek out opportunities to provide students with the educational training they need to remain competitive in the job market.
"We are also solidifying our focus on lifelong learning. We want the students who come to us for an associate degree to have the option to come back for their bachelor's, their master's, and even a Ph.D. Learning never ends, so why should our students' educational opportunities?" President Cockrum states.
Cumberlands already has a significant presence in the global education market and remains committed to meeting the needs of students wherever they are located.