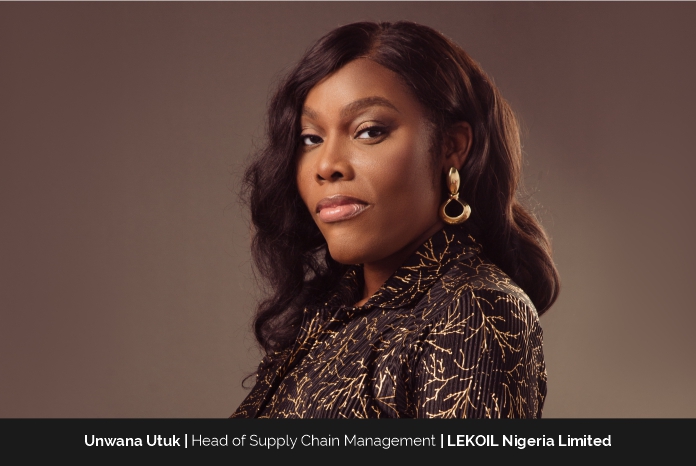 With 18 years of experience, Unwana Utuk has a strong track record in Contracts and Commercial engagements, Strategic Negotiation, Petroleum, Gas, Strategic Sourcing & Procurement, Supplier Management, Contract Management, and Legal Compliance. She currently serves as Supply Chain Management Head at Lekoil, with expertise in the oil and gas sector.
Unwana is passionate about creating practical performance metrics for contracts to ensure businesses achieve their desired outcomes while maintaining quality and legal standards. Overall, Unwana offers a combination of commercial and legal excellence in transactions.
The Power of Fusion
With years of experience in the oil exploration and production industry, Unwana has traversed two distinct paths – initially as an in-house lawyer and later transitioning into supply chain management. This unique blend of expertise has bestowed a significant advantage upon Unwana's career. By possessing a deep understanding of both legal and commercial aspects, she embodies the fusion of these two worlds. This enables them to skillfully navigate legal risks while simultaneously managing commercial interactions with efficiency and effectiveness.
Resilience in Managing Supplier Contracts During Economic Downturns
Between mid-2014 and early 2016, especially in 2015, the global economy encountered a significant downturn in oil prices, marking one of the most substantial declines in recent history. The 70% price plunge during that period ranked among the top three largest declines since World War II and the most prolonged since the supply-driven collapse of 1986. Unwana faced the daunting task of managing a vast array of supplier contracts in her organization at the time. Her mandate was to reduce spending by 50% on contracts that were already executed and performing by renegotiating payment terms. Balancing the management of suppliers while mitigating organizational risks was a monumental challenge.
In 2020, a similar scenario unfolded, albeit on a different scale. Crude oil prices globally experienced a decline, amplified by the massive impact of the COVID-19 pandemic on oil demand. The global supply chain faced disruption, elevating the significance of rigorous supplier management. Navigating through uncertain circumstances, Unwana emerged stronger, earning the goodwill of stakeholders and securing remarkable concessions from vendors. This achievement was nothing short of extraordinary.
Pioneering Exploration, Sustainable Operations, and Exemplary Values
LEKOIL is an African focused oil and gas exploration and production company with its interests largely in Nigeria. The Company has Assets with participatory interest at Otakikpo Marginal Field (OML 11), Dahomey Basin OPL 310, Dahomey Basin OPL 325, OPL 276, LEKGAS, etc.
Only last year, the Otakikpo field saw the drilling of two additional wells to increase gross production to approximately 10,000 bopd (barrels of oil per day). This was successfully executed, without any Lost Time Injuries or negative environmental impacts.
The future looks bright for LEKOIL, whose strategy is not only to drive down the cost of production but to continue to explore new ways of reducing its production costs in order to survive future low-price climates.
The LEKOIL Core Values are Integrity, Professionalism, Respect, Innovation and Creativity, Drive, Teamwork and Collaboration. The company thrives on acting responsibly and accountably as individuals, adhering to the highest moral standards in dealing with its stakeholders and operating with ethics and fairness. LEKOIL sets the best standards in conducting its business operations and in service delivery.
Finding Solutions in Unprecedented Times
Unwana perceives challenges not as roadblocks, but as valuable road signs pointing her towards solutions. By closely examining challenges, she often discovers hidden solutions within them.
A prominent example from her career is the significant challenge presented by the COVID-19 pandemic and the resulting lockdown. This necessitated the introduction of remote work, creating the intricate task of balancing work responsibilities with family and personal life, all within a blurred line. Unwana learned to embrace creativity and cultivate patience in this new reality.
Furthermore, the pandemic led to various supply chain issues, such as extended delivery timelines and soaring transportation costs. In response to these challenges, Unwana and her team implemented creative measures. This included exploring local sourcing options for certain goods and fostering collaborations with industry counterparts. These adaptive approaches provided numerous advantages that would not have been easily considered under normal circumstances.
Vision for Business and Societal Impact
Unwana believes better contracts lead to better businesses, fostering better societies. Well-managed business dealings have significant social impacts. Unwana has pioneered interactive and user-friendly performance-based contracts (smart contracts). Simple contracts, with improved engagement and presentation, can outperform complex ones. Unwana advocates for clear and easily understandable contractual forms to minimize lapses and breaches. Additionally, she promotes women's participation in the oil and gas supplier field, aiming for gender diversity and inclusivity at the highest levels.
Driving Contracting Excellence
Unwana's role primarily involves developing and overseeing contracting strategies. Acting as a gatekeeper, she strives to ensure fair procurement, adherence to processes and best practices, improved productivity and efficiency, cost reduction, and the acquisition of high-quality goods and services.
On a daily basis, Unwana collaborates with other departments to plan procurement activities, monitors contract performance, identifies bottlenecks, and develops effective strategies to minimize losses. She seeks cost-effective solutions for supply chain processes and resolves issues that may arise, such as delivery delays. Unwana also engages in communication and negotiation with suppliers, ensuring timely delivery of goods and services at agreed-upon prices while meeting quality requirements. As a manager, she oversees the Supply Chain Unit, conducting procurement market research and continuously improving supply chain operations.
Unwana follows a consistent routine, starting her day by setting daily goals derived from her weekly objectives. The most challenging tasks take priority. Throughout the day, she focuses on operational matters, employing the Pareto Principle (80/20 Principle or Law of the Vital Few). By prioritizing essential tasks and seeking big wins, she efficiently handles routine duties.
Achieving Equilibrium
Unwana acknowledges that she sometimes falls short in balancing the demands of work and her personal life, but she is determined to achieve equilibrium. To prioritize her wellbeing, she incorporates activities that bring her a sense of contentment, such as reading and taking short outdoor walks. These activities serve as energizing moments in her day.
In addition to regular Monday meetings, Unwana and her team set aside an hour mid-week, usually on Thursdays, for knowledge sharing and "dilemma sessions." These sessions aim to mitigate risks in their processes. They brainstorm dilemma scenarios and collectively devise mitigation techniques, preparing themselves for potential challenges. This approach fosters confidence within the team, enabling them to provide effective support to both internal and external customers with a unified perspective. Ultimately, their goal is to achieve excellence in contracting.
By consciously investing in personal well-being and fostering a proactive approach to risk management, Unwana strives to strike a balance between work and personal life while ensuring contracting excellence.
Embracing the Journey
Unwana's perspective on success revolves around surpassing her own self-imposed boundaries, rather than solely focusing on the end result. Throughout her journey, she has discovered that her greatest achievements often stem from overcoming challenges. What sets her apart now is her ability to recognize the triumphs in every step—what she refers to as "mini-successes." Even when the final outcome deviates from the original plan, Unwana finds joy in the valuable lessons and small victories she acquires along the way. It could be a shift in attitude, an improved disposition, or simply the acquisition of knowledge she wouldn't have gained otherwise.
Path to Success
Unwana prioritizes monitoring supplier performance amidst market uncertainty and supply chain disruptions. She aims to enhance outcomes through cooperative engagement with LEKOIL's contractors. Key objectives include expanding awareness, implementing stakeholder management tools, and establishing contracting principles aligned with company objectives to drive collaboration and innovation.
On a personal level, Unwana is a lifelong learner, finding happiness in acquiring new knowledge beyond her comfort zone. She believes continual self-improvement defines true genius. Her advice to aspiring leaders is to embrace learning opportunities, both personal and professional, and approach challenges with a leadership mindset, offering possible solutions when seeking guidance. This mindset sets leaders apart.