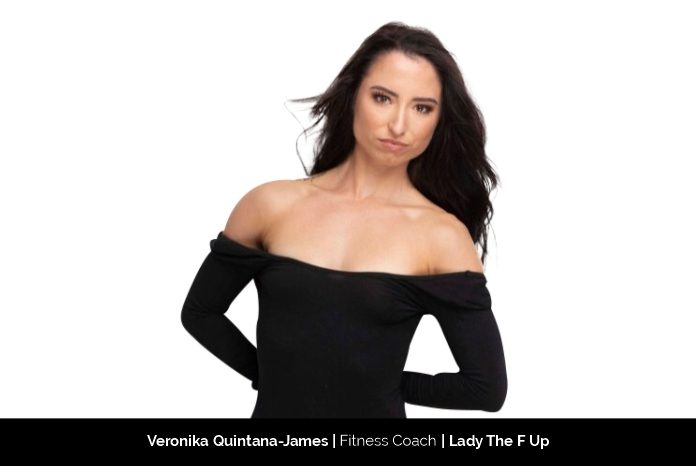 "When you're focused on the process, success is much greater" 
Veronika Quintana-James is passionate about assisting women in their physical and emotional growth. She is a fat loss coach and in-person resistance trainer for the best women's fitness coaching company, "Lady The F Up."
Veronika claims that the difference between online and in-person coaching is like night and day. For several reasons, online tutoring provides considerably more value than in-person instruction. "The majority of folks have problems that are not confined to merely workout technique," she explains. She can connect the dots from where they are to where they want to go in an on-going process through online coaching. She adjusts their programme on a regular basis to ensure that it is always appropriate for their lifestyle and stage of development. She asserts, "A lot can happen with the body in a day or even a few hours and the programme needs to change relative to it so there's never a plateau.  Personal trainers teach you how to lift with safe form; I teach you how to get in shape and keep it for life."
Early Life and Becoming a Fitness Trainer
Veronika spent almost a decade as a representative ice hockey player before turning to fitness. She was a vocalist for a performing arts high school while playing hockey. She was born in Toronto, Ontario, Canada in 1998 (age 23).
Veronika dreamed of being a personal trainer when she was 15 years old and first went inside a gym. She liked their expertise, commitment, and enthusiasm for assisting others. She recognised she could have a bigger influence on her customers after becoming a personal trainer, and that being limited to simply personal training was holding her back. That's when she joined Lady The F Up as a coach. She opines, "I knew I had more to teach, which wouldn't be possible through one or two hours a week of personal training for each client. Coaching allows me to solve the root problems that stop clients from achieving their goals, ultimately getting them the results they want."  
 Virtual Training Coach
"I am an online women's fat loss coach and a personal trainer," says Veronika. Online tutoring is a service, not a product, as many people mistakenly believe. She claims that instead of selling programmes, she provides her clients with a personalised plan to follow when they work with her.
The most significant aspect of online coaching, according to her, is that she provides a service that adapts based on where the client is at any given time, which is precisely what they require to be successful. She says, "What a client needs to progress right NOW is not what they will need to progress later. As the body evolves, so must the approach. I provide a constant evolving blueprint that directly takes them to their end goal without hitting a plateau."  
Why 'Fitness Trainer'?
"There is no other job I see myself doing or would even want to do," says Veronika. Coaching women to become the best version of them physically and mentally is what Veronika has wanted to do for a very long time. She says, "When I wake up and do my work, it doesn't even feel like a job! It just feels like I'm doing what I love, and I think that's what your job should feel like. "
Veronika says the first thing she does to help women become the best version of themselves is to show them what they're capable of. People frequently fail to realise their full potential. They may reach their full potential when given the appropriate direction and encouragement, which Veronika provides for her customers.
Veronika also assists women in improving their character, which is another method she helps them become their best. Most individuals don't become who they want to be because they lack the necessary attributes and qualities, which Veronika assists them in acquiring.
Veronika also assists women by teaching them how to think. This is done to ensure that the client's ideas and behaviours are consistent with who they want to be and what they want to accomplish. She assists them in getting rid of the reasons that are holding them back. Finally, she assists them in carrying out the strategy effectively so that they may achieve their objective in the shortest period feasible.
The Best Reward is the 'Transformation'
The most satisfying part of Veronika's job as a high-level coach is witnessing her clients' lives change for the better and hearing about their newfound confidence, self-belief, and self-esteem, as well as seeing how they've improved physically and, more significantly, psychologically. She believes, "Without mental strength, you can't achieve a fit body. Seeing their character change and them become more resilient and robust is why I do what I do."