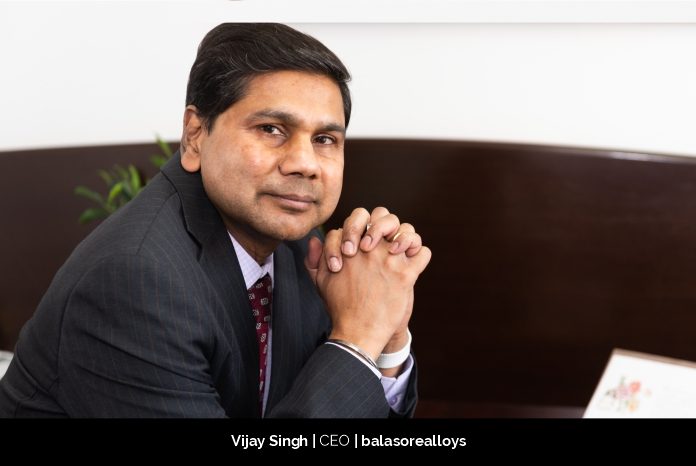 A leader is a mentor and a guide who facilitates a communicative environment and assists his/her team in understanding the target and objectives. Vijay K Singh, Director and County Head of ISPAT Group, is a firm believer of this notion and focuses on maintaining good communication, high integrity, and proper sensitivity to the needs of his team to motivate them and steer them in the right direction.
He states, "I have always strived to ensure integrity and trust among my team to keep their spirit and motivation high as well as to provide them with ample opportunities to excel in their respective fields."
Journey to success
Vijay completed his Chemical Engineering bachelor's degree from HBTU, India, and MSc in Global Management from Salford University, United Kingdom.
During his final year in engineering, he got selected in Asian Paint and joined the R&D unit of the company. During this time, he noticed a new concept of pre-painted steel coils gaining popularity in Western countries, especially in the white good OEM sector and high-end roofing and paneling application.
He adds, "During 1990, this was a very new technology and process in India, and it was during this time ISPAT Group had planned to start manufacturing pre-painted steel coils for the first time. This led me to join ISPAT Group to follow innovation and new opportunities as working in the steel industries was also a completely new field and experience for me."
With his ambition to learn and progress, he got involved with other segments of the steel manufacturing industry.
He further states, "Thereafter, while working from our China office, I involved myself in not only in Marketing of steel products & ferro chrome but also to project management, SCM, and vendor development to source mining equipment and machinery to produce high carbon ferrochrome minerals. Moreover, I got involved in the development and expansion of our underground Chrome mining facility. We started contacting various leading mining design companies for design and construction on an EPC basis."
Growing stronger with challenges
Vijay believes the challenges in life make a person stronger and tests the resolution to move further.
During the initial launch and production of coated steel in 1990, the company faced many problems with the product, production process, and the customers limited knowledge of using and handling coated steel using their old conventional roll forming machine.
Vijay took the onus to resolve the issues through numerous brainstorming and Ishikawa analysis to eliminate defects and optimize the process. He interacted with the end-users and manufacturers about their requirements and expectations and updated the product, process, and other aspects of the company to create better results.
After opening the China office in 2003, the company faced many challenges on customer loyalty and quality of raw material sourcing from various vendors.
He adds, "We noticed once the international market price dropped, some Chinese customers started renegotiating the contract price to take advantage of the market softening. Similarly, when the raw material price went up, few Chinese suppliers asked to increase their price."
So, to have a better understanding, Vijay led the team to update the customer rating, vendor rating and made frequent visits to both customer and vendor site for assessment of their capabilities and process.
He states, "There are times I have faced criticism and failure, but those have only made me stronger and more committed. It is a known fact that we can never be perfect, but I can strive to do good for myself, my company, and my team members."
Taking ISPAT Group to the next level
ISPAT Group is one of the leading corporate houses in India and overseas with diversified experience in metals and mining. They have substantial experience in building steel plants from green fields under difficult situations and making them one of the best in the world. The ISPAT group is engaged in manufacturing flat steel products, Ferro Chrome, and has a chrome mine with a reserve of over 100 million tons.
After opening of China office, the company has expanded its business in the area of Ferro Chrome in East Asia ( China, Japan, Korea and Taiwan) by 21%. It was achieved with proper leadership competencies and strategies by well-defined roadmaps and commercial performance.
Vijay mentions, "Our underground mining of Chrome ore at Balasore Chrome mine will be in the first in India due to our diligent studies and underground design work in early 2020. In the long run, this will increase the production output as well as export by next year."
The company is one of the lowest-cost producers of products due to its fully integrated business model globally.
The Chairman of Group Companies aims to take the company amongst the world's top five new generation Ferrochrome manufacturing companies in its products, in the way it serves its clients, in its work ethics, and in its culture of societal integration.
Life as Director and County Head of ISPAT Group
Vijay adds, "My key responsibility is to provide value addition on all ISPAT Group business segments, some of which I personally oversee. Usually, the first part of my day is to ensure these products and services run and troubleshoot any issues if needed. The greater part of my day goes in product development for the accounting department."
He believes that it is necessary to take risks to jump to the next level of growth. Self-motivation and trust are the two strongholds that lay a strong foundation for the company to grow.
He instills these notions in his team and keeps their morale high so that they can grow and create better results for the company.
Maintaining work-life balance
Vijay believes that time management plays a crucial role in creating a work-life balance. He likes to draw a line between the personal and professional front so that they never cause issues in each other.
He adds, "For better management of time, I use two fundamental strategies: flexible scheduling as allowed by the company and prioritizing responsibilities. Setting priorities and creating a schedule is the most helpful to integrate all aspects of life: work, family, classes, fitness, and social activities with other one-time events. I map out my responsibilities and timelines daily in a to-do list of tasks that need to be completed."
Future plans for the ISPAT Group
Vijay is aiming towards the overall integration of business processes for achieving world-class performance. He wants to elevate Total Productive Management by improving critical business processes and optimizing Man, Machine, Resource & Method.
ISPAT group has a special grade of chrome ore mine and Ferro Chrome product, which is quite rarely available worldwide, and this is presently being used by stainless steel producers. They are now expanding their Chrome mining by going for the underground mining operation of Chrome ore, which is the first in India. As this product is not available in China and other east Asian countries, it is leading to a spike in demand for such raw material.
Vijay adds, "We have had discussions with various stainless companies and have found a lot of scope for us to work together for short and long-term growth. This prompted our company to start exporting into markets and signing long-term agreements with large stainless-steel companies."