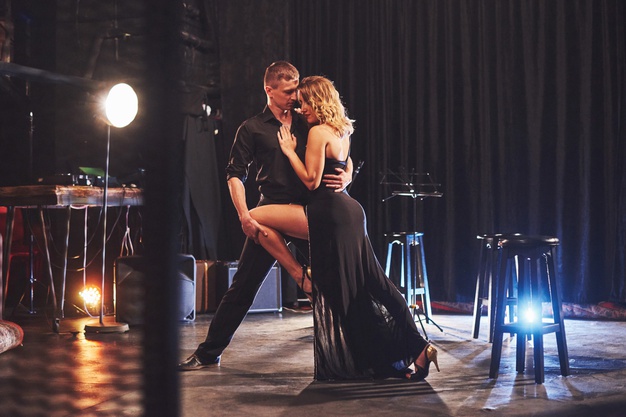 Salsa Dance is a Latin Dance originated in New York City in the 1960s. The dance form is a combination of some famous dance forms of the 1950s like Puerto Rican, Dominican, Cuban dances, and American Jazz dance. Dominicans and Puerto Ricans developed this dance form in the late 1960s or early 1970s. The salsa has distinct styles in different regions of Latin America and the United States like (Cuban, Dominican, Puerto Rican, Cali Colombia, L.A., and New York styles).
Salsa dance is usually seen at nightclubs, bars, ballrooms, restaurants, or any outdoor festival. In salsa dancing, the dancer shifts her weight by stepping in between 50/50 weights. It keeps the dancer's upper body on the level and the lower body unaffected by the weight change.
Exceptional moves of the Salsa Dance
The movements of the hips are such that those movements make a shape of the number 8. Arm and shoulder movements are also there. The range of salsa rhythm is from 150 beats per minute to 250 beats per minute, although, for some music, it is from 160 beats per minute to 220 beats per minute. Basic salsa has three steps on every four beats. The salsa movements are different for each style. There are seven types of salsa dance styles.
Afro-Latino: It is a popular salsa style of the Caribbean, Puerto Rico, Dominican Republic, Haiti, and Cuba. It is similar to other salsa styles but, the African language and some African instruments which give a different rhythm to the songs make this style different. Nowadays, combining salsa with any dance technique is very easy for any dancer.
Colombian/Cali Style: Colombian salsa is also known as Cali / Salsa Caleña. The name of this style is based on the name of Colombia city Cali. Rapid footwork and skipping motions of this salsa style makes it unique. Like other styles, the Colombian style does not include cross-body leads and Dile Que No. Many salsa events host by Cali like the world salsa event, Cali Festival, and the Encuentro de Melomanos y Coleccionistas.
Cuban /Casio style: A very famous casino dance in Cuba was named Cubana Salsa to distinguish it from the other salsa Styles. A casino dancer can easily improve references to other dances, whether it is integrating movements or gestures and motions.
Miami-style Casino: Miami style casino is a fusion of casino salsa and American dance and culture. This dance style was developed by Cuban immigrants in Florida. "Atras" or "Diagonal" makes it different from other dance styles. In this dance, form dancers do not shift their body weight.
Rueda de casino: This dance style was developed in the 1950s in Havana, Cuba. In this dance style, a pair of dancers draw a circle using their dance moves. Many moves involve partners with rapid swapping.
Los Angeles Style: In this Salsa Dance, the elements of North America stage dance are used to dance in a row strictly. It prevents hitting other dancers during any crowded dance show. In today's dance, all the lifts and stunts are done with this dance style. Forward/backward basic steps and cross-body lead are two main parts of this style.
New York style: The salsa dance style is a flat figure 8 type dance style where partners are facing each other most of the time. It is performed on the second beat of the music.
Conclusion
Salsa Dance is fun and entertaining. It can also be a good fitness regime without consciously having to focus of losing weight or keeping your body active. It's a fun way to enjoy yourself and your body in the company of great people. Salsa is a dance form now taught and learnt all over the world. Learning salsa dance is not difficult. The steps are of simple patterns and it mostly depends on how passionate about learning a new dance style.