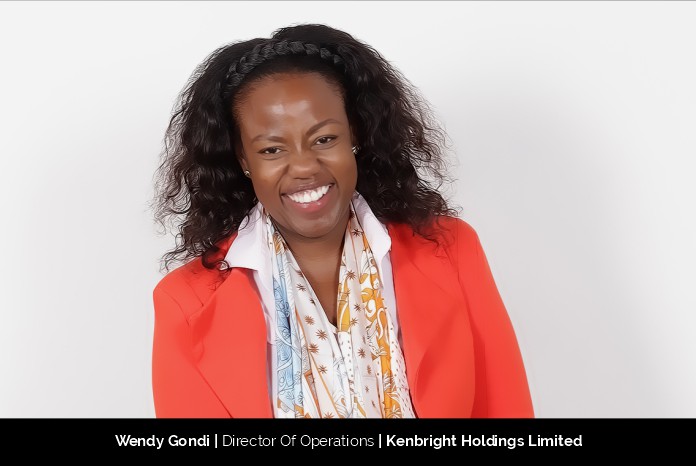 Director of Operations at Kenbright Holdings Limited, Wendy Gondi is a dynamic leader with a talent for managing the daily operations of the business, coordinating teams across diverse departments, and implementing innovative strategies that propel the company towards its vision of becoming a global leader in risk and financial solutions.
Wendy is a master of the art of adaptation, always ready to pivot and make the necessary adjustments to keep the company on track. With her finger on the pulse of the industry, she ensures that Kenbright complies with relevant regulations and maintains the highest standards of excellence.
Working closely with other executives, Wendy helps develop and execute the company's overall strategy, bringing her unique perspective and expertise to the table. Through her tireless efforts, Wendy is positioning Kenbright Holdings Limited for greatness, and her commitment to excellence is an inspiration for many.
"Leadership is about making others better as a result of your presence and making sure that impact lasts in your absence."
Philosophy on Success and Leadership
Wendy believes that success is linked to growth, which can only occur when she is faced with challenging and uncomfortable situations that require her to create change. When she is able to positively impact such an environment and make it more comfortable, she considers it an achievement.
According to Wendy, in the ever-changing business world, it is crucial to be adaptable and efficient in order to remain relevant. A successful leader must ensure that the work environment is conducive for all team members by asking important questions such as: Is it fair? Is it true? Are we considering everyone's rights? Are we promoting equity in all forms? Are we taking care of the environment? At the same time, a successful leader must also come up with innovative and bold ideas that appeal to the market and help maintain relevance in the business space.
From Employee to Legacy Creator
Wendy's father founded Kenbright, a family-owned business, 30 years ago. The company played a significant role in shaping Wendy's knowledge and expertise. She reminisces about her time with her previous employer, where she earned a respectable salary but lacked a sense of fulfillment in her day-to-day work. Wendy asked herself why she shouldn't repay the company that had invested in her growth. She observed the company's evolution from a small one-room office to its present status and recognized its passionate, characterful, and successful nature. Wendy identified the potential to enhance and expand the business, creating a more remarkable legacy to inspire future generations.
Breaking Barriers
Wendy has encountered various obstacles in her career, with her age and gender being the most significant challenges. As a young woman in a male-dominated industry, she has faced perceptions of lacking experience and stereotypes of women being less assertive in the workplace. However, Wendy views these roadblocks as opportunities to create a better environment for future generations. She strives to pave the way for others by making the path to excellence smoother and less challenging. Wendy's approach demonstrates that she is committed to creating a more inclusive and supportive work environment for all, regardless of their gender or age.
Tailored Financial Services for the African Market
Kenbright is a specialized player in the financial sector, operating in Kenya for over 28 years. The company's team of experts has extensive experience in providing financial services to private and public institutions across various markets, both regionally and internationally. Kenbright's unique selling point lies in its ability to tailor its expertise to meet the specific needs of clients, regardless of their geographic location or core business practice. The company's headquarters are in Nairobi, with a primary focus on providing financial services to the African market.
Kenbright offers a wide range of financial services, including insurance brokerage services for various types of insurance, such as life, health, property, and casualty insurance. The company collaborates with leading insurance providers in Kenya to provide clients with comprehensive coverage options. Additionally, Kenbright offers risk management services, which assist clients in identifying and managing potential risks in their business operations. These services include risk assessment, risk control, and risk financing.
Kenbright also provides investment advisory services that aid clients in making informed investment decisions. The company's experienced investment advisors offer customized investment solutions based on the client's specific needs and objectives. Furthermore, Kenbright offers pension fund management services, which enable companies to manage their employee pension funds effectively. The company provides a range of services, including pension fund administration, investment management, and compliance.
Building a Culture of Integrity and Innovation
As a leader Wendy finds that creating a culture of integrity and innovation requires providing a secure environment where people can communicate without fear of being ostracized. As a leader, it is vital to create such a platform, and leading by example is an effective way to capture the hearts of many. By communicating and living by the standards set out, one can earn buy-in from team members.
Accountability is also integral to building a culture of integrity and innovation. When team members are allowed to call out their leader's mistakes and see them rectified without resistance, it fosters trust and faith in the leader.
Moreover, it is essential to ask oneself whether the expectations have been communicated in a way that everyone understands and considers fair. Conducting training and workshops that encourage participation from all is an effective way to achieve this.
Recognition is also crucial in building a culture of integrity and innovation. It is essential to reward employees who demonstrate high ethical and creative standards and provide pathways for growth and success for all team members. By doing so, the leader can create an environment where individuals are motivated to perform at their best, which ultimately benefits the organization.
Achieving Excellence
Wendy was among the distinguished recipients of the Africa Insurance Organization's (AIO) 2022 Top 50 Women in Insurance award. This recognition celebrated the outstanding accomplishments of women leaders in the insurance sector. Being acknowledged with this award was a great honor for Wendy, as it recognized her leadership and contributions to the industry.
Wendy felt that the award was not only a personal achievement but a reflection of the hard work and dedication of her team. It highlighted the positive impact they had made in the industry and their unwavering commitment to excellence.
Being recognized as one of the top 50 Women in Insurance by the AIO was a significant achievement that boosted Wendy's confidence, strengthened her personal brand, and showcased the crucial work that women are doing in the insurance industry.
Believing in Simplicity and Self-Care
Simplicity is the cornerstone of Wendy's philosophy, and when a situation becomes complicated, she knows it's time to focus on herself to clear her mind and find a solution. In her professional life, she sets realistic goals with timelines, balancing her work and personal life.
Wendy's self-care routine prioritizes her body, including what she consumes, her environment, and maintenance. She has learned the importance of setting boundaries to disconnect from work and connect with loved ones, finding that engagement with others leads to valuable insights. This has also allowed her to delegate effectively, ensuring that matters don't become overly complicated when she takes time away from work.
Embrace Failure and Inspiring Change
Wendy is determined to make a positive impact that inspires others to drive change in their respective workspaces. To become a leader, one must adopt the role of a teacher and be open to learning from their students. Embracing failure is key to gaining valuable lessons and growth. If your environment remains stagnant, it is a clear sign that it is time to move on. Not everyone will approve of you, but many will find you to be a suitable choice. Don't fear rejection, failure, or discomfort.