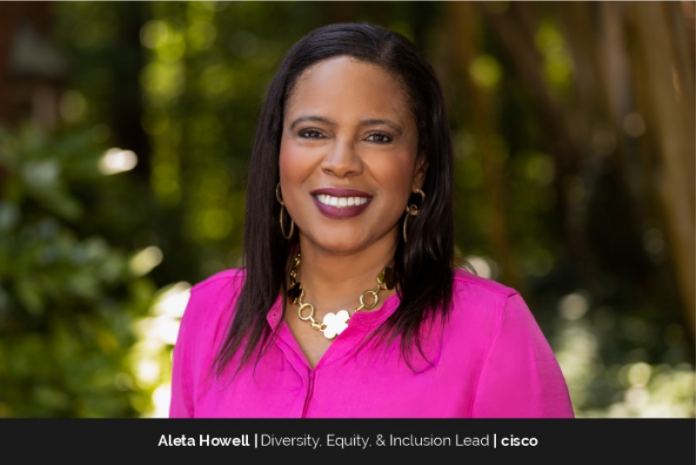 With a background in marketing, advertising, and experience as the Director of MBA Admissions at the University of North Carolina at Chapel Hill, Aleta Howell brings a unique perspective to her role at Cisco.
Aleta Howell has been dedicated to promoting diversity, equity, and inclusion (DEI) in the workplace since joining the company in 2012. She began her journey as a program manager for the Office of Inclusion, where she helped implement programs to promote a more inclusive and diverse workplace. Later, she was promoted to lead diversity and inclusive recruitment, where she played an instrumental role in aligning the company's DEI strategies with other functional teams. In her current role, Aleta collaborates closely with leaders and teams to design programs and initiatives that actively encourage and drive diverse and inclusive hiring.
This emphasis on diverse and inclusive hiring is crucial in today's day and age and the business world. Research has shown that companies that prioritize diversity in their hiring practices tend to have more creative and innovative workforces, better understand their diverse customer bases and have a positive impact on their communities. Aleta's commitment to promoting DEI in the workplace has been vital in ensuring that the company continues to attract and retain top talent from diverse backgrounds, fostering a culture of inclusivity and respect for all.
Her vision for a more inclusive workforce is a testament to her commitment to driving progress in the DEI space. With her unique background and extensive experience, she is a true leader in promoting diversity, equity, and inclusion in the workplace.
Aleta Howell's Definition of Success
Aleta Howell recognizes that success is subjective and personal to each individual. As one's career journey evolves and one grows both personally and professionally, their definition of success will likely change. However, Aleta believes that success is attainable through setting clear goals and creating a plan to reach them.
Empowering the underserved: Aleta Howell's Source of inspiration
Aleta's inspiration and passion for diversity, equity, and inclusion (D&I) work can be traced back to her childhood. As a child, she recalls several instances when she was moved to stand up for someone else who was being bullied. This empathy for the underserved has remained with her throughout her life, driving her to be an ally and advocate. This drive led her to pursue a career as a D&I leader, where she can live out her passion by supporting diverse populations and lifting them as she rises.
Aleta's background in marketing and advertising, coupled with her experience in MBA Admissions at the University of North Carolina at Chapel Hill, has equipped her with the skills necessary to make a lasting impact in the D&I space. Despite not having prior experience in human resources, Aleta took a leap of faith when she transitioned into the field and has since flourished as a D&I leader.
Learning and growing through adversity
Aleta Howell believes that challenges can strengthen us if we learn from them. Therefore, whenever she encounters a significant challenge, she makes a conscious effort to reflect on why it's happening and what she can learn from the experience by asking questions such as, "why am I facing this challenge and why now? What lesson am I supposed to take from it?" She is led to insight by asking these questions and takes something away from the challenge each time.
Cisco's commitment to a diverse and inclusive future
Cisco's extensive product portfolio has made it one of the world's most innovative and forward-thinking technology companies. The company's offerings are designed to provide end-to-end solutions to its customers, helping them achieve their goals and stay ahead in a rapidly changing technological landscape.
Networking solutions form the backbone of Cisco's portfolio, providing robust and reliable connectivity to help businesses meet the growing demands of their customers. In addition, security is a crucial concern for businesses today, and Cisco has developed a range of cutting-edge security solutions to help protect organizations from the latest threats. These solutions include advanced firewalls, intrusion detection and prevention systems, and network security management tools, ensuring that businesses can operate confidently, knowing that their data and systems are secure.
Wireless and mobility solutions are a critical component of Cisco's portfolio, allowing organizations to provide employees with the tools they need to work from anywhere, anytime. The Internet of Things (IoT) is a rapidly growing area. Cisco is at the forefront of this trend, offering IoT solutions that help organizations leverage the power of connected devices to gain insights and drive operational efficiencies. Video and analytics solutions are also a significant part of Cisco's portfolio, allowing organizations to monitor and analyze their operations and make informed decisions and optimize their processes. Cisco's software solutions offer a range of tools and platforms that help organizations streamline their operations and improve their overall performance. So, whether businesses are looking to automate routine tasks, manage their infrastructure more effectively, or analyze and act on their data, Cisco has the software solutions they need to achieve their goals.
With its extensive portfolio, commitment to innovation, and focus on delivering the best customer experience in the industry, it's no wonder that Cisco is a leader in the technology space. The company is dedicated to empowering organizations to succeed in today's fast-paced world.
What differentiates Cisco from its competitors is its unwavering commitment to "Power an Inclusive Future for All." The company is dedicated to providing its customers with the most reliable experience by utilizing its talented workforce and state-of-the-art technologies. In addition, by breaking down barriers, fostering diversity, and embracing different perspectives, Cisco is actively addressing inequalities and opening new opportunities for the future. The company's innovative and inclusive approach brings this purpose to life daily.
People & Culture
Aleta Howell promotes building solid and connected teams in shaping the future of work. The future of work is both hybrid and global, and the COVID-19 pandemic has only accelerated this shift. In the United States, the number of people who primarily work from home increased threefold between 2019 and 2021, and this transformation will continue. As a pioneer, Aleta Howell understands that the future of work is not just about where employees are located but rather, it is about creating strong, connected, and empowered teams.
Aleta Howell advocates for hybrid work and its offerings of networking, collaboration, and security technologies help it provide best practices for its partners and customers. With these resources, companies can learn from her to develop hybrid work that works for their employees and customers, ultimately strengthening the company culture.
Adherence to strong ethics and values
In an ever-evolving technology industry, leaders like Aleta at Cisco have established a reputation for conducting business ethically and honestly, which has earned the trust of their customers, governments, and stakeholders globally.
Despite the fast pace of change in the industry, Cisco remains steadfast in its commitment to making the right ethical decisions and doing what is right. This unwavering dedication to integrity is ingrained in the company's DNA and has become a hallmark of its success.
Aleta Howell's journey from MBA to DEI Advocate
Aleta Howell earned her unique distinction of dual undergraduate degrees in Business Management and Economics from NC State University, laying the foundation for her future career. Furthering her education, she made her MBA degree, expanding her knowledge and skillset in the business world. After graduation, Aleta began her career in marketing, starting with brand management and advertising. She also had a brief stint in MBA admissions.
As a working mother of two, Aleta Howell sought opportunities to provide her with the flexibility she needed to balance her professional and personal life. She ran her consulting business for a few years in the late 2000s. Researching companies known for work-life balance, Aleta identified Cisco as one such company. She landed a role in learning and development as a contractor and eventually joined the Office of Inclusion (DEI office).
She was offered the opportunity to lead diversity strategy for university recruiting, a role she held for six years. Two years ago, she expanded her work to support global diversity strategy and recruiting. In her current role, she works with leaders to increase diverse representation within their organizations and leads Cisco's Social Justice Action 2-Increase Representation, which focuses on growing AA/B talent at all levels of the organization. This is one of her proudest accomplishments.
Partnering with key company leaders, Aleta Howell has developed aggressive strategies to increase representation across the full spectrum of diverse talent. To achieve this, they have expanded and added numerous programs and initiatives, including efforts to build brand recognition among students and experienced professionals, made a significant investment in developing Cisco's presence at Historically Black Colleges and Universities (HBCUs), and a focus on providing recruiting teams with access to top talent through digital platforms and events.
Leading by Example
Aleta Howell considers leading by example the cornerstone of her strong leadership style. She strives to embody the values and principles she expects from her team and instill a positive work culture that inspires and motivates her colleagues. It is why her team members have such a strong affection towards her leadership, and her administration has not gone unnoticed.
Aleta Howell's leadership has made such a significant impact that she was recently recognized in the CIO Views feature story. This recognition showcases Aleta's leadership's far-reaching implications, not just within the company but also in the broader community. By setting an example for others, Aleta is leading the way and paving the path for a more inclusive, equitable, and diverse future for all.
Driven by Passion: Aleta Howell's Day at Work
As a consultant for Cisco's corporate diversity, equity, and inclusion (DEI) goals, Aleta provides her expertise and support to the company's leaders and their teams. Her main focus is to align the corporate DEI objectives with different functional organizations' hiring and recruiting strategies.
On a day-to-day basis, Aleta and her team are responsible for reviewing, analyzing, and sharing organizational data to help leaders understand the diversity representation within their organizations. They also offer training programs to equip leaders and their teams with the skills and knowledge needed to attract and retain diverse talent.
Her passion for diversity and equity drives Aleta's work, but her strong drive pushes her to bring that passion to life. She defines herself as "driven" and firmly believes in putting her desires into action.
Approach to work-life balance: Mindfulness and Prioritization
Aleta strives to allocate time for thoughtful reflection on her work to prioritize and empower herself and her team to achieve their goals. Additionally, she emphasizes her spiritual well-being and dedicates time each week to practicing hot yoga and working out.
Despite each team member's passion for their work, Aleta recognizes the importance of taking a step back and prioritizes her employees' work-life balance. She makes an effort to understand her employees' needs and recognizes the significance of paid time off, weekends, and holidays as personal time. Aleta promotes Cisco's culture, prioritizes employee well-being, and supports this outlook.
Aleta Howell Leading Cisco's Priorities for the future
Based on research on the future of technology, Cisco has gained insights after surveying over 39,000 CIOs, IT Decision Makers, and corporate workers across 34 countries.
The findings have guided the company to prioritize the following:
– Powering Hybrid Work,
– Enabling the modern Security Enterprise, and
– Investing in Connectivity, Innovation, and Inclusivity in their future endeavors.
Aleta Howell's aspirations as a leader
Intending to inspire individuals who aspire to climb the corporate ladder, Howell looks up to successful leaders both within and outside her organization. Her goal is to learn from their experiences, emulate their leadership styles and positively impact the world. She wants to be a role model who strives to improve the world with her work.
Her advice to underrepresented employees emphasizes bringing their whole selves to work and always giving their 110%. She encourages them to lean into new opportunities and envision where they want to go, then craft a plan to get there with a focus on filling any skill gaps. Aleta also emphasizes the importance of finding mentors and sponsors to guide and support career growth, as sponsors serve as a "voice" that speaks up for individuals when they're not in the room.
Conclusion
Aleta is a driven and passionate individual who prioritizes her work and personal life. At Cisco, she works with leaders and their teams to align and translate the company's Diversity, Equity, and Inclusion goals into hiring and recruitment internal movement and retention strategies. In addition, she spends a significant portion of her time reviewing and analyzing data to help leaders understand the representation within their organizations and provide training to attract and retain diverse talent.
She prioritizes mindfulness and self-empowerment in her work, as reflected in her approach to leading her team. She strives to be a role model for others looking to advance their careers, seeking guidance and inspiration from both within and outside her organization. A shared passion for their work drives her team, but Aleta recognizes the importance of giving her employees the time and space to recharge.
Aleta is committed to positively impacting the world in her work and personal life. Her dedication to excellence and growth is evident in her role at Cisco and her approach to life. She is a visionary leader who prioritizes the development and well-being of her team and herself. Her approach to work and energy makes her a valuable asset to any organization and a leader to be admired.