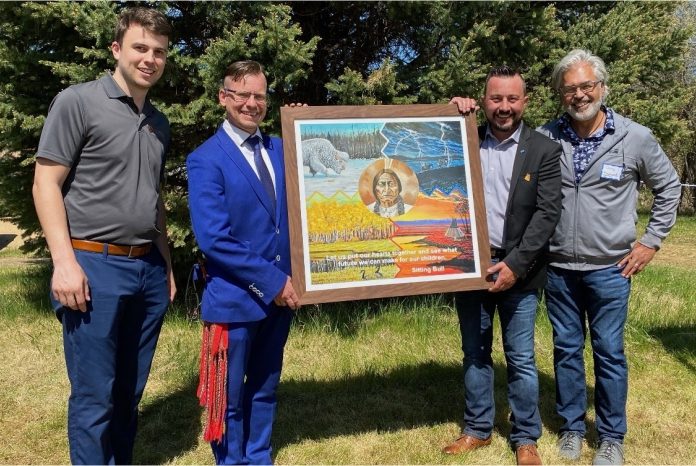 Caption: Willow Lake Métis Nation accepts a gift from Alexis Nakota Sioux Nation to signify the relationship between the two communities.
Caption: From left to right: Mitch Boyd, Director of Operations, Site Service Solutions, Backwoods Energy Services; Justin Bourque, President, Willow Lake Métis Group; Andy Harnett, COO, Willow Lake Métis Group; Doug Reti, Director, Partnerships & Indigenous Development, Backwoods Energy Services
Willow Lake Métis Nation and Alexis Nakota Sioux Nation–(Newsfile Corp. – September 7, 2022) – Willow Lake Métis Group (WLMG), an Alberta-based group of strategic Indigenous industry partners created to explore partnerships and business ventures on behalf of the Willow Lake Métis Nation, and Backwoods Energy Services, one of Western Canada's largest and most sophisticated Indigenous-owned contractors, have entered into an unprecedented Limited Partnership Agreement. The partnership aims to economically advance their respective communities and was founded on a shared sense of purpose, value alignment, and the desire to build a bridge between reconciliation and community prosperity.
The agreement is unique in that it marks the first time a Métis Nation and First Nation have forged a formal partnership. The Traditional Territories of both independent communities have been significantly impacted by oil and gas development. As a result of this socio-economic agreement, capacity for both communities will be strengthened through employment, training, and revenue opportunities that directly support community development initiatives.
"This agreement formalizes a strong relationship that strengthens the bonds between two Indigenous Nations and our businesses and is based on mutual understanding and respect," says Justin Bourque, president of Willow Lake Métis Group. "Willow Lake is excited to continue building this partnership on a solid foundation supported by shared values and principles."
The two communities have been engaged in an ongoing informal partnership that has been guided by trust, transparency and communication, fairness, project management, capacity building and employment, and project performance. Throughout that period, the communities discovered value and directional alignment, which spurred the evolution of the formalized agreement.
Mike Heck, CEO of Backwoods Energy Services is also excited about the partnership and says, "We have been working with Willow Lake for almost two years and have come to understand that we share many of the same values. We want to advance our respective communities through economic development and in a way that is professional and responsive to the needs of our clients."
The unprecedented agreement's benefits extend well beyond the borders of each Nation's community. Truth and Reconciliation Commission of Canada's Call to Action 92 – Business and Reconciliation calls upon the corporate sector to ensure Indigenous people have equitable access to jobs, training, and education, and that Indigenous communities gain long-term sustainable benefits from economic development projects. This partnership agreement serves as an opportunity to advance reconciliation with Indigenous communities by empowering communities through economic participation.
In a show of support for their newest partner, Backwoods has graciously stepped up to the tee as the title sponsor for WLMG's first-ever Cultural Cup golf tournament in Fort McMurray on September 8, which precedes Willow Lake Métis Nation's (WLMN) Annual Métis Fest on September 10. Proceeds from the tournament will support educational and programming initiatives for WLMN citizens.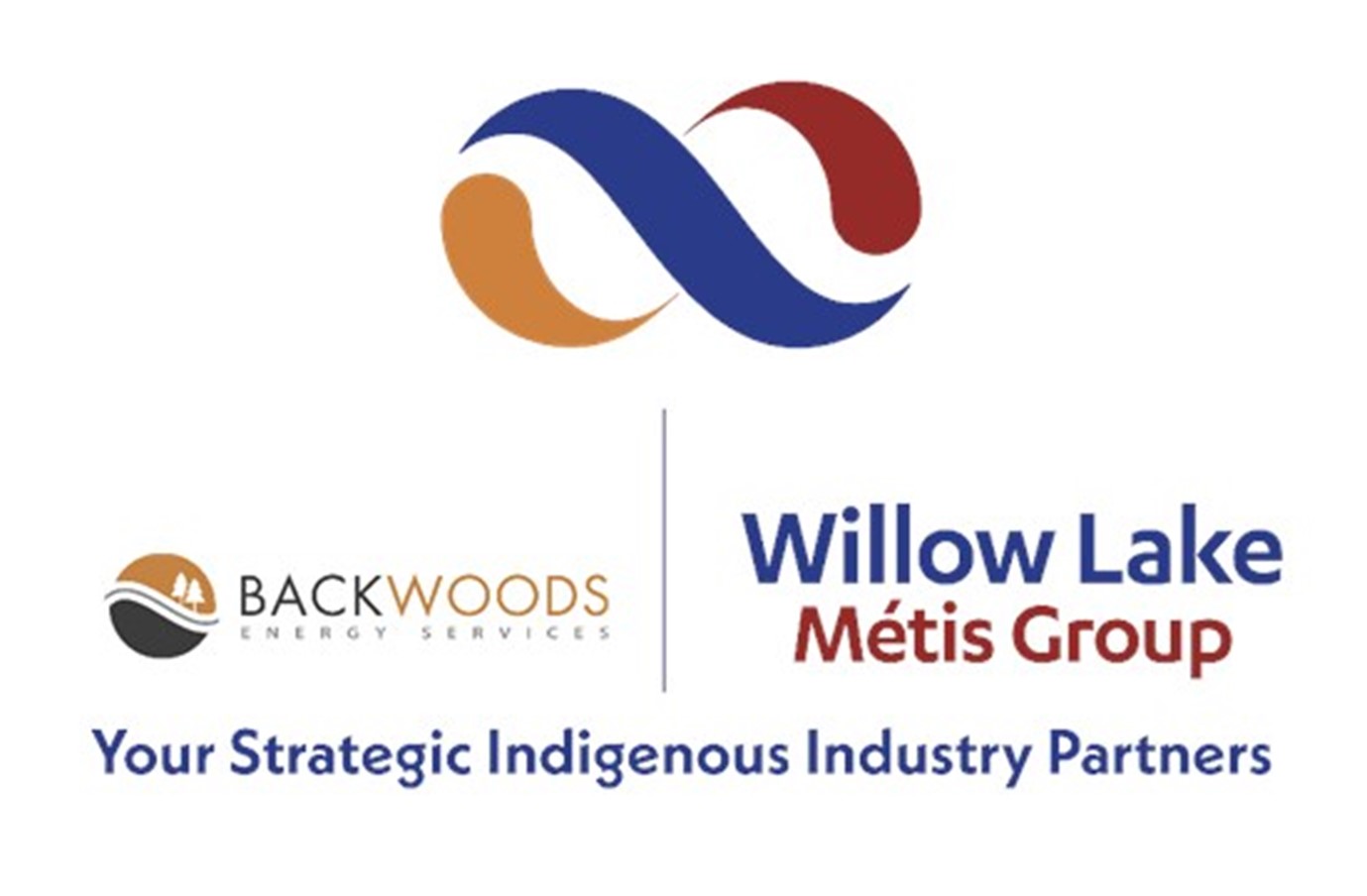 To view an enhanced version of this graphic, please visit:
https://images.newsfilecorp.com/files/8862/136169_7aa65c1d74c3fabd_002full.jpg
About Willow Lake Métis Group
The Willow Lake Métis Group (WLMG) was founded, and is operated, through the strong willed, hardworking, and self-sufficient culture of the Métis people. They were established to create and explore partnerships and business ventures on behalf of the Willow Lake Métis Nation and have a mandate to bridge reconciliation and community prosperity. They have built a new perspective on partnership – in a time when it is needed most.
WLMG is proud to have established strong relationships with top-tier companies that have facilitated their growth into a strategic Indigenous industry partner. Working with these partners allows WLMG to provide full-service expertise for large scale projects, including maintenance, security, civil work, turnarounds, and servicing of facilities. In doing so, they continue to build internal capacity and strengthen their mandate. WLMG provides quality services and forges strong partnerships with major industry players in Northern Alberta.
For more information, visit www.wlmn.ca/willowlakemetisgroup.
Media Contact for Willow Lake Métis Group:
Peter Pilarski
President, CIPR Communications
403-462-1160
peter@ciprcommunications.com
About Backwoods Energy Services
Backwoods Energy Services is one of the largest and most sophisticated Indigenous owned contractors in Western Canada. Backwoods is wholly owned by Alexis Nakota Sioux Nation and is guided by its Mission: Driving Economic Opportunity by Empowering Indigenous People and Communities, which they accomplish though their security, access matting, forestry, civil, environmental, and mechanical construction services. With more than 800 employees and annual revenues exceeding $200 million, they are the largest employer of members from the Alexis Nakota Sioux Nation. Backwoods also represents the largest independent source of income to the community, substantially aiding to the Nation's goal of self-sustainability.
For more information, visit http://www.backwoodsenergy.ca/
Media Contact for Backwoods Energy Services:
Crystal Dallner
Marketing Manager, Backwoods Energy Services
1.587.880.2937
cdallner@backwoodsenergy.ca