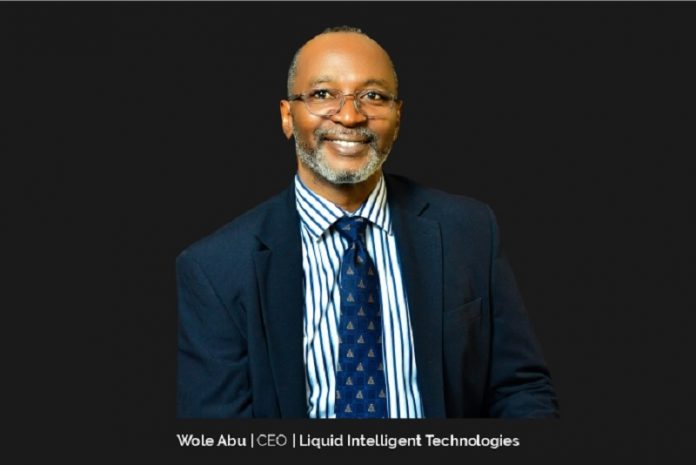 Wole Abu, CEO of Liquid Intelligent Technologies Nigeria credits his diverse exposure in the technology industry in Nigeria for having fuelled his passion, allowing him to recognise the transformative power of technology, and equipping him with the insights needed to assemble high-performing teams and navigate the intricate business landscape effectively.
Liquid Intelligent Technologies Nigeria serves as a pan-African digital powerhouse, offering transformative products and services that hold the potential to revolutionise African nations.
A Journey Forged by Fire, Fueled by Resilience & Growth
Having faced and overcome various challenges, such as fierce competition, deprivation, lack of necessities, and other common struggles that many in Africa experienced during the era of military rule, resilience became Abu's ally since his childhood and formative years, and growth was the only option available. In a country marked by high unemployment and policy inconsistencies, relying on his intelligence and faith in the future became paramount to keep progressing.
Abu notes that roadblocks, both literal and metaphorical, are a familiar sight in Nigeria, yet no Nigerian of his generation would consider abandoning a journey due to them. Instead, they find ways to navigate through, over, around, or even under them. Failure was simply not an option, and many were astonished by the resilience of Nigerians to operate without a stable power grid, amidst a volatile currency and security concerns.
"It is our environment and we have managed to conquer its challenges and establish thriving businesses. Nigeria has been forged by fire, making it an incredibly resilient nation with remarkable opportunities, although not for the faint-hearted," Abu insists.
Having been intimately involved in the technology revolution taking place in Nigeria, Abu considers himself fortunate to have gained extensive exposure to all facets of the technology business, from working in startups to large multinational corporations. He remarks that in the 21st century, technology has transcended being a mere luxury to become a critical infrastructure that underpins various aspects of our lives.
Seeing the profound impact that technology can have on individuals, businesses, and the nation as a whole, kindled a deep passion within Abu. His breadth of experience proved invaluable in identifying top talent to join his team and establishing fruitful partnerships within the technology value chain. His understanding of the regulatory and business environment helped him navigate the Nigerian business landscape successfully.
By being aware of potential pitfalls, sinkholes, and booby traps that dot the terrain, Abu ensures that his ventures operate smoothly and avoid unnecessary setbacks. "I often share with people that 'challenge' is a bus stop in Ibadan, as it is an inevitable part of everyone's journey. It is through the hottest fires that the strongest steel is forged," he maintains.
Securing A Digital Future That Leaves No African Behind
Abu's telecom career began with Econet Wireless Nigeria during the early stages of the country's telecommunications boom. This period of rapid expansion placed considerable strain on their capabilities as they grappled with meeting the pent-up demand for services.
It was an invaluable experience witnessing the construction of a telecom business from its inception, and throughout his tenure, he remained committed through five mergers and acquisitions, enduring brand name changes, and steadily progressing to the position of Vice President.
Seeking new challenges, Abu decided to join Pan African Towers, a Towerco, as its inaugural CEO. In this leadership role, he successfully steered the company towards substantial growth and stability before ultimately transitioning to join the ranks of Liquid Nigeria.
Abu then embarked on his telecom career journey within Mobile Network Operators, where he dedicated a significant portion of his time to various roles that exposed him to nearly all aspects of the business. Following that, he transitioned to an intriguing subsector focused on Tower Infrastructure, where he successfully managed the enterprise and enhanced its value.
However, when the opportunity arose to join Liquid Nigeria, an organisation operating in the realms of cloud, cyber security, data centres, and fibre, Abu found himself captivated by the chance to delve into another critical area of technology. Recognising that their vision aligned harmoniously with his core values, he decided to join their ranks in the pursuit of securing a digital future that leaves no African behind.
Connecting Africa with The Rest of The World
Liquid Intelligent Technologies was established two decades ago as a telecommunications company, primarily focused on providing connectivity to countries and operators in East and Southern Africa. The company experienced a remarkable transformation through an innovative management team and visionary leadership, emerging as the foremost technology firm on the continent.
Today, it boasts a diversified portfolio encompassing a wide range of products and services, including internet connectivity, data centres, renewable energy, Fintech, cloud solutions, and cyber security. With an extensive network of over 110,000 kilometers of fibre spanning the continent, interconnected data centres, and consortium partnerships in submarine cable systems, Liquid plays a pivotal role in connecting Africa with the rest of the world.
Collaborating with global technology giants, it delivers cutting-edge solutions throughout Africa reliably and efficiently. In Nigeria specifically, it catalyses digital transformation; providing comprehensive technology solutions to local and international enterprises.
Functioning as a one-stop shop, the company has earned the trust of its customers through its proven track record and the quality of its services. This trust has fuelled the expansion of its footprint across the region, solidifying its position as a leading technology provider.
Unlocking The Value of The Digital Economy for Nigeria
Liquid has ambitious plans for Nigeria, recognising it as the largest market in Africa and one of the rapidly emerging digital hubs on the continent. With initiatives like the National Broadband Plan, the Nigerian Startup Act, and a vibrant community of digital natives, Nigeria presents an unparalleled platform for growth and innovation.
Liquid's vision is to become the ultimate destination for digital transformation in Nigeria and the wider region, leveraging its extensive assets and strategic partnerships. In alignment with the country's National Broadband plan and digital transformation programmes for enterprises, it is committed to supporting Nigeria's aspirations.
"Our goal is to unlock the full potential of the digital economy and facilitate a period of shared prosperity for our customers. By offering comprehensive solutions and services, we aim to empower businesses and individuals to embrace digitalisation and thrive in this dynamic landscape," says Abu.
Through collaboration with stakeholders, harnessing cutting-edge technologies, and fostering an ecosystem of innovation, Liquid seeks to contribute significantly to Nigeria's digital journey, driven by the belief that by enabling digital transformation and supporting the nation's plans, they can accelerate progress, drive inclusive growth, and unlock new opportunities for all stakeholders in the Nigerian economy.
Liquid's bold ambitions for Nigeria are fuelled by its position as a key digital hub in Africa. Their commitment lies in being the go-to destination for digital transformation, aligning with the country's strategies, and enabling shared prosperity by unlocking the value of the digital economy for their customers and the broader community.
Abu notes that, in today's landscape, innovation holds greater value than sheer experience, and disruption has become the norm as new companies and business models emerge with increasing frequency. To remain competitive, Liquid engages in continual evolution and disruption to stay agile and attuned to the evolving needs of its customers.
"While trends and approaches may change, one aspect that will never go out of fashion is our unwavering focus on the customer. We acknowledge the significance of staying close to our customers, proactively anticipating their needs, and delivering exceptional experiences. This customer-centric approach forms the foundation of our operations, as we strive to provide tailored solutions that address their requirements and exceed their expectations," says Abu.
By setting personal examples, implementing sound policies, fostering innovation, and maintaining a relentless customer focus, Liquid remains committed to upholding global standards, staying relevant in the ever-changing business landscape, and delivering value that resonates with its customers.
Shaping The Next Generation of Technology Leaders
Abu points out that thriving as a leader in the technology industry is not without challenges. The rapid pace of innovation, evolving market dynamics, and intense competition can create a demanding and dynamic environment. Leaders must continuously adapt, learn, and stay ahead of industry trends to navigate these complexities successfully.
He believes that to influence the next generation of leaders, it is essential to foster a culture of mentorship, knowledge sharing, and continuous learning. Providing guidance, support, and opportunities for growth can empower emerging leaders to develop their skills, expand their perspectives, and unlock their potential. This can be achieved through formal mentorship programmes, leadership development initiatives, and by creating an inclusive and collaborative work environment.
He insists that leading by example and exhibiting strong leadership qualities such as integrity, transparency, empathy, and strategic thinking can inspire and motivate the next generation. Encouraging innovation, embracing diversity and inclusion, and nurturing a culture of creativity and problem-solving can also help shape future leaders in the industry.
"In terms of my own role in shaping the next generation of leaders, as an experienced CEO, I aim to provide information, insights, and guidance to individuals seeking knowledge and advice. By offering valuable and relevant counsel, I strive to support the development and growth of aspiring leaders and contribute to their understanding of leadership principles and practices," Abu clarifies.
He believes that making an influential impact on the next generation of leaders requires a combination of mentorship, knowledge sharing, setting an example, and creating an environment conducive for growth and learning. Leading by personal example and supported by robust corporate policies and processes, he conducts business in alignment with global best practices and strong moral values.
A Knowledgeable Leader Expanding Liquid Nigeria's Market Presence
As CEO of Liquid Intelligent Technologies Nigeria, Abu is responsible for providing strategic leadership and overseeing the company's overall operations, ensuring alignment with the organisation's vision, mission, and goals in the country. He sees himself as a 'knowledgeable' leader due to the vast amount of information, training, and exposure he received in his career.
Depending on the specific circumstances and priorities, his schedule often involves activities such as meetings with key stakeholders, strategic planning sessions, reviewing financial reports, participating in industry events or conferences, and engaging with the internal team. His day is typically filled with decision-making, problem-solving, and guiding various aspects of the business.
Some of Abu's key responsibilities include setting the company's strategic direction; identifying growth opportunities and making informed decisions to drive the organisation forward, including:
Stakeholder management: Representing the company to stakeholders such as investors, partners, clients, and regulatory authorities. Building and maintaining strong relationships with these stakeholders is crucial for the success of the organisation.
Leadership and team management: Providing guidance and leadership to the executive team, fostering a positive and productive work culture, and empowering employees to perform at their best. Attracting top talent, developing leadership skills, and ensuring effective collaboration and communication across teams.
Financial management: Overseeing the financial health of the company, working closely with the finance team to manage budgets, monitor financial performance, and make strategic financial decisions that support the organisation's growth objectives.
Business development and partnerships: Playing a critical role in identifying and pursuing strategic partnerships, exploring new business opportunities, and expanding Liquid Nigeria's market presence.
"Maintaining strong connections with my team is of utmost importance," Abu remarks. "We engage in continuous interactions throughout the day, fostering open communication and ensuring that information flows freely. By empowering my team with the necessary tools, policies, and resources, they are motivated to live their best lives and contribute meaningfully from an enlightened and empowered perspective. Together, we create an environment where everyone feels supported and can make valuable contributions to our collective goals."
A Balanced Approach to Nurturing Holistic Well-Being
Abu believes that success is a complex and individualised notion commonly linked to attaining desired objectives, fulfilling aspirations, and the feeling of achievement. "In my case, I perceive success as a combination of two fundamental aspects: my personal and professional life, which are akin to the parallel tracks of a railway line," he reflects.
Just as a train relies on both tracks, a harmonious, joyful, and healthy home life is an essential factor in Abu's definition of success. He sees life as a precious gift and believes in balancing his personal and professional endeavours. To achieve this, he adheres to a well-structured schedule that allows him to allocate time to important personal goals, as well as professional work.
Abu's typical day begins with meditation and exercise, setting a positive tone for the day ahead. Throughout the day, he prioritises both personal and professional development, dedicating time to enhance his skills and knowledge while also tending to the needs of his family. This approach helps him maintain a harmonious equilibrium across all aspects of his life, avoiding excessive focus in a single direction.
"This balanced approach enables me to nurture my holistic well-being and foster growth in various areas of my life," he observes. "By adhering to this philosophy of balance and empowerment, I strive to live a fulfilling and purposeful life, maximising my potential in both personal and professional realms."
The Immense Satisfaction of Peer Recognition & Validation
On the professional front, success for Abu encompasses not only making a positive impact through work, but also career advancement, financial rewards, and recognition. Throughout his career, he has received recognition from internal and external stakeholders and has been honoured for his contributions to the development of the technology and telecommunications industry in Nigeria by notable institutions, such as his Alma mater, industry associations, professional bodies, esteemed media organisations, and distinguished societies.
"Each recognition and award holds a special place in my heart as it signifies a stepping stone towards the digital future I envision for all Africans, as we strive to bridge the digital divide. Just as a building requires pillars, windows, foundations, and a roof to be habitable, every aspect of recognition plays a crucial role in my journey," he affirms.
However, Abu's most invaluable recognition comes from his colleagues, as they provide daily feedback on his leadership style. Maintaining strong relationships with former colleagues who hold deep respect for his contributions to the industry is a testament to the authenticity of peer recognition. It is this validation from peers who understand the intricacies of professional work, that holds the utmost significance to him.
Being recognised and appreciated by peers, serves as a constant reminder of the impact he has made and inspires him to continue striving for excellence in his field. Their acknowledgment fuels his determination to lead by example, drive positive change, and make a lasting difference in the technology and telecommunications industry. "While external accolades are cherished, it is the genuine recognition from colleagues that holds the greatest value and serves as a continuous motivation to excel in my professional endeavours," he maintains.
Empowering Young Africans to Claim Their Rightful Place in The Digital Economy
Abu feels driven by a strong desire to contribute to the progress of humanity through his work. His goal is to empower young Africans, providing them with the necessary knowledge, skills, and tools to claim their rightful place in the global digital economy.
"I firmly believe that access to authentic products and services is vital for their success, just as it is readily available and often taken for granted in developed nations. I passionately advocate for business leaders to recognise the transformative power they hold," he declares.
Abu points out that history has shown how businesses can be catalysts for change, positively impacting lives and entire nations. When run effectively, they serve as indispensable tools for development, generating employment opportunities, supporting families, spreading ideologies, and making the world a better place.
"It is crucial for us to embrace our roles as modern-day evangelists, shaping the world for future generations. By leveraging our skills, knowledge, and resources, we can create a lasting impact and shape a brighter future. I believe that by equipping young Africans with the necessary tools and empowering them to seize opportunities, we can foster an environment where their ideas and innovations flourish, contributing to the overall progress of our societies," he proclaims.
As he continues his journey, Abu is committed to inspiring and guiding the next generation of leaders, instilling in them the belief that they too can make a significant difference. "Together, let us strive to create a world where equal access and opportunities enable individuals to thrive, regardless of their background or geographical location," he concludes.