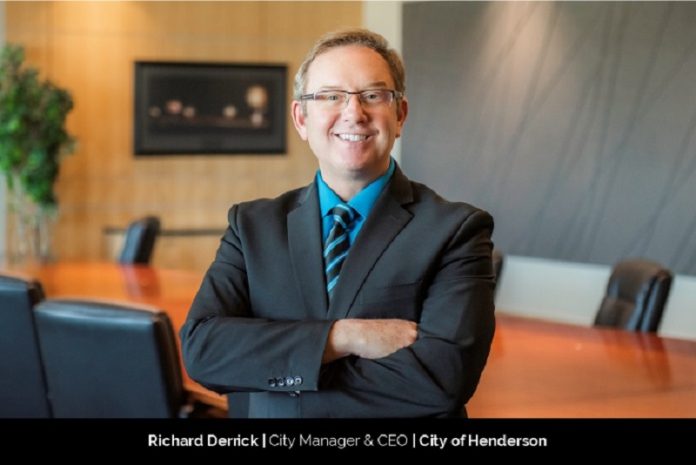 Being a seasoned leader requires a fusion of focus, determination, a never-give-up attitude, passion, experience, and a hunger to learn. One such gem, Richard Derrick, City Manager/CEO at the City of Henderson, possesses all these qualities and aims to take his organization to the top level.
With a proven record in landing major projects, creating performance-driven operations, exploiting creativity with innovation, integrating vision into smart strategies, and collaborating with diverse groups and interests, he aims to build key relationships and deliver better results. He follows a broader view of success in which he includes achievement in various parts of his life, including quality time with family and friends, keeping himself healthy, giving back to his community, and attaining professional growth.
Adept at generating revenues, improving operations, and leading cross-functional teams, he is steering the city's wheel in the right direction.
Joining forces with the City of Henderson
Richard was born and raised in Henderson. He received his BA and MA degrees in Business Administration from UNLV and chose to build a Henderson-focused career.
Prior to working with the City of Henderson, he had the opportunity to hone his professional skills in a variety of industries including education, gaming, and finance. It was through this experience that he learned the importance of a strong work ethic, a sense of urgency, team building, and his desire to give back to the community through purposeful acts.
The best opportunity came when he was hired by the City of Henderson in 1999 as Manager of Budget and Strategic Management. He later became Assistant to the City Manager, Finance Director, CFO, and Assistant City Manager before his appointment in 2018 as the City of Henderson's 12th City Manager.
He adds, "I've had the privilege of serving the City of Henderson for 22 years, and for the past three years, I've had the honor of leading the organization in my dream job as CEO. As a native of this great community, this has been an incredible opportunity for me to raise the bar for city services that enhance the high quality of life for Henderson's residents." He feels proud to have served the community directly by participating on city boards and commissions, including serving as a Trustee on the Board of Henderson Libraries, on the Community Education Advisory Board, and as a member of the State of Nevada Legislative Counsel Bureau Working Group on School Organization Teams. These experiences prepared him to lead the city as it has grown from a small, one-industry town to the second-largest municipality in the State of Nevada.
The push for Richard to take the onus of the lead role in the organization came from within as he built a network of supportive relationships that he could use to contribute and boost the growth of the city. He adds, "Our Mayor and City Council have been great champions of the vision to be America's Premier Community, and although I knew it wouldn't be easy, it was a challenge I wanted to take on."
Knocking the juggernauts out of the way
Richard expresses that his path to the seat was not necessarily direct, and there was certainly a host of challenges along the way. He adds, "Being the Chief Financial Officer of the city during the great recession and keeping all our staff employed was not easy! But each obstacle was in fact an important learning experience that has helped me to improve. Also, along the way, I have had great mentors who were willing to share their critical insights that have helped propel me to where I am today."
One of the biggest challenges of his career has been leading his city team through the COVID-19 pandemic. Like so many cities across the country, their community's public health, economy, and quality of life have been impacted seriously.
Throughout the ongoing crisis, city staff have shown incredible innovation and determination to mitigate the impacts and leave their community more resilient than ever. Innovations include providing their first responders with personal protective equipment that allowed them to continue to provide critical emergency response services and creating COVID-19 testing and vaccinations sites that enhanced the safety of more than 50,000 people. They also distributed federal CARES Act grants that helped to ensure business continuity, assist residents with rent, utilities, and childcare assistance, and support distance learning for the students who did not have access to the necessary tools for success.
Transforming the city with superior services
The City of Henderson is the largest full-service city in the state providing all essential public services. They are consistently recognized for their premier parks, trails, and master-planned communities and have a number of nationally accredited departments which include their police and fire departments, the latter of which is one of the nation's only triple-accredited fire agencies.
One of the clearest signs that Henderson now is recognized as an economically vibrant and diverse city was the Raider's decision to select the city as their new corporate home, bringing 250 jobs and a commitment to community partnership to the city.
Richard adds, "We were thrilled to form a public-private partnership with the iconic Vegas Golden Knights to build Lifeguard Arena, a modern community ice rink and public recreation facility. We'll soon be home to the Henderson Silver Knights, a new American Hockey League franchise. We're excited to have these storied sports franchises join Google, Haas Automation, and Amazon in choosing Henderson as their new home."
After considerable thought and in consultation with the Mayor and City Council, Richard decided to reorganize the structure of their organization to more effectively manage city government responsibilities.
Beyond redefining job titles and scopes of responsibility, he also wanted to take a holistic approach to create a high-performing culture. This meant integrating innovation by instituting a more robust strategic planning and implementation cycle, formalizing the city values, and creating Henderson's Leadership Summit to strengthen and refresh their leaders. In addition, Richard implemented regular operations review meetings and strategic planning summits, applied new customer feedback mechanisms, and planned employee engagement events.
He mentions, "Through these efforts, I truly believe we have created a culture of integrity, transparency, and innovation, and as a result, we have become a high-performing team that makes data-driven decisions. Owing to this we were recognized by the Review-Journal Press as one of the "Top Nevada Workplaces of 2021" for the second year in a row."
Propelling Innovation to bring revolutionary change
Under Richard's leadership, every employee in the organization has a plethora of opportunities to present their creative ideas, thoughts, raise concerns, and be responsive in a stipulated time frame. He ensures that the company's values are rooted in every employee and encourages everyone to get involved in open discussions with other employees and Executive Teams during their organization-wide Team Henderson Huddles.
He even conducts a biennial Employee Engagement Survey to know more about what is working in staff engagement and where they are lagging and need improvement. He adds, "We also empower and reward team member innovation through programs like the Henderson Innovation Program and Henderson High-Fives, where innovation is recognized, and employees can earn a small share of the savings their ideas generate."
The City of Henderson possesses an unwavering commitment to community safety, continued focus on economic vitality, provision of quality education, high-performing public service, and providing livable communities in which our residents and businesses can thrive. The team is well prepared to respond to all the challenges of the future with continued commitment to sound fiscal management and economic stability.
Richard expresses, "It's important to me that we don't lose sight of who we are at our core and continue that hometown feel as we continue to grow and diversify. The positive impact our work has on the community will be felt for many years to come. This is deeply personal to me because it is the legacy I am striving to leave for my children and my grandchildren."
Wearing the CEO's Cape
As City Manager or Chief Executive Officer of the City of Henderson, Richard handles all the overall operations of a values-based organization. He is mainly involved in structuring the roadmap to implement all short and long-term strategies that, in turn, help in accomplishing the City's mission and vision.
He also plays a key role in advancing city-wide initiatives by using both strategic vision as well as excellent leadership while keeping in mind the use of best practices, performance metrics, and the strengthening of strong and positive company culture. He further adds, "I hold myself accountable by living the values of our organization, focusing on succession planning, breaking down internal silos, and helping to build the next generation of city leaders."
Since he has a new role to play every day, there is no fixed daily work schedule for him. On some days, he may lead an Executive Team meeting to discuss and guide city operations, while on others, he may be presenting updates before the City Council or meet with the heads of large organizations who are looking forward to shifting their facilities to Henderson.
Further, sharing his views on the traits of a self-motivated individual, he states, "In my experience, a motivated individual is the one who has a clear vision for where they want to be, prioritizes work-life balance, has a passion for what they does, and is responsive to the needs and ideas of others."
Carrying this definition ahead, he always tries to incorporate these exhaustive traits into his team members to produce remarkable future leaders. Moreover, he also tries to share his organization's vision so that they can strive hard to become America's Premier community where they impact the lives of everyone who resides, works, or plays in the city.
Working for the welfare of the City of Henderson is now added as an integral part of one of his three passions, namely, standing by his family, committing towards community building, and traveling to new destinations. His dedicated nature and putting all his best efforts into work is a constant source of inspiration and encouragement for all other employees to work with the same passion.
For his consistent hard work, Richard was recently awarded the top Leadership Award from the Southwest Alliance for Excellence (SWAE), which is a nationally recognized organization that concentrates on improvement and excellence in organizations, communities, and individuals throughout Nevada, Arizona, and Utah.
Since SWAE recognizes only exemplary leaders who pursue excellence in performance and showcases notable community involvement, corporate citizenship, and economic development efforts, he adds, "Knowing the importance of these leadership qualities to the success of any organization, I was truly honored when I received the 2021 Leadership Award from SWAE and am grateful for their recognition of the exceptional service my team and I bring to our City."
Life-long learner and Empowering Leader
Having faith in John F. Kennedy's famous adage, "Leadership and learning are indispensable to each other," Richard calls himself a life-long learner and keeps honing himself to achieve exceptional results in no time. His approach of leading by example has helped him gain profound experience in the diverse fields of private industry and public service. Along with this, working with dedicated employees has helped enhance his ability to handle challenging and unexpected changes to generate desired results.
For all aspiring business leaders, Richard shares a special message on what it takes to become a successful entrepreneur and leader. He states, "In today's fast-paced and ever-changing environment, individuals will have to develop an array of traits and tactics that will allow them to effectively lead the workforce of the future, including staying true to yourself and understanding what truly drives you; making connections everywhere, not just in your department or company; being willing to take risks; always looking for ways to help others; following up as the key to everything; not fearing failure or rejection; and striving to be a proactive, results-driven, lifelong learner."