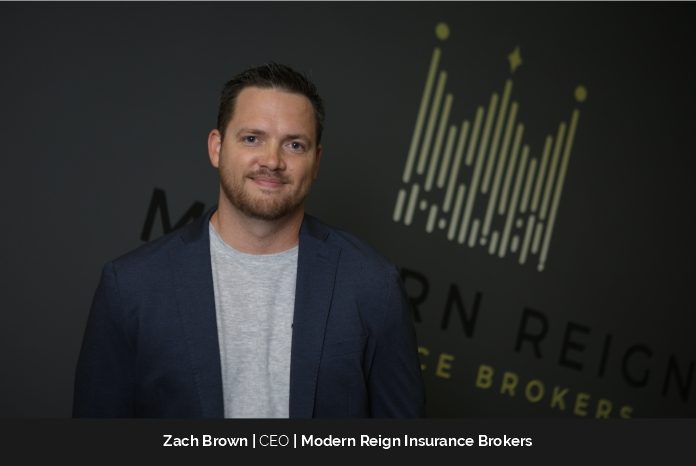 Dreams. Goals. Desires. Aim. All of that changes as you grow. This is a fact that Zach Brown believes in. He dreamt that he was pitching for the New York Yankees as a kid, but that was after he was a cop, cowboy, and astronaut. Today, Zach is a successful business leader and CEO of Modern Reign Insurance Brokers a regional Brokerage Firm specializing in P&C, Workers' Compensation, Employee Benefits, and Claims Advocacy.
Zach's insurance career began was when he Googled "what is the most expensive thing to sell?" and then googled "where is the most expensive place to sell insurance?". After this quick research, he packed his bags, sold his things, rented a car, and drove to Southern California to try to find a job in the insurance industry.
Success is not final and failure is not fatal
Traditionally success is money, fortune, and fame. But Zach, who has been the National Power Broker in 2019 (Risk & Insurance Magazine) Rising Star in 2019 (Risk and Insurance Magazine), and 35 under 35 Award Winner in 2022 (RISE), considers the person that gives up a 6 figure job to gamble on a new venture as a success. These people are successful in making the jump, taking the risk, and trying to make it on their own. "That is what we look for in potential Modern Reign employees. People that want to be part of the new leadership/modern reign of the insurance industry. It isn't success or failure if we can attract people that are ready for or already have made that jump for the "ownership" of their "success" we are changing the degree of success, not avoiding failure," he says.
Challenges increase your tolerance to "problems"
At one point Zach was sleeping on the beach for weeks and brushing his teeth in a Taco Bell bathroom trying to fight his way into the insurance industry. He states that challenges increase your tolerance to problems because you know, firsthand, that things could always be worse.
With every failure, there is a lesson. At the point of failure, people have two general directions they can go:
Sad – sad that they failed and reflect on what went wrong and focus on how to avoid that feeling again which results in a lack of future attempts.
Mad – have a chip on your shoulder and be determined to figure out how to conquer what went wrong and try again asap.
The growth of Modern Reign under Zach's leadership
Modern Reign encourages entrepreneurship in an insurance world of Golden Handcuffs, Exclusive Programs, and companies "forcing" people to stay or leave with nothing but the clothes on their backs.
They encourage their people to be entrepreneurial and if that means not with Modern Reign then they brainstorm as a team to come up with a partnership agreement they can offer to that employee in their own venture. They see that as a notch on our belt that they came from the school of Modern Reign and not as a threat to their survival or a ding to their reputation. The traditional programming of companies in Modern Reign's space will eventually push all the producer's "naturally entrepreneurial people" out of their organizations.
"Ultimately I want Modern Reign to add value to people's lives. I want it to be your home, I want it to be your stepping stone, I want it to be your partner. As long as Modern Reign is pushing and motivating and rooting on our people and those we care about, I will be happy with it," Zach explains.
Responsibilities at Modern Reign
Modern Reign is still in its infancy, so Zach is responsible for everything. However, his main responsibility is to make sure their people are taken care of and they will make sure their clients are taken care of. People at Modern Reign are family and they are treated in that fashion. "We have your back, no matter what. I think that is hard to find in an employer, companies are quick to turn on you, believe me," he states.
Zach's life before Modern Reign was being a producer who wanted to find a way to have his own thing that he could grow and he searched for a partnership with those companies that had hired him. He wanted someone to invest in him. "Eventually, you have to invest in yourself," says Zach who defines himself as an anti-traditional, loyal, and genuine person.
Harmony in work-life and keeping his employees motivated
"I don't have 2 lives. I have one. My family and Modern Reign are one. When you fuse the two you aren't stealing from one to give to another. That is just how I see it. I'm not suggesting how other people should live their life," states Zach. He has an amazing business partner, Josh Diggs. He makes it easy to have the flexibility and comfort knowing if Zach is not present, things are still taken care of.
Zach states that he has never seen himself as a planner because plans change. He thinks that is the same for dreams. But, whatever he did, he knew for sure that he wanted to do it without any "traditional" help. "I never had any handouts. I have earned everything I have ever done and that is succeeding in my mind," he exclaims proudly.
His message to aspiring entrepreneurs is to – make the jump. Be smart, prepare and make the jump. There will always be a reason not to do it, it will never be the perfect time to do it, just do it, because if it doesn't work – things could always be worse.