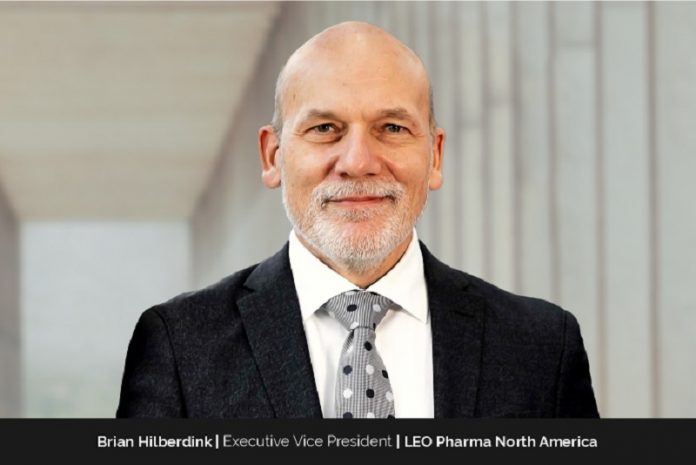 Brian Hilberdink is leveraging his 26-plus-year experience of working at Novo Nordisk and applying it to another Danish company, LEO Pharma, with the goal to break through in the U.S., drive sustainable growth, and make it a global leader in medical dermatology. "That is the mission I'm on, and that is why I took a big leap of faith to come over to LEO Pharma," he says.
In March 2022, Brian took over as President of LEO Pharma U.S., and Executive Vice President on the Global Management team. It is a mid-sized pharmaceutical company with the U.S. home office based in Madison, NJ, and the global HQ in Copenhagen, Denmark. The changes ushered in by Hilberdink, soon after he joined, are now showing results. At LEO Pharma, he needed to first help define success by re-aligning expectations. Now, as the company prepares for a future IPO, it has complete alignment with its shareholders, board of directors, and global leadership teams about the U.S. specific strategy and how this fits into the overall global organization.
And, when Brian first joined LEO Pharma, there was still ambiguity about the direction the company would take going forward, how big Adbry® (tralokinumab-ldrm) – the company's first biologic – was going to become, and what was the next step. Brian feels that the dust has now settled, and they have a clear path forward. He sees this as a massive accomplishment.
"Until you have that shared vision, where people have a shared idea of what our purpose is, what we refer to as, 'why LEO Pharma is here, why do we exist,' it's really difficult to move forward," Brian says. "We have a greater clarity on that than we have had in a long-long time."
From a Job in Theme Park to Career in Pharma Industry
Brian is a veteran of the innovative pharmaceutical industry, with a career spanning more than 28 years. Before starting his journey in this industry, he was managing a theme park. He recalls that it was in between trying to decide on graduate school. His theme park job gave him the opportunity to move into a leadership position at a very early age, and he then realized that he likes to lead people and likes to be an entrepreneur. He joked, however, that he did not ever aspire to become the CEO of Disney World.
"I had other aspirations, and being able to take early lessons in terms of how to lead people and how to be an entrepreneur and then apply that into an innovative healthcare setting was the perfect match," Brian says.
For him, his decision to step into the healthcare and pharmaceutical industry was a calculated move, as he wanted a career. So, when he entered the industry, Brian felt like he switched to a career from a job (at the theme park).
He joined Novo Nordisk as a sales rep in 1995. And, as he had to promote insulin in Canada, where it was first discovered, Brian, being a Canadian, saw it as a fantastic opportunity.
Being a sales rep in the innovative pharmaceutical industry is not exactly like being a door-to-door salesperson. "This is not banging on doors trying to sell products to people who may or may not need them. This is actually helping to enable clinicians to make better decisions that ultimately improve and save the lives of patients.," Brian explains.
"So, that was kind of my entry into the industry," he adds.
The innovative healthcare space holds a lot of importance for Brian because it offers him a job where he is making a difference. A job that he can take pride in. "I take so much pride in what I and my employees do," Brian says.
Journey With Novo Nordisk
At Novo Nordisk, Brian's career followed an upward trajectory. He joined it as a sales rep and resigned from the company, 26+ years later, as Senior Vice President of Sales. And he had a global career, which Brian says, distinguishes his career from other people's careers. During his time at Novo Nordisk, Brian made six cross-border moves.
In the early stages of his career at Novo Nordisk, Brian moved to Denmark for the first time. His wife was expecting, and they had a toddler as well. For him, the move to Copenhagen was a leap of faith to try something without having a clear path. He was not sure where it would lead him.
Brian often tells people that once they start a global career, their development plan no longer adheres to a linear progression within an organization. "It opens up possibilities all over the world," he says.
When he was growing up in Niagara Peninsula in the province of Ontario, Canada, Brian didn't even consider the option of studying at a university outside of his province. He recalls that no one from his peer group considered moving beyond their place. Once Brian left his country and moved to Copenhagen, it opened up possibilities for him. He soon realized that he loved working in global organizations. He also found that no two places had the same culture, yet at the core, all had the same mission, which is to provide innovative medicines to patients who need them. He also gained an understanding of how to navigate different healthcare systems.
"I think that earlier experience really opened up possibilities, and ultimately, put me in the position to do the job that I'm doing today," says Brian.
Two Major Achievements
Before coming to the U.S. to join LEO Pharma, Brian had the opportunity to lead the Canadian affiliate of Novo Nordisk as President & General Manager. When he took over that business, it was growing by low single digits and ranked behind several European affiliates in total sales. Today, it is one of Novo Nordisk's largest affiliates and is the single largest pharmaceutical company in Canada, with 20-30 percent sustainable growth. They were able to create a foundation for that because Brian had both global and local experience and the trust of the company. And he came up with a made-in-Canada strategy, which made sense to the Canadian market. For that, Brian was recognized as the General Manager of the Year in 2018 by Novo Nordisk – the highest recognition anyone can receive in the company – and he was also inducted into the Canadian Healthcare Marketing Hall of Fame.
"As a Canadian, I took a great deal of pride in being able to do that," Brian says.
And, in the U.S., he had the opportunity to oversee the "unbelievable" growth of Novo Nordisk's GLP-1 receptor agonist, Ozempic, and its obesity injectable, Wegovy. He remembers this as one of his professional achievements because the launches of Ozempic and Wegovy "fundamentally shifted" the way obesity and diabetes are treated in the U.S.
Challenges of Working for a Global Company
In his long, stellar career, Brian has served in different roles in different parts of the world. That not only created opportunities for him but also posed some challenges. A global career meant he had to move his family along with him. He considers himself incredibly fortunate that he has a supportive wife.
His wife, Lynn Hilberdink, who Brian calls his best coach and sparring partner, was willing to sacrifice her career. So, they were able to move with their children and put them in international schools, then local schools, private schools, and then back to public schools. "That's not an easy life. You can ask my wife," Brian says. "And you end up with very different experiences."
He also points out that while he was surrounded by great colleagues, going to congresses, meeting well-educated healthcare professionals, and talking about how they were going to change possibilities in diabetes and other disease states, his wife was picking up the pieces. "That was a big challenge," Brian adds.
But, ultimately, because of the movement that he had and his extensive network within the company, Brian was able to build strong bridges between the global organization and whatever business unit he was in.
As Brian is someone who has lived in both those worlds, he knows how to build a bridge between the two. Now, he is in the position to say, "Listen, I understand where you are coming from and the objectives you have but let me take a step back and explain what it is that we are working on and how we can bring the two parties together. They have to co-exist and work together."
About LEO Pharma and Its First Biologic
LEO Pharma was established in Copenhagen, Denmark, in 1908, making it the oldest pharmaceutical company in the Nordic countries. The company has been around for a long time, but in the U.S., it began its operations 14 years ago.
"We are going through a remarkable change as a company right now," Brian says. LEO Pharma historically has focused on skin diseases. For years now, it has been developing medicines to treat mostly common types of dermatological diseases, such as eczema, psoriasis, and acne.
The company is now making a conscious decision to pivot and move into hard-to-treat dermatological diseases, Brian informs. In the U.S., it launched its first biologic, a product called Adbry, for moderate-to-severe atopic dermatitis (AD). This product is competing directly against Sanofi's Dupixent, which is a well-established "megabrand" in the market.
"We are taking this old, historical company that has a history of innovation in the topical space and moving it into the biologic space, and by doing that, we are competing against big pharma. It has been a significant change in our approach, and it has opened a lot of different learning opportunities," Brian says.
LEO Pharma acquired the molecule used in Adbry before the global pandemic, and like many companies attempting to launch in this period of time, it faced some challenges. This included a delay in the launch due to an initial complete response letter from the FDA requesting additional data relating to a device component.
"Despite these initial setbacks, and a slightly muted uptake relative to the early internal expectations, LEO Pharma is proving to punch above our weight and is being quite competitive relative to what other companies are doing in this space" says Brian.
After having worked for both Novo Nordisk and LEO Pharma, Brian says that the companies are very different from each other. At Novo Nordisk, he adds, he was on a supertanker, and there, he could spend his time in-house, arguing that it was time to change course by 2 degrees, and then they would compromise at 0.75 degrees. And, a thousand miles later, no one would notice that the ship changed direction as they were on a wonderful trajectory with the unbelievable semaglutide molecule and the Ozempic brand.
It is different at LEO Pharma. "We are constantly trying to make 45 and 90 degrees turns, to make sure that we are navigating and trying to figure out that right-fit purpose for the organization," Brian says.
In recent years, LEO Pharma has made a fundamental change in the management team. Brian, who is one of the new members of that team, is responsible for North America. Christophe Bourdon is the new Global CEO. Several other new members have been added to the leadership team as well.
"We did a complete reboot on research and development," Brian reveals. "We are now referring to that as search and development because a company of the size and scale of LEO Pharma should probably not be taking its finite resources and putting them into early research and discovery." The idea is to find later-stage assets and complete their developmental cycle.
Brian is currently heavily into business development and mergers and acquisitions, trying to find molecules. "I believe that LEO Pharma is uniquely positioned to become THE medical dermatology company," he says. "It doesn't mean that I'm defining the company's success in terms of the greatest number of sales in dermatology. I think we can be the company that can pick up assets and work hard to treat rare and hard to treat medical dermatology diseases."
One of the future plans is to make the U.S. the primary growth driver for LEO Pharma, and then the ambition, according to Brian, is to take it public in an IPO.
Why IPO Is Important?
These days, getting LEO Pharma to the IPO keeps Brian and his team motivated. It will allow them to fully capitalize the company and set up the company in a more sustainable manner.
LEO Pharma has foundation ownership. One shareholder can lead to a situation where there is less accountability and drive for performance. Such a situation does not arise when there are multiple shareholders, Brian says, adding, it is because they would not buy or sell if they do not like what they hear.
The company also brought in a private-equity partner, who bought a minority share, because it felt the need for some expertise in terms of how to get IPO ready and be able to sustain it. Brian underscores that the IPO will represent a very important milestone in the long and storied history of the company.
It is in 2023 that the company is finally back in black globally – and expects to generate positive EBITDA, and in 2024, Brian says that they expect to advance with what that margin looks like; in 2025, the expectation is to be closer to the company's peer group in terms of being able to deliver a respectable EBITDA margin.
"Just driving EBITDA margin in itself is not an accomplishment," Brian says. "It is an accomplishment when we can make that sustainable and create a company where we can sell that to shareholders. We can explain that LEO Pharma is a good investment because we are going to have sustainable growth year after year."
"That for me is such an important milestone," he adds.
Contributing More than Taking
Brian believes that success has to be defined by achieving a collective shared vision and having a purpose that one has accomplished. And success means contributing more than one is talking, he says.
And, as Executive Vice President of LEO Pharma North America, Brian's definition of success is advancing the company's agenda to help patients who would otherwise not receive help, creating a sustainable business model, creating an environment where employees can show up and be the best versions of themselves, and having an engaged employee base. "These are more meaningful than hitting the sales metric," he says.
Message to Aspiring Leaders
Brian encourages aspiring leaders to take risks and chances in a message to them. "Be authentic, be a risk taker, stick your neck out once in a while," he says. "That's a formula to set you up to be a successful leader."