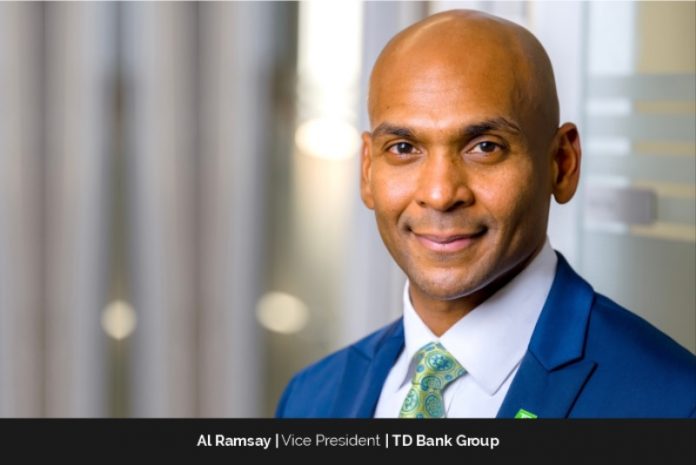 As Vice President, 2SLGBTQ+ and Black Customer Experience, at TD Bank Group, Al Ramsay is a purpose-driven, inclusive, authentic, and compassionate leader who gets things done and works to enrich the lives of his colleagues, customers, and communities. "I'm accountable. I see an opportunity and I do it," he says.
D&I is highly important at TD, which is an inclusive place. Ramsay's vision as a leader is to lead by example, remove barriers across the organization, help ensure equity for all, create a sense of belonging, and help his colleagues thrive to achieve their full potential.
On the customer front his goal is to deliver the best of TD to all its diverse customers, ensuring financial advice and the customer experience help them achieve their financial goals and ambitions in life. A big part of that is enhancing the way they do business and removing systemic barriers in their practices, products, policies, and processes.
Dealing with the Trauma of Being a Gay Black Man
Ramsay's parents moved to Canada first, to build a better life, and to then bring him and his siblings with them. Growing up in a country where it was illegal to be gay, he was bullied throughout his childhood and thought that he'd left that behind when he left Jamaica. But, when he started his career in Toronto's financial district in early 2000, a big bully in a different organization appeared.
"Folks intentionally tried to hurt me because I was different. It was very difficult for me and I was struggling. I was being bullied for being gay, and this person felt they could bully me openly because that was the culture at the organization. They realized I was in the closet and was gay, and I was frightened and alone. I was fearful of being outed in the workplace," he recollects.
That was one reason why Ramsay joined Rainbow Railroad, a Canadian charitable organization that helps 2SLGBTQ+ people escape violence and persecution in their home countries. "It's about helping to save lives around the world for folks in danger, and that's a passion of mine. I've been on the board of Rainbow Railroad for many years," he says. TD found him at the right time, in early 2002, when he was beginning his career, and it changed his life, both personally and professionally.
For Ramsay, life came full circle on an emotional day, when he was presented with the award for Youth Role Model of the Year, given by the International Day of Pink for anti-bullying, and presented by a past TD executive, Scott Mullin, former Vice President Community Relations, sponsor of Rainbow Railroad, and the executive that hired Al at TD.
Finding the Support & Confidence to Be True to Himself
Over 18 years ago, Ramsay was introduced to a leader in the gay community in whom he confided in for the first time, and who introduced him to Scott Mullin, Vice President of TD's community relations at the time. This was when TD was embarking on its Diversity & Inclusion journey and the CEO at the time, Ed Clark, wanted to transform the culture and be more inclusive.
"They heard my story of being bullied in the workplace for being gay and Black, and they saw my value. They saw me as an asset to the organization and not a liability. They saw the value I could bring and wanted me for what I brought to the table, my identity difference. I was hired in 2005, as one of the first full-time employees supporting D&I, the National Manager of Community Relations, Diverse Communities. That's how I became an employee at TD, and it transformed my life," he recalls.
Ramsay's job was to build better relationships between TD and diverse communities like Black, 2SLGBTQ+, Latin American, Asian, and South Asian communities. For the first time in his life, he had found an inclusive place where he felt safe. He decided on the first day, that he was not going to be in the closet anymore. So, he walked into TD as an openly proud, gay Black man, long before he came out to his friends at home, and it changed his life. This experience gave Ramsay so much confidence for the first time, that those proverbial bricks fell off and allowed him to feel he belonged. He was able to finally bring his whole self to work and as a result, his career shined with him.
"I was out and proud for the first time in my life. I felt I could be my authentic self. I didn't have to look over my shoulders or whisper. It gave me the confidence I didn't know I had, to be myself. Research shows that when someone can be their true authentic self, they can bring all their skills and abilities to the table. It helped accelerate my career to become the leader I am today," he remarks.
Ramsay knew this was the career path he wanted to take, and his job was to build better relationships between TD and diverse communities, especially Black and 2SLGBTQ+ communities. When he spoke to leaders in Black communities, they were stunned that a big bank like TD was being proactive in wanting to work together, and asking what they could do for them, versus them knocking on doors for support. That process changed Ramsay's perspective on the power of the bank and what it could do to help build a more inclusive future.
"As a leader on my platform, my voice and value, the weight it brings, changed my perspective on how much we can do, and the power of this organization to transform communities. At that moment, I realized the privileged position I was in at TD, and I knew this was the bank I wanted to work with in my career path going forward," he maintains.
How TD Disrupted the Market by Standing by Their Values
When Ramsay joined TD as the National Manager of Community Relations, his portfolio was Diverse Communities. When TD became the bank that sponsored a Pride festival in Canada in 2005, it disrupted the market.
"We had a lot of customers that said we should not be so open in supporting the 2SLGBTQ+ community. A large organization withdrew millions of dollars from TD because we sponsored Pride Toronto, and that was the moment of truth. The message we sent to that customer that our values are not for sale," he recounts.
TD told the customer that while they were upset that they did not approve of their support for the Pride festival, they respected and valued all their customers equally, including 2SLGBTQ+. So, if they did not believe in their values and principles as an organization, they were welcome to take their dollars elsewhere. The fact that TD did that was a powerful moment of truth for Ramsay.
Sponsoring the Pride festival sent a signal that this was not a performative act, but a serious effort toward transforming the organization. That was when Ramsay's career evolved and he became the Senior Manager for Corporate HR. His job was to look at his colleagues' experiences, moving from community to internal transformation. His role then shifted to removing barriers that inhibit employees from achieving their full potential.
Ramsay also started the Employee Resource Group for the Pride Network, the Black Employee Network, and other diverse groups, and went on to do a lot of work on the marketing front. He moved from HR to Marketing and was one of the first senior managers of marketing to look at their external advertisements and how they communicated to the broader Canadian society to ensure that they were inclusive.
"We were the first Canadian bank to include a same-sex advertisement in mainstream media, and you can imagine the comments we got that we should not be doing this, we heard it all. At TD, we call it the three C's – Customers, Colleagues and Community. I've been at the forefront when we talk about D&I not only being the right thing to do and an important HR imperative but also something that makes good business sense, as we move towards a more inclusive organization," he elaborates.
Ramsay notes that a lot of education is required when organizing and transforming a culture and that was what TD did. It was about awareness and winning the hearts and minds of leaders and employees who did not see the value in D&I, outside of doing the bare minimum. "Those same folks are now the biggest champions of D&I and that's why allyship matters. How do you make it real for folks who don't buy into D&I? It starts with the head, the conversation about why it's important. Then it goes to the heart, to empathy. You act after you become enlightened," he clarifies.
The Power of Inclusive Leadership in Fighting Racism
One of Ramsay's big goals is addressing anti-Black racism, and Bharat Masrani, TD's current CEO, made a bold commitment when he said, "We're a very diverse and inclusive organization, but we also have work to do. TD is not immune to this. So, we need to do more within the organization as we accelerate, to stamp out all forms of injustice." TD then launched the Black Customer Experience Strategy, committed to greater representation at the executive ranks, and provides funding to combat Anti-Black Racism through the TD Ready Commitment.
"Within the TD culture, we start with a point of awareness, engagement, understanding, and then move forward as an organization and that's where we are right now," Ramsay explains. He believes that while inclusive leadership matters, consistency is the key to putting that into action. People are looking for measurable outcomes, and he has to consistently demonstrate the culture he wants from his team.
"I have to lead by example to mobilize, motivate, and empower people to do the same. It's all about innovation because that's the only way to make impactful change. How are you going to hire the best and brightest talent that brings a diversity of thought to the table, nurture that talent, and empower them to lead? Through a culture of integrity and innovation," he maintains.
Ramsay takes the greatest pride in having started the Black Employee Resource Group in 2005 and being given a mandate by their senior leadership team to design and develop their Black Customer Experience program, a first for a financial institution in Canada. Today, TD is seen as a leader in the drive to stamp out injustice and tackle anti-Black racism.
In creating the recently launched Black Customer Experience Strategy, Ramsay looks at how to deliver better access to credit to the Black community and is accelerating the way TD lends to Black entrepreneurs through the Black Entrepreneur Credit Access Program. They are now well on the way to delivering that mandate, and he's proud of his team. "We have a fully-staffed, fully-funded, successful team from coast to coast across Canada. Although I have many great memories and many great milestones, this one is going to live for me as the top of the heap in what I've accomplished so far in my career," he proclaims.
Focusing On the Customer Side Of D&I
Having seen first-hand the incremental change over 18 years at TD, Ramsay notes that the journey of awareness-building, employee, and community outreach has now evolved towards the customer side of D&I.
"A mantra I have is that inclusion is not only the right, humanistic thing to do but makes good business sense. We're a purpose-driven Bank and want to enrich the lives of our colleagues, our customers, and the diverse communities we live, work, and play in," he states. "Our communities are an important part of TD, and we're shifting from not only an HR imperative as a centre of excellence, but driving it through the businesses because it should be owned by the business and by everyone, not only HR."
While there has been great progress at TD, Ramsay believes that they still have a lot of work to do. In terms of opportunity, he sees areas of focus; 2SLGBTQ+, visible minorities, people with disabilities, women, and indigenous peoples. He hopes to break down those silos and look for intersectionality amongst different areas of focus for D&I, seeing how they can forge ahead together, to create more impact and change. "That's where I would love to see the future of diversity," he states, "True inclusion means everyone. Even those that don't identify as a diverse individual, everyone has a role to play."
Ramsay supports three lines of business: Personal Banking, Wealth, and Business Banking. His job is to embed support across the organization for diverse communities and his team is the key liaison between TD and the communities it supports. His team is also very active on social media and their responsibility is to understand who these diverse communities are and let them know that TD values their business.
"We get out there in the community and tell them why we're the better bank and why they should come to TD because we have shared values and a dedicated team to support them. I'm bringing that program and strategy to life, so that entails internal and external collaboration in how we deliver TD to both the 2SLGBTQ+ and Black communities," he explains.
Success is a Vision You're Passionate About
For Ramsay, success is having a vision he's passionate about, whether that's a personal or business goal, and communicating that vision effectively and with clarity as a leader. He believes, in the process, you win the hearts and minds of others at all levels, so they can also see and believe in the value of your vision, and more importantly, want to help, collaborate, and connect authentically to execute and bring that vision to life and make an impact.
He notes that, as you grow as a leader, your definition of success changes. You understand that it's about more than you. It's your people, the organization, and mobilizing people to a vision of what you're trying to articulate, so they can come along with you on that journey.
Ramsay's personal goals are now centred around building on what he's learned, using the value of his platform to help remove systemic racism and all forms of discrimination in society, to make an impact and accelerate change for equity-seeking groups, Black communities, and the 2SLGBTQ community.
Using His Voice & Lived Experiences to Inspire & Motivate Others
Ramsay accepts the responsibility as a leader and human being, to not let the lights dim, especially for marginalized communities, but to help them pave a pathway to a more inclusive world. "I like to use my voice and my lived experiences, in the boards I sit on and the committees and organizations I engage with, because I believe in the power of storytelling, of lived experiences. They're very unique and can help inspire and motivate others, especially youth, to know that not only are they valued, but that they matter, their dreams matter, and they can accomplish anything and everything that they desire. I wish I had that when I was growing up," he reflects.
Ramsay is also constantly inundated on LinkedIn with notes and messages from young Black men and Queer folks around the world. Some of them are being bullied, or their life is in danger and they're asking for help, so he connects them to Rainbow Road. A lot of folks send him messages to thank him for being visible, for what he does, for telling his story, and for being a voice and champion. "That makes me realize how privileged I am in this position. TD has given me the platform and this role so I can create impactful change, and that's what motivates me and keeps me going," he observes.
As a big proponent of health, wellness, and work-life balance, Ramsay feels fortunate that his work also dovetails into his personal life, and that he works for a bank that pays him for what he does. "What's in my control is to create a great team as an inclusive leader, and I'm fortunate to have the best team in the financial industry, that's so passionate about their job. They motivate me to do more and constantly look to innovate because they see the impact they're making in their day-to-day job. We motivate each other because the work we're doing is impactful," he says.
Help Others Become the Best Version of Themselves
Ramsay offers some profound advice, based on the lessons he has learned over the past 18 years of being a successful leader:
"Authenticity is the key. You have to truly believe and embrace D&I, as it's going to make you a better leader. It's not only going to make your organization more inclusive but help you build an organization for the future. Lead by example, be compassionate, be caring, and have accountability. Look for great talent, diverse talent, not only in places you traditionally look but get out there, into the communities. Authentically engage with them and build your brand. When you get that talent into the organization, take the time to know them, to nurture them, to build them, so they can soar and gain the confidence they want, and get the tools and resources to become the best version of themselves."