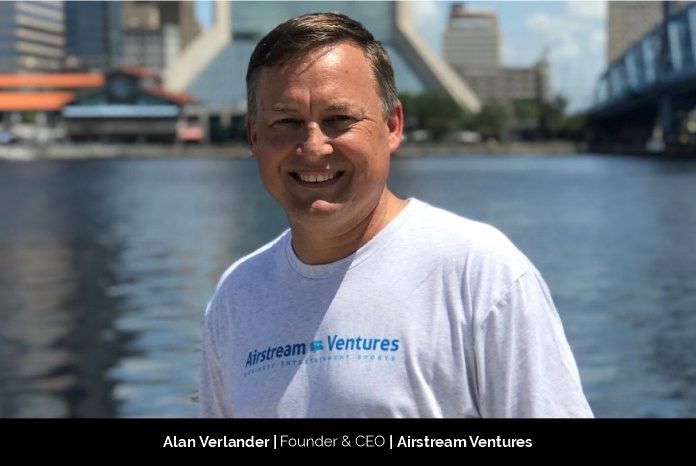 As marketing has deeply penetrated the business world, there's no business niche that remains untouched. In the last few years, the event management industry has also grown as a compelling marketing aspect and exploring the untouched business opportunities for new growth in the industry.
Alan Verlander, Founder, and CEO of Airstream Ventures, is an enthusiastic sports lover with years of experience in the sports and entertainment industry. He founded the company with the vision to provide exceptional marketing and event management services that help to drive business and event growth.
Airstream Ventures provides services in the sports and entertainment industries. It helps current events and communities better monetize their properties through revenue growth and out-of-box thinking. The organization also runs its own events. The company consults with various entities in organizational growth through events, sponsorships, and donor management.
Success; a Positive Change that Brings Growth 
For Alan, building a life-giving culture, focusing on lives being grown and changed positively within the organization is the ultimate sign of success. He analyzes those changes every six months with his team. He believes, as a leader, if one takes care of the team, the financial and operational metrics grow. "Certainly, I look at financial and operational metrics," states Alan.
Started with a Vision
Alan always wanted to work on his own ideas, but destiny always led him to work in a corporate environment and not necessarily in the most positive cultures. Three years ago, Alan saw an opportunity in sports and entertainment and realized there was a need to look at the industry with a different view, and he knew he could do that. He describes, "I knew with my experience and the right team in place, we could disrupt the industry and inspire new ways and areas to be creative in the field."  
Never Comprise Values while Facing Challenges
No leader always does everything right. Alan says about himself that sometimes he is not a very patient person. So early on, the team took on working many events even if the margins were low. He considers himself a quality over quantity person, but he went away from that for a season early on with the company.
Two lessons he learned with going through this mentality; first, the company didn't make very much money, and second, at the same time, it wore out its team with events. He says, "We changed that mentality after the first year, and it continues now even as we made it through the pandemic."
Fostering Success with Trust and Integrity
Airstream Ventures works to build authentic relationships with partners, whether it is event rights holders, sponsors, or ticket buyers. The Sports and Entertainment business is all about trust and relationships, and at Airstream Ventures, the management focuses to build the same. It is also the key to the company's success.
The team at Airstream Ventures also does first-class work with timely communication and has the ability to create positive financial outcomes. Alan asserts, "But it truly comes down to people trusting that you can deliver, and we put a lot of work into being authentic and trustworthy." 
The vision of Airstream Ventures is simplistic, but not always done in the industry or general business. The company simply operates around the biblical verse "do unto others as we would have them do unto us."  That drives its people and actions every day. Alan says, "If we operate with that as our foundation then the culture of integrity and innovation become a by-product. Certainly, we white-board ideas and operate with the utmost integrity, but if we are treating people the way we want to be treated, business happens and even thrives."   
An Influential Leader
Being the leader of a great team makes Alan feel proud every day. He says, "With Airstream Ventures, I'm proud to say people truly enjoy working at our company. It's a great culture with amazing people."  The team has built relationships that will last long after the company. He adds that due to the positive nature of the business, the team works nights and weekends and still stays so positive with each other. Throughout Alan's career, the greatest achievements aren't really about the business but about the people. He asserts, "Seeing people attaining success that has worked with me and for me, makes me happy and gives me life. Business is just business, but seeing people thrive and grow and knowing I played a role in that brings me life and joy."
Always a Sport Enthusiast     
Alan's entire career moves around sports and entertainment. Most of his career was in the college athletics space, including serving seven years as a Division 1 Athletic Director. He had worked and led some of the nation's biggest events along with leading organizations for now 18 years. He points, "It's been a great career that has led me to be an entrepreneur." 
As a CEO- Keeping all together
Alan describes his role as the CEO in the organization, is building and leading team culture, building revenue, managing expenses, and encourages the team to think outside the box.  He says that most people consider making money is an employee's top desire, but really that's not at the top.  Its culture and feeling a part of the team and having their presence and ideas appreciated. To create this kind of supportive work environment, Alan focuses many hours on building culture and care.
Living a Balanced Life    
Achieving a balanced personal a professional life was not an easy path for Alan. He has faced more failures than successes. But since starting Airstream Ventures, he realized through discipline and focused vision a balanced life is attainable. He asserts, "My mindset is to give work everything I have from 8 a.m. to 5 p.m., but after that, I focus on that 5:30 a.m.-8 a.m. and 5 p.m. to 10 p.m. block on my family, friends, personal hobbies and personal growth. That is truly a typical day in my life now and living that way I believe, makes me a better leader at work and happier person in life." 
Expansion on National Level
At Airstream Ventures, the management aims to continue to serve the needs of its clients and operates in a forward-thinking environment. Personally, Alan's goal for the company is to bring growth to the financial balance sheet. Also, he wants to see it continue to expand and operate in cities all over the country. He says, "We have a unique model of growth with building sports tourism models for different communities that requires vision. We currently serve three communities in 2021, but we expect that to grow to over 10 in the next 18 months. However, through our expansion and growth, the focus of positive culture and treating people authentically will always remain."