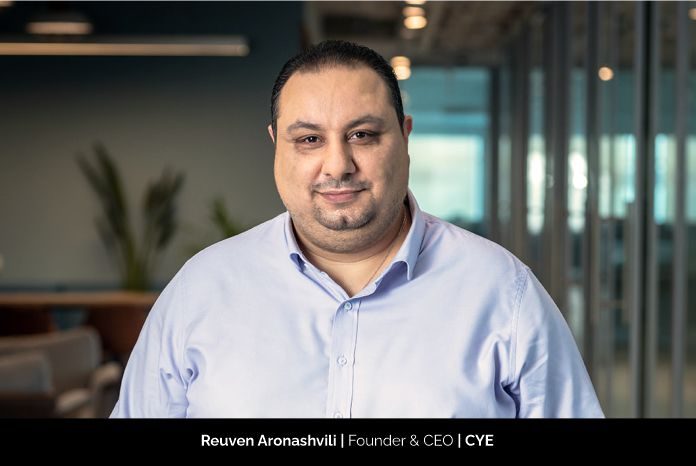 Success definition differs from one leader to another. Reuven Aronashvili, founder and CEO of CYE, always sets impossible targets and goals and gives in 100% to achieve them. Even though he is a result-oriented person, he always works harder to enjoy the journey. When he founded CYE, he didn't have any idea about how he will run it. However, he went through its ups and downs and never gave up, and today's success is the outcome of his dedication, passion and perseverance.
He is very grateful and shares, "CYE's success lies in the true team effort, and from my point of view, the people surrounding you are the most important ingredient for success."
Journey to bring quality and actionable results 
When Reuven gave his first and only job interview in 2011, he knew his primary goal had always been filling the missing gap in the industry by introducing quality and actionable results.
Recognizing this gap was a turning point for him, and he founded CYE, and in 2 weeks, he landed on his first customer.
He knew that being an entrepreneur comes with its own challenges, and even he went through many bad experiences. He adds, "The most impactful one was a negative experience with dishonest partners. Together with the mentioned partners, we won a very attractive contract. Later I understood that I have a partial view of the situation. My work products were used and reused without my permission, I wasn't part of the upsells and additional opportunities were redirected to other players."
His partners took advantage of his lack in experience, and he had to pay several millions of Dollars. However, he learned a vital lesson of creating contracts, not leaving loose ends, building trust with time, selecting work partners cautiously, never make decisions in pressure and always know the wide picture of every situation.
CYE: Advancing in the cybersecurity industry with a Fact-based approach
CYE has cyber-security experts who conduct hands-on organizational cyber-security and risk assessments. This helps them in staying safe from attacks using a full-proof actionable business-savvy mitigation plan. Their proficient teams are able to analyze the full attack routes, which are then mitigated as per the associated business risk.
CYE brings a fact-based approach to cybersecurity. Using CYE's solution, an organization can solve the lack of clarity and the chaotic cybersecurity status and make educated decisions accompanied with actionable recommendations to efficiently increase the cybersecurity maturity level.
To drive further innovation, CYE takes more time in screening and filtering the apt employees and keeps the assessment going. Moreover, fostering an innovative culture combined with a can-do approach encourages the employees to re-invent themselves.
In order to bring fresh and out-of-the-box ideas to the table, taking ideas from an eclectic mix of employees is essential, and therefore, no idea is stupid for the management. He says, "We allocate time resources and management resources to hear, shape, comment, fine-tune and develop ideas and initiatives coming from our employees." This simple habit has helped them stay on top of their competitors in the cybersecurity space.
Getting Word-of-mouth marketing done for their solutions by their existing clients made them clear that they were treading the right path. Although there have been many other Wow-days, he says, "The pure act of recommending us as the best solution in the market without any incentive made me very proud, which even led later to EQT's investment in CYE."
Core values of CYE
There are three important core values of CYE:
Challenge everything
Reuven is never afraid of taking up challenges and thus, always wants his employees to give their best in everything. He believes coming with an open mindset encourages them to keep trying new things and dare themselves to complete them. All company employees keep searching for opportunities to knock on their door so that they can push themselves harder to achieve more than client's expectations. It also results in making them the best version of themselves, as experts and as people.
Customer-centric
In every field, customers are considered kings. Thus, providing them with the utmost priority is the key to establish long-lasting relationships. Thus, employees at CYE consider themselves as client's trusted advisors. Explaining this point further, Reuven adds, "We bring our passion, expertise and full responsibility to each project, and we are committed to providing a valuable and positive customer experience." Keeping this approach has helped the company reach the zenith of success till now, and they always want to carry this legacy ahead.
Trust
Trust is integral, and CYE feels pride in keeping this value intact at all times. He opines in the fact that trust forms the basis for excellence in their work, and thus, they can never compromise on this fundamental value at any cost. Owing to this, their relationships with the customers, partners, investors and with themselves must include three core pillars, namely, confidence, openness, as well as integrity.
Steering the Wheel of CYE for Success
As the founder and CEO of CYE, Reuven has the key role of managing all the operations in the industries. This means everything from solution definition to delivery and sales, he has the role of hiring the best talents for the jobs and administers their progress so that company's goals can be attained. Further, he keeps supporting the different roles and orchestrating so that all teams work harmoniously together.
Sharing his biggest achievement, he states, "We have hundreds of success stories. However, I think that the greatest achievement from my point of view is changing the paradigm from compliance-led cybersecurity to actionable fact-based cybersecurity."
To keep his team super motivated, he keeps challenging them on the professional level, and side by side, makes sure that they enjoy the work, follow multiple missions and have a great social life in the company.
Keeping the motto of Under-promise and over-deliver, the company is working smoothly on the principles of imparting absolute customer satisfaction. For that, he says, "We are investing everything needed in order to make sure that the customer is satisfied, that includes extra time, effort and resources to make sure we over-deliver. Also, no deliverable will be sent to the customer without quality validation of a senior manager."
Bright future of CYE
Reuven envisions taking CYE on a hyper-growth journey with strong cultivated values and high-end momentum. With CYE expanding quickly on a global scale, they are looking forward to go further than the local branches in different countries such as Europe, North America, LATAM and APAC.