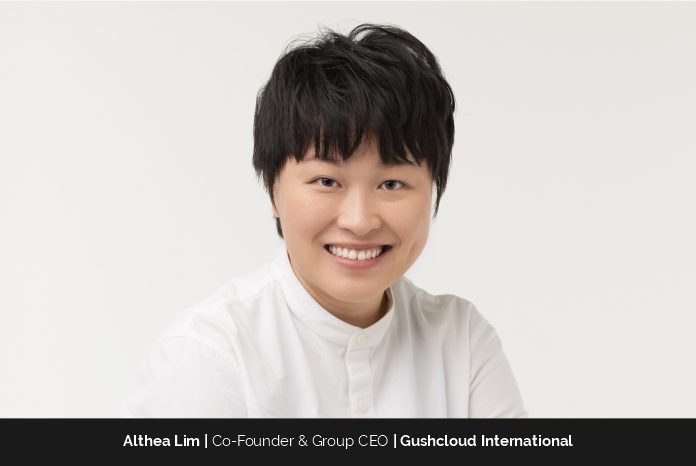 Althea Lim, Co-Founder and Group Chief Executive Officer of Gushcloud International, hopes to build the Hollywood of Asia and one day export Asia to the world. Althea enjoys coming up with new ideas and bringing them to reality. She earned a degree in Biomedical Sciences from the National University of Singapore, but instead of going into medical research, she founded The Youth Empire, a privately held youth community and party marketing company, while still in school.
She founded The Barnett Group, a social media business, in 2010, which was bought by The Farm Digital, an Australian agency, in 2012.
Althea and her co-founder, Vincent Ha, began using Gushcloud in April 2012, which began as a social sharing website. They raised half a million dollars in a seed round from John Wu, an ex-co-founder of Alibaba, and opened an office in San Francisco.
Gushcloud pivoted to becoming an influencer management network by late 2012 and set out to be the largest influencer marketing network across Southeast Asia.
Built on Core Values and Positive Influence
Gushcloud International's management values are as follows: Integrity, Honour, Excellence, Engineering, and Positivity. This year, it added a sixth — courage. The entire firm places high importance on the capacity to stand up for what is right — integrity. It promotes servant leadership, putting others' needs before their own — honour. It values the attitude of exceeding expectations — excellence. It wants its employees to be solution-oriented all the time (engineering) and it wants its people and the material it generates to be motivated by optimism and joy all of the time (positivity).
Gushcloud is constantly looking for new ways to push itself to the limit and provide additional long-term revenue sources for digital stars, influencers, and content producers. To do that requires constant innovation and resilience. As Althea asserts, "We're always trying to think 10 years ahead of ourselves, to ask questions like where will technology be in 10 years so that we can consistently make new bets to see how we can be a critical and core part of the future of this industry."
As a result, Gushcloud is building a global ecosystem that includes talent management, representation, licencing, sponsorship opportunities, intellectual property (IP) development, fintech solutions, web 3.0 solutions powered by metaverse communities, online-to-offline solutions and vice versa, live and social commerce solutions, all of which will help the creator economy grow and generate more sustainable revenue streams.
Redefining the Industry
According to Althea, Gushcloud was a pioneer in the influencer marketing sector and the creative economy, originating in Singapore and subsequently expanding throughout Southeast Asia. The following are a few items in which the team strongly believes:
To be global: At Gushcloud, the team believes that where the company operates serves as a service for its talent. It's almost like a bank where a DBS or a Citibank can bank their customers anywhere. Likewise, it believes it can serve its talent and its brands in the 11 countries that it is in now: Singapore, Malaysia, Indonesia, Vietnam, Philippines, Thailand, China, South Korea, Japan, Australia, and the USA
To build sustainable careers in the creator industry: This industry grows quickly with the shifts and development of social media platforms that control the type (time length and vertical) of content audiences consume.
As a result, Gushcloud must continue to extend its platform alliances and develop new technologies in order to assist the creative industry in becoming more viable. Gushcloud experimented with several styles of live selling across various sorts of influencers (micro or macro) in 2020. It collaborated with Shinsegae Duty Free for the first-ever "ASEAN Live Commerce Festival" in 2021. Five Southeast Asian influencers presented the live commerce festival in real time, broadcasting to Indonesia, Taiwan, Philippines, Singapore, and Vietnam, respectively. The event tried out a first-of-its-kind live commerce concept which allowed customers from different nations to buy things at the same time.
In the near future, Gushcloud will also be co-investing with creators into businesses and developing a fintech unit within the organisation to assist creators with regard to financial products and offerings globally.
Responsibilities as Chief
Althea adores what she's doing, or rather, what Gushcloud is attempting to achieve. She aspires to no longer be a co-founder of the firm (because you cannot teach someone to be a founder, but you can teach someone to be a CEO with founder mentality) and instead to be the greatest CEO she can be. She consistently asks her colleagues and herself, "How do we build a company we will allow our children to work at? And how can we develop ourselves into leaders who our children would want to work for?" She believes that when we begin to think in this way, we become driven not for ourselves, but for the next generation.
"Dont try, dont know. Try fast, fail fast. The faster you fail, the faster you pick up yourself, the faster you succeed"- Althea Lim
Althea's responsibilities include establishing the Gushcloud story and guiding the company over the next ten years of innovation, market leadership, and worldwide expansion. However, she believes that human resources are the most crucial aspect of her job. She gives a lot of thought to where Gushcloud's skills and teammates will go. Her typical workday begins early in the morning (about 630 a.m.) because she directly supervises the company's US operations before checking on its Asian markets.
Every Monday morning, Althea meditates and prays before running the company's regular calls, investment meetings with present and potential investors, and critical meetings with partners. She is a voracious note-taker, so she makes an effort to jot down notes from every meeting and phone conversation she attends in order to remember and reflect.
No Challenge, No Glory
According to Althea, one of the toughest challenges for her and the company was during the 2014-2015 years, when Gushcloud was possibly the first-ever company to be "cancelled" on social media. She states, "You can read all about it and even our recovery journey on Google. But it was an extremely tough lesson because we plunged back to zero revenue consistently for a couple of months." But, looking back, one of the most essential lessons learned from this stumbling block in Althea's path was the following: Althea and her co-founder spent time establishing the company's identity, which includes its brand values and brand promise. It was critical that the whole Gushcloud team (workers, talents, and partners) understood and upheld the company's pledge to be a force for good in the entertainment business, as well as the company's six principles of integrity, honour, engineering, excellence, positivity, and courage. Althea took a moment to glance around and realised that, at the end of the day, family is vital to one's development. She says, "During that period of time, people and the public shunned us, we only had our families who rallied behind us and offered to keep the company and our dream going." So, Althea and Gushcloud grew up really quickly during that period and also developed deep gratitude towards their families and loved ones.
What Success Looks Like?
Althea thinks a lot about creating value for the next generation. She says, "I think a successful life for me is if I could tell myself every night that I have done my best today and if God decides to take me away, I am fulfilled." She further adds, "If I have exhibited kindness, fairness, and courage as a leader in every corporate decision at the company. If I have exhibited deep love and humility towards my family and loved ones. And if I have built a long-lasting company that has a part to play in inspiring and impacting how the next generation will live and learn." Lastly, she asserts, "If I could leave behind a hospital or a hospice care that provides affordable health solutions to third world country folks."
Key to be a Successful Business Leader
Althea never thought she would be an entrepreneur. She knew she wanted to be a leader somewhere. She thought she would be a doctor until she was doing badly at biology in university and her good friend asked, "Why do you want to be a doctor when you were able to make a lot of money hustling in University." Althea told her friend that she wanted to save lives. Her friend said, "Well, if you became a businesswoman, and did well, and built a hospital one day, you could save more lives." This conversation changed everything for Althea.
Althea's personal message to aspiring business leaders is a quote from the book "Good to Great" by Jim Collins. It says, "When what you are deeply passionate about, what you can be best in the world at and what drives your economic engine come together, not only does your work move toward greatness, but so does your life. For, in the end, it is impossible to have a great life unless it is a meaningful life."  
Future of Gushcloud
From the beginning, Gushcloud's goal has been to create a global company in the creator economy. Gushcloud is expected to grow into additional regions in the next few years, including the Middle East, Europe, and Latin America. In order to best serve its worldwide creative ecosystem, the firm is also working to improve its IP and brand manufacturing capabilities. Aside from that, the business will ramp up its commerce activities, particularly in terms of co-creating brands with influencers and content producers. Althea states, "We are deeply invested in the commerce and brand incubation business, and we will be kickstarting a Web 3.0 fund to co-invest into projects in the metaverse, blockchain projects, and also NFT projects alongside creators."