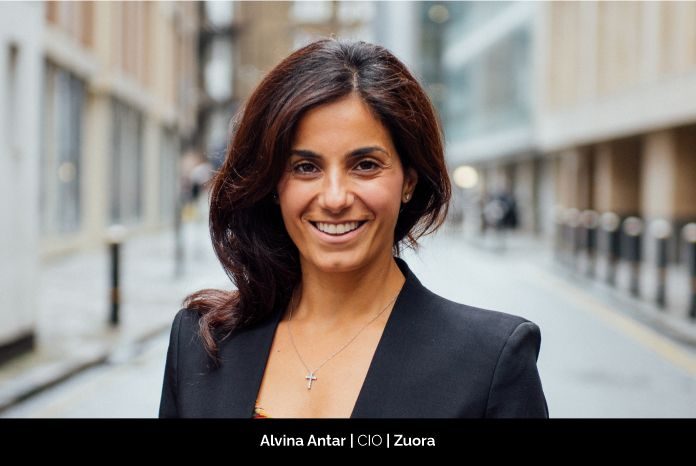 She joined Zuora as the company's first CIO in 2014 as she was inspired by their founder and CEO Tien Tzuo's vision of "The World Subscribed" and believed in the entrepreneurial ZEO culture that Tien created. She began her career as a Software Engineer at Dell as she believed in Michael Dell's vision and "build-to-order" model. There's something special about visionary, founder-led companies. Little did she know that she would see Tien's vision of "The World Subscribed" firsthand during her long tenure at Dell as a customer of Zuora as the organization transformed from a hardware company to a software solutions company. An inspirational leader who creates purpose and sets an unparalleled standard of excellence with laser focus on the customer experience, she is Alvina Antar, and this is her success story.
What Led Her on the Path of Success
Prior to joining Zuora, Alvina spent 17 years at Dell with the last several years running M&A. She was a customer of Zuora and implemented Zuora to power Dell's on Demand platform for organic and inorganic product launches. Zuora proved to be transformational to Dell's evolution allowing bundling of margin rich offerings with hardware and further extending customer loyalty. Seeing the incredible impact that Zuora had on such a large enterprise, she left Dell and joined Zuora as the company's first CIO, where she has spent the last 5 years driving growth, operational maturity, and a successful IPO for a thriving subscription business. Her thought leadership as the voice of the customer from Dell on Dell and now Zuora on Zuora has established credibility as product expert and highlighted the power of transparency. Given her experience driving order to cash transformation at Dell and billing and revenue automation at Zuora, Alvina enjoys building meaningful relationships with Subscription Economy CIOs embarking on subscription business model transformations across the globe.
The Services of Zuora
The new imperative for companies in the Subscription Economy is to establish meaningful, long-term relationships with customers by providing recurring value in the form of subscriptions. However, as organizations shift their focus away from products and one-time transactions to ongoing, valuable services, many are challenged by the inherent complexities of maintaining and scaling a subscription business.
Traditionally product-focused organizations may have legacy order to revenue solutions sitting between their CRM and ERP or homegrown billing solutions built from the ground up, both riddled with inefficiencies and requiring significant time, effort and budget to maintain. More importantly, these systems negatively impact the end-to-end customer experience and inhibit the overall growth of a subscription business.
Simply put, companies that want to succeed in the Subscription Economy need a platform to manage complex subscription billing and processes. As a subscription management platform, Zuora allows organizations – regardless of industry (Manufacturing/IoT, Media, Automotive, High Tech and more) – to simplify, unify and automate their entire order to revenue process. Zuora enables IT and Finance teams to manage their subscription pricing, billing, collections, revenue recognition, and reporting on a single platform, allowing companies to go-to-market fast with new products, have one system of record for subscriptions, and scale their subscription businesses.
An Exceptional Leader with a Vision to Grow
Zuora's vision of the Subscription Economy, an era marked by a broad consumer shift towards on-demand services, resonated with Alvina as she experienced this shift while at Dell. The truth is individuals and businesses alike prefer access to services over ownership of physical products. A recent Zuora survey they conducted found that 71% of over 13,000 international adults have subscription services, and 74% believe that in the future, people will subscribe to more services and own less physical goods. It's something they refer to as the "end of ownership", and it's a phenomenon that is driving organizations to refocus their efforts on providing valuable, ongoing services instead of traditionally stagnant products.
Zuora's vision is to enable businesses around the world to launch and monetize subscription products and services. A new era fueled by subscriptions, where individuals and businesses prefer access to services over the ownership of physical products, is taking shape. As a result, organizations must reimagine their traditionally product-focused businesses to monetize on services in order to meet new consumption preferences and scale.
Alvina: The Passionate Leader
At Zuora, they all believe in their shared vision of "The World Subscribed" and they are fueled by the opportunity to help companies across all industries transform into digital subscription businesses. Their business technology department is positioned to see across all business functions to connect teams cross-functionally and provide the process, data & technology to enable Zuora's growth and scale.
Alvina's team's vision is to be the model Business Technology organization for subscription businesses. They are focused on 3 key pillars:
As "Customer Zero", they partner with the product team to influence the evolution of their Zuora applications and platform in order to empower their customers to thrive
All "ZEOs" (Zuora's employees, the CEOs of their own career) have the data and tools to be successful as their employees are their biggest asset
Provide actionable analytics and in-depth understanding of their subscriber journey and metrics to help them improve both their customer and employee experience
"To do this, it takes a sound vision, inspirational leadership and an empowered team that not only believes in your vision but is willing to do whatever it takes to execute. I'm lucky to be surrounded by a team of rockstars that inspire each other every day. Their energy is infectious and their commitment to the success of the larger team is inspiring. They all have an inherent standard for excellence and push each other to never settle for mediocrity. Additionally, they do not shy away from new challenges, are are constantly hungry to learn and grow, and build on each other's strengths. We are in IT together and we operate as an incredible team. I hire bigger and better than myself – something all great leaders must do!", Alvina, shares.
The Growth of an Empowered Businesswoman
Alvina's transition from leading Merger and Acquisitions IT at a Fortune 50 enterprise to the first CIO at a high growth startup was exhilarating. It gave her an incredible opportunity to build an IT organization from the ground-up with deep knowledge of what a mature enterprise requires and what to avoid ensuring IT is agile and can keep pace with an evolving business.
She has been fortunate to be surrounded by inspirational leaders across their customers who are all enabling their companies to win in the Subscription Economy. Alvina founded Zuora's Subscription CIO Exchange in 2016, comprised of over 100 CIOs challenging the status quo and enabling business transformation through disruptive technologies. CIO peers across several industries share their experiences and learnings as they pivot to recurring revenue business models and what their SaaS reference architecture looks like to enable their company's transformation.
The Future of Zuora with an Effective Leadership
Zuora is continuing to iterate their platform and solutions to meet the unique needs of businesses across all industries. As a part of this growth strategy, just a few months ago in June 2019, they announced the Zuora Central Platform to enable business users, IT administrators, developers and implementation partners, to build on Zuora in order to power unique subscriber experiences. This enables their customers to tailor their platform to meet specific use cases for their industry – whether that be automotive, technology, media, manufacturing/IoT and more. After all, no two subscription businesses are the same. In terms of growth, since Zuora's IPO more than a year ago, they have experienced 6 quarters of continued growth. Most recently, in the second quarter of Fiscal Year 2020, they processed $10.1 billion in financial transactions for customers, an increase of 35% year-over-year.
In terms of the future, the market opportunity for Zuora is monumental. Their job at Zuora is to help companies win in the Subscription Economy, and as "Customer Zero", their Business Technology team aims to arm the broader Zuora business with the customer insight necessary to iterate and expand their core offerings.
Alvina has come a long way. Her passion, dedication and visionary perspective keeps her driven and focused to keep achieving her goals. A few pearls of wisdom from the leader herself to the aspiring businesswomen, "My father inspired me to be passionate and fearless like an "800-pound gorilla", capable of achieving anything I set my mind to. These words will fuel me for the rest of my life. Be relentless, never settle and follow your passion and magical things will happen."