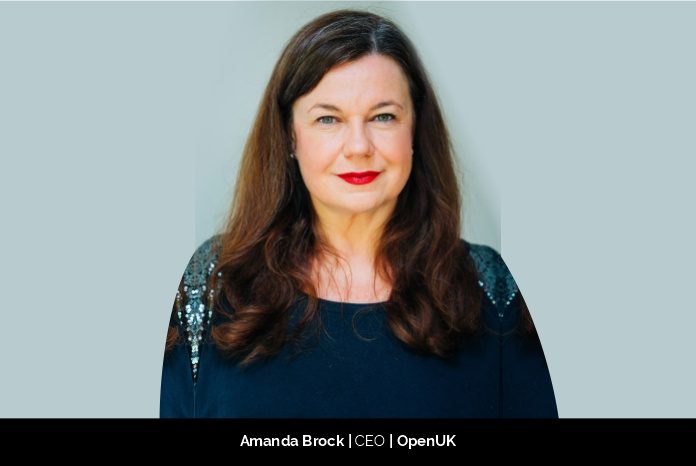 Amanda Brock worked as a lawyer for 25 years, 20 of them in-house in corporations, until 2018, when she decided to make a career change and went on to join OpenUK as CEO at the end of 2019. Amanda also serves on a variety of advisory boards in the private, governmental, and non-profit sectors. She says, "That breadth is something that I really enjoy."
In 2008, Amanda started working at Canonical, which is probably Europe's top open source-based business. She was the first lawyer at both the ISP Freeserve where she worked from 1999 and then in Canonical. She believes that experience was a fantastic way to immerse herself in the company and learn. The experience as GC at Canonical for 5 years, and with Dixons/ Freeserve in the setup and build of an early-stage ISP, then in the digital transformation team, internationalizing the electrical retail business, are really what embedded Amanda into technology as a lawyer, and allowed her to develop her strategy skills. She asserts, "Legal is one of the most interesting areas you can be in within a company as you touch on all aspects of the business."
The Hunger for Learning 
Amanda attempted to learn programing in high school. It was the 1980's, and code was taught in binary. Her code never ran, and she was recommended to stay away from computers, which she did until the mid-1990s when she joined a law firm, to become an IP lawyer. However, the firm needed an IT lawyer, so Amanda took a Masters in IP and IT law at Queen Mary University, which she completed part-time between 1996 and 1998. She recalls, "Professor Ian Walden taught me internet law on the first internet law course in the UK. That led to my joining the ISP, Freeserve, owned by the Dixons retail group, which went on to be the first big IPO in Europe in 2000. After the IPO, in 2000, I moved into what was effectively a digital transformation team co-led by Accenture."
A Profession that is itself a Challenge
Being a lead lawyer in an organization inevitably involves being in a position of conflict, and Amanda realized quite late that this wasn't something she really enjoyed. She asserts, "I like to build and create new things, which I got to be part of by being a lawyer, but ultimately I am happier in a strategic commercial role."
Amanda comments, "Going into law in 1993 was tough. Sexism was endemic in the legal profession and, despite a high volume of women at entry-level, few stayed the course. That was largely because the profession, in the UK at least, was one of the last to evolve away from endemic sexism."
OpenUK and its Services
OpenUK is an industry organization representing the business of Open Technology, which is open-source software, open hardware, and open data. It brings together all those working in these areas, whether they are in pureplay open or IT companies, whether they are in IT or business companies, whether they are UK companies or international, and is a place for the voice of those collective communities to be heard, through community, legal and policy, and education. That means the team at OpenUK does a lot of advocacy work and research. Amanda shares, "We will share the third part of our State of Open: The UK in 2021 Report, in October at openuk.uk/stateofopen." It has been groundbreaking and shown the UK's position as a centre of excellence in open-source software.
According to Amanda, OpenUK not only brought UK specific data and research together, but in the spirit of its purpose, "Develop UK Leadership and global collaboration in Open Technology", it is also organizing quarterly workshops bringing together others across the globe who are also working on reports and research in this area enabling them to share their learning and where possible, to look at how OpenUK can support standardizing research and collaboration.
OpenUK is working on educational tools, including a second Kids Camp and a digital glove giveaway to take place in September. The course is based on open-source definition and teaches at the Key Stage 3 curriculum level. It also hopes to launch a Knowledge Module for apprenticeship schemes in the Spring, openuk.uk/open kids camp, and is talking to a number of universities about their curriculum, including more open in technology, legal and business courses.
In January, the company will be running a training program, mentorship scheme, etc. to support Future Founders in Open Technologies. Amanda opines, "This is really exciting as it's led by our Entrepreneur in Residence, Matt Barker of JetStack and Founders Forum."
A Broad Range of Work Responsibility 
Amanda's work responsibilities at the company are very dynamic. She is versatile in many facets of her job at OpenUK, allowing her to handle everything from editing children's magazines to assisting with strategic reports, planning events, and presenting to its Board of Directors or international conferences. She enjoys the role's diversity. Thanks to the generous support of Federated Hermes and Red Hat, the team will be organizing a Sustainability in Open Technology Day in the Hermes Skypark Fringe during the United Nations; COP26 event in Glasgow this autumn.
"We will see a big push in Security. All businesses and Governments are acutely aware of the importance of security in all software, whether open or proprietary. There has never been a time when this has been more important as a consequence of digital transformation and the rise of bad actors on an international basis," says Amanda. She believes that open and collaborative responses from open technology are actually the best way to ensure security.
Amanda wants to influence a generation by bringing them young, which is why the company has put a huge amount of energy and finance behind the Kids Course and Camp.
The Struggle to Maintaining Work-Life Balance 
Amanda admits that during the pandemic she has struggled to strike a balance between her professional and personal lives. She makes an effort to take proper vacations and participates in both emotional and spiritual work during such times. She feels that this isn't always incorporated into people's lives, but that this personal growth work is just as necessary as physical activity and education in order to develop and to be at peace with oneself and life.
Amanda returns to work in September with some firm promises to herself in terms of personal time and making time for yoga, Pilates, and continuous personal growth.
Amanda is a big fan of the arts and spends a lot of time at concerts, the theatre, and movies. "It's been so great to be able to attend this summer here in the UK," she says.
Amanda's Definition of Success
Amanda tells us that defining success is something that can be quite difficult. On a personal level, she has never measured success through economics or financial gain, but through achievement, being part of interesting activities, and, increasingly, through presence. That last one is something that for her takes work. She says, "The more present one is, the more one feels one's purpose as part of the collective and the more one can contribute." 
On a business metrics level, for OpenUK, firstly within the UK, success will be measured by the UK government's policies on Open Technology, an increase in its homegrown businesses in this space scaling in the UK, and in the country's education system teaching Open Technology. She opines," if I have my way, every child in the UK will be able to explain what open-source software is."
According to Amanda, globally, OpenUK's success will be measured by its international collaboration. That will start to be more measurable later this year when the company builds a program of international Ambassadors, and currently can be seen through its memberships, partnerships, and participation in international Open Technology organizations.