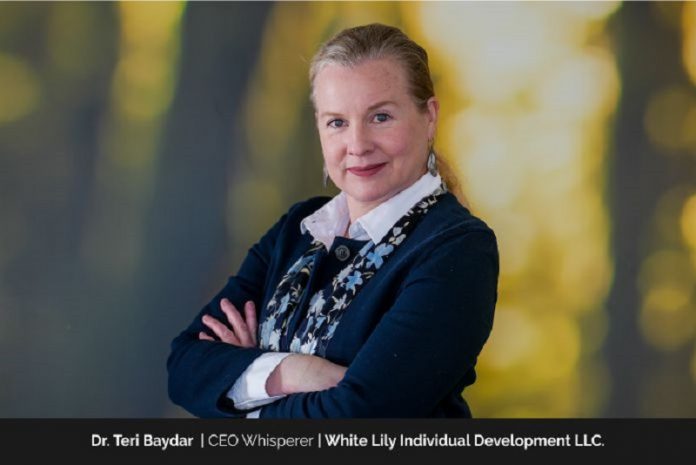 Dr. Teri Baydar, CEO Whisperer at White Lily Individual Development LLC, is a leadership development consultant, executive coach, and personal development expert who educates and supports C-suites and high achievers towards their personal path of self-actualizing growth for the greater good.
Since earning her MBA with accrued training in authentic leadership, managing complexity, and behavioral economics, she has devoted decades to behavioral research and leadership development. She is committed to guiding and supporting leaders in their evolution and success, to break through to the next level both professionally and personally.
Dr. Teri is a Certified Professional Coactive Coach (CPCC), and has attained her PCC (Professional Coach Certification) with the ICF. This certification is held by less than 14,000 individuals worldwide. She also has a diploma in the Science of Mind.
Throughout her time as a coach, Dr. Teri has supported and guided her clients through IPO's, startup, fast organic growth, scaling, company sell off, mergers, as well as cultural and strategic pivots. Some clients have lovingly coined her "the CEO Whisperer", "little Tony Robbins", and "my own personal Yoda", amongst other nicknames.
Raising consciousness through leadership training
White Lily Individual Development LLC offers 1 on 1 coaching, workshops for executive committee development, facilitates new world innovation through education and workshops, and provides classes on emotional intelligence, shifting mindsets towards transformation, and personal development. They also offer executive team synchronization for leadership development.
"White Lily clients are predominantly C-Suites and decision-making executives of innovative startups, social impact businesses, and future- facing corporations. These companies are creating paradigm shifts in the way humans work and live" says Dr. Teri. Through private sessions and workshops, her clients learn how to become calmer under stress, self aware, confident, authentic, impactful, powerful, and emotionally intelligent.
Their ability to engage and lead others increases exponentially due to their ability to manage, and inspire new behaviors in their teams. This fosters employee engagement, high performance, innovation, and creative solutions.
A new world requires a new kind of leadership
"We live in a period of massive change. Many paradigm shifts are happening in the way we live and do business," Dr. Teri says. "Changes like #MeToo, Black Lives Matter, shifting views on gender, and the acceptance of LGBTQ+ communities have led to huge initiatives in Diversity, Equity, and Inclusion."
Dr. Teri points out that coping with COVID guidelines, working from home, and big shifts in employee mindset around work and life, are creating new work structures and procedures. These changes in the way we live and work are only going to escalate.
"We will continue to have options to do more, faster, and better. There is no 'going back'! It's a new world," she states. "But humans are not machines. Life and leadership coaching can bring balance to the individual, but what we really need are more and more individuals capable of sustaining that balance."
Dr. Teri also observes that, as a species, we don't have a great scorecard when it comes to taking care of ourselves, each other, and the planet. Physical and mental health issues are on the rise.
Until now, very little has been done to provide a space for people to learn about and grow their human(e) consciousness. Traditional education does not teach us how to live well and be better humans.
Dr. Teri affirms that a new world requires a new kind of leadership. The flow of that movement forward is happening whether we like it or not.
"To do my part, beyond coaching and training individuals and groups, I have two books on the bench. The first is a guide to the personal transformational journey towards self-actualization and becoming a conscious, impactful leader," she says.
Dr. Teri's book, Flip Your Switch, takes the reader through a progressive journey of self- discovery, self-realization, and natural law, as it relates to human behavior.
Dr. Teri points out that the "flipping of your switch" is about getting away from the 'fix it' reductionist mindset that doesn't care about the whole of humanity and the planet. This is not just about sustainability, or ecological transformation.
"There is, in each individual, the capacity to think, live, and relate holistically with other people, our surroundings, and our own minds and bodies," she notes.
Putting personal development back into leadership development
Dr. Teri works with executives, high potential employees, high performance individuals and C-suites, creating a professional, safe, zero- judgment zone to help her clients work out what kind of leader they are and want to be.
White Lily Individual Development's coaching and training program puts personal development back into leadership development. It grows the individual into an effective and impactful transformational leader.
These new leadership capabilities naturally enable new levels of professional and personal success and fulfillment. Her clients find a sense of meaning, connectedness, and joy.
Exploring the two fundamental forms of consciousness
Dr. Teri points out that there are naturally two fundamental forms of consciousness that we toggle in and out of on a daily basis. War consciousness is when we see ourselves and the "other" as separate, competing entities.
From this viewpoint, we seek to capture, contain, and control our reality and relationships. Here, we live in a predominantly fearful state, being defensive, and even destructive. Existing in war consciousness undermines one's ability to create good outcomes.
The opposite of war consciousness is love consciousness, wherein we see ourselves and others as parts of a greater "whole". From this point of view, we seek to comprehend situations, cooperate together, and care about long term outcomes. Here, we are more fulfilled, creative, powerful, and accomplished on our life's journey.
Throughout her book Flip Your Switch, the audience is taken on a step-by-step journey, effectively teaching the reader how to flip their own switch, and shift from war consciousness to love consciousness. The book holds within it real examples and anecdotes of her clients' journeys of personal transformation.
"My life's work has been dedicated to understanding how humans function and evolve; looking into the good, the bad, the ugly, and the beautiful," says Dr. Teri. "We each have a Daimon, or Higher Self, that is an infinite source of inner knowing, confidence, and wisdom. By cultivating love consciousness over war consciousness, the individual gains the ability to tap in to this self- actualized state."
Guiding leaders to higher levels of impact for the greater good
Dr. Teri's journey as a leadership development consultant, and her educational ventures, include consciousness training, workshops, and books aimed at acknowledging global paradigm shifts, and guiding the way humans think and do business.
Early in her career, Dr. Teri worked as a project manager and researcher for a French think tank. This research focused on the functions of the unconscious mind in relation to human behavior.
This hands-on work in social engineering gave her a very unique and exclusive experience in the execution of cutting edge psychological research.
"My devotion to understanding conscious and unconscious behaviors, along with my education, and think tank research enabled me to develop my specific high-impact method of behavioral change," she says. "It is my calling, now that I understand in depth how humans function in business and society, to educate and guide leaders to higher levels of impact for the greater good. This goal of raising the level of human consciousness is my life's purpose. It is why I do what I do with my private coaching practice; why I devote my time to writing books, and designing courses to elevate and transform individuals who seek to become the most actualized versions of themselves."
Through her private practice with White Lily and partnership with AceUp, Dr. Teri has worked with senior and emerging leaders at the Boston Consulting Group, American Academy of Arts and Sciences, Harvard University, IFF, General Electric, Global Partners LP, Housing Partnership Network, Rapid7, Topos Labs, Moët Hennessy Louis Vuitton, Starbucks, Komodo Technologies, MIT's Lincoln Laboratory, Zip Car, Enterome Bioscience, Pfizer, Facebook, the SEC and more.
The need to raise our collective consciousness
Dr. Teri believes that the future of leadership, and humanity itself, depends on the largess and quality of the hearts and minds of our leaders in business and society.
"We are at a place where spiritual and social development is lagging in comparison to our technological development. We are effective and efficient at creating products and processes," she states. "But our evolution as greater conscious beings has fallen by the wayside. We are not paying enough attention to who we are being while we're doing whatever it is we're doing."
She points out that this lack of attention to internal processes leaves us skimming across the surface of problems, constantly looking for the next quick fix.
"We lack long-term thinking and solve mentality," she says quoting Einstein's saying that "No problem was ever solved at the level of consciousness at which it was created".
Dr. Teri affirms that we essentially need to raise our collective consciousness. As with any planetary movement or change, it is through our leaders in business, government, and society that we can achieve critical mass.
"My message to aspiring business leaders is to not just think outside the box, but to forget the box entirely. There is no more 'box' moving forward," she notes.
Dr. Teri believes that business and society have functioned in the same way for too long, and that we are at the event horizon of a paradigm shift in social, psychological, and business constructs.
The changes to business and society are really just beginning and it is essential for aspiring business leaders to throw out the old thinking structures and embrace very different mindsets. Even the pyramidal economic structure traditionally used in business is dying.
Healing the broken business model
Dr. Teri points out that humanity is now in a place where the survival of the species depends on inventing and creating new economic structures and business processes that yield and merge with organic economic laws.
Organic economic law is made up of the ecological processes that regulate matter and its transformation on Earth. The innovations that will count moving forward are those that respect and yield to the circle of life.
To innovate in this way, leaders must turn away from models of exploitation and lean into models of cooperation. This rule of thumb applies to every aspect of the company, from HR to product development, to leadership and operations. In this space, companies are communities first and businesses second.
To address this aching necessity for a shift in the way we think and do business, Dr, Teri is writing a second book titled, Healing the Broken Business Model. She notes that, for a long time, our economic structures have perpetuated suffering by using a feudal lord model of exploitation of people and planet.
This model obsessively chases monetary growth for the sake of growth, disregarding the real costs, and tends to forgo other kinds of growth and betterment in favor of the "money myth".
"As a society, we believe that success and happiness stem from having money. Money is neither here nor there. It is merely a representation of value, and a tool to transfer value between parties," says Dr. Teri. "True success and achievement stem from creating real value to uplift human conditions, and contributing to the evolution of the species as a whole."