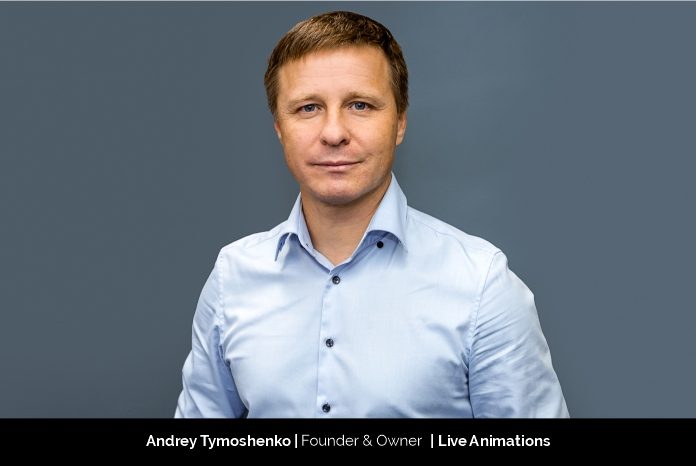 Filling a dream to create something unique and different with true colors is not a cup of tea for everyone. However, some gems shine differently and have the fire to create something new. One such gem is Andrey Tymoshenko, Founder, and Owner of Live Animations.
Having the hunger to achieve more and rise to new levels, he realized the power of the AR and VR domain and founded his company which hit the world's TOP 10 AR/VR/MR Development Companies list.
Ladder to success
Even having been born in a small Russian village, Andrey never limited his horizons. He always knew that he could rise and create something big.
Having an entrepreneurial nature, he created more than 14 business projects in his life, and all of them were quite innovative. Many of them were successful, some failed, but through every experience, he learned something new, which allowed him to take Live Animations to new levels.
He is fascinated with the hidden potential of augmented reality and wants to explore it. He expresses, "Choosing the right market segment for AR / VR development is the best beginning for future success. It is so important because today, practically every sphere of our life – medicine, education, marketing, the list is almost endless – is in high demand for AR and VR."
He loves the domain and wants to go to the next level and beyond. He states, "You know, these are the most incredible emotions of happiness when after many challenges and barriers we manage to reach another goal, produce another stunning product, which ends up in the hands of millions. It is pleasing to feel the pride of employees and to see joyous smiles on their faces because they created something really unique and unparalleled in the world."
Serving clients with Live Animations
Live Animations is a leading developer of innovative loyalty programs based on advanced AR technology for large retailers and kids & family brands. They work exclusively in the B2B sector.
Andrey adds, "Our specialty is innovative marketing solutions with the technology of augmented reality for children and family brands. We offer a complete package: from an idea to a complete product and its following support. We are confident that these particular technologies will determine the development of marketing and sales approaches in all business areas."
The company's top management consists of the members who have been with the cause from the dawn. These creative and visionary people are real experts in their field who are bound to the company's values and love their product with all their heart.
He stresses that it is important to choose a niche that inspires a person. He adds, "It is crucial to make sure that economic feasibility is not the only vector that defines the business growth strategy. In the medium- and long-term run, a team of like-minded people inspired by the same idea, will always win from people who work only for the sake of money."
The company's team is carefully selected. The team consists of talented specialists that are able to generate unique marketing ideas and then bring them to life in the form of a complete product with unmatched levels of artistic and technical quality.
The employees possess unique expertise and a vision of how to apply endless possibilities of augmented reality to different products, organizing all elements of the technology to create a real WOW product.
To stay at the top, the team provides the best services to the clients. Everything they have stored in their armory, they resent it to the clients.
The icing on the cake is that they carry out the full production cycle. He adds, "Creating innovative loyalty programs for retail, we develop augmented reality and provide full project support, including the idea development, its implementation, and promotion, technical and marketing support."
Wearing the hat of Founder and Owner of the company
Taking the onus of both roles, he manages different aspects while fueling the growth of the company. He forms and develops different strategies to steer the company in the right direction. While doing so, he likes to think out of the box and follow an unorthodox approach.
He understands the erratic nature of the corporate market, so to stay ahead of the curve, he focuses on adapting to the new changes.
He further adds, "I am responsible for creating all the tools to achieve the assigned tasks. It is my responsibility to define the core ideology of the company and inspire my team to achieve production goals. I am a mentor, and I have to grow faster than my co-workers in order to generate a natural urge to follow me."
Being a seasoned leader, he knows when to delegate some responsibilities to have some time to build new strategies and be creative.
He expresses that the whole team at the company values honesty and transparency. He states, "We do everything possible and impossible to capture this elusive effect of magic. This is crucial, especially for children, because they believe in Santa Claus and good wizards; they need magic and not a soulless, mechanical product. We make the world a better place by adding magic to it! We do this every day, adding magic to ordinary things. People see it and feel it; that is why we receive thousands of reviews and letters with words of gratitude and support."
Achieving work-life balance
Andrey loves to spend time with his family. He believes that creating a balance helps him give his best at both the professional and personal front.
He cherishes his family time. Moreover, he loves to travel, and his team also shares the same passion. This allows them to re-energize their mind and body and get back on the wagon.
Future plans for the company
In five years, Live Animations will be known as a world-leading developer and supplier of some of the best AR-VR-based loyalty programs. Every third loyalty program for large retailers and brands will be created by Live Animations or with its direct involvement.