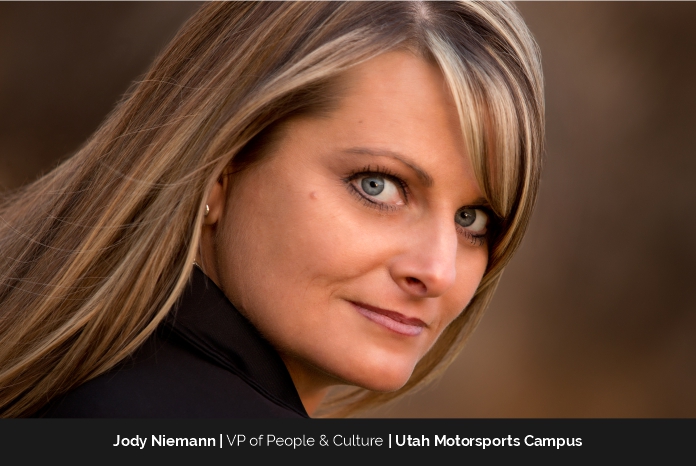 Jody Niemann is an experienced Human Resources leader with a demonstrated history of working in the entertainment industry. As of today, she is the Vice President of People & Culture at Utah Motorsports Campus in Tooele, Utah.
Seeing others succeed does not take away from her success. Success for Jody primarily lies in seeing others succeed. She loves to see the sparkle in their eyes, the tears of joy for accomplishing what they thought they couldn't. "Being able to help people see things from a different perspective and developing a mindset they never knew existed within themselves is what truly makes me fulfilled," she says.
Leading with a leap of faith
"I don't lead the company to success. Our people lead the company I am here to help lead them towards their own success and as they are successful in their own way they push the company toward success naturally," states Jody. For her taking a leap of faith to leave one industry for a new industry she knew nothing about and have the same success of watching those around her excel and gear their passion and heart towards the success of the company is why she does what she does.
Staying focused helps us overcome roadblocks
Jody believes in the fact that challenges make us stronger. Life can throw roadblocks and literally break us down at our core. How we react to these situations is what creates our mindset for the future. "My challenges and setbacks in life broke me down but the unknown and the betrayal that followed nearly killed me," she says.
Roadblocks and bad days always seem worse at the moment, but better days are on the horizon and it's all about pushing through the struggles (physically and mentally) to get to that point were success really takes its turn to shine and you get to experience it. Nothing is ever too much or too hard to handle. It's all about creating the appropriate mindset to take one thing at a time and conquer it.
Utah Motorsports Campus, its services, and Jody's professional life
Utah Motorsports Campus is a 512-acre event venue with a unique twist of adrenaline. With multiple racing surfaces: road, off-road, go-karting, rally course, rock climbing course, drift, and autocross, along with corporate outings, employee appreciation, family parties, weddings, and more they are never short of some fast fun experience.
Jody has been in the golf industry her entire life. Played competitively since she was 8 years old with 4 years at Arizona State University and 4 years with the Ladies Professional Golf Association on tour. She then moved to coach Division I Collegiate golf to golf operations and later corporate / convention golf sales in Las Vegas. All while raising two amazing boys in the motorsport world which is what brought her to Utah Motorsports Campus and changed her career industry altogether. "With UMC the future success will come from the vision, transparency, and dedication of the team," says Jody. Her personal goal is to continue to make a difference in the lives of those around her.
Jody's views on women's empowerment
Women are unique and resilient. "Our patience, talents, and nurturing hearts make us persevere and determined to be successful individually but to harness women around you and lead them to success, build their confidence and empower their self-worth over your own is a value no one can put a price on," explains Jody.
Achievements and responsibilities as VP of People at Utah Motorsports Campus
Jody proudly states that the success of UMC is not thru her alone but through the teamwork of their people. "In no way can one person make a company or a facility like ours successful alone. It takes a team and a working family to build a vision, set out on a mission, and recruit based on company values set forth by the team," she further adds. Encouraging direct communication, living by accountability, and performing at their best every day physically and mentally is what inspires them to be successful together.
She says that she is at UMC for their people and our culture. She provides a smile every day, an open door to stop in and visit, vent, and propose new ideas, processes, and policies. She is responsible for training, coaching, celebrating, disciplining, and unfortunately termination. She listens, absorbs, and finds solutions to struggles people are facing at UMC. No one day is the same. No one challenge is the same. "Every individual on the team is unique with their own strengths. If I had to put my world of being VP of People and Culture at UMC in one word, I would say: Blessed!" she exclaims.
Work-life balance as a workaholic
Jody claims that she doesn't do the whole balance of her personal and professional life very well. Anyone who knows her knows that she is a workaholic and being able to help people, empower people, watch them succeed, and be part of the success of the business is what makes her feel valued. In all the success she has had and the multiple companies she has been surrounded by in her career – she finds it most important to lead by example. Not by what others think or feel she should do but by how she can represent her own true character and heart.
"From my 2 boys to my family, to employees, to strangers I meet; I truly hope my listening, my encouragement, my time and heart given to you makes a positive impact on your life," she states.
For those aspiring to lead, Jody's advice is: Pursue a life of paying it forward, giving back, empowering others, and not needing the recognition yourself but more so giving the recognition to those around you who then see you for the leader you truly are.