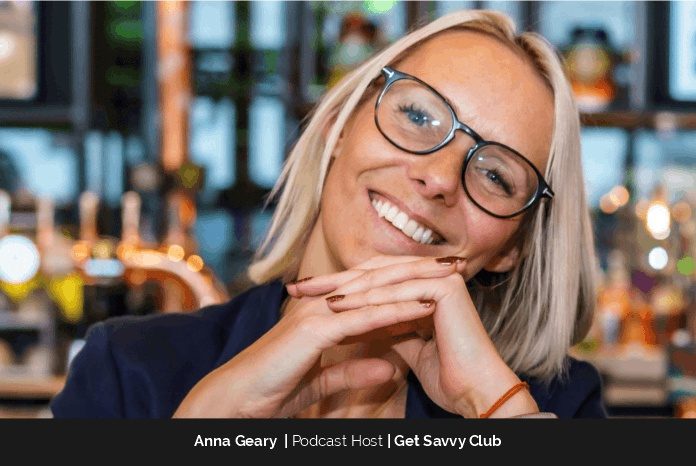 Statistics don't lie, and the ones on social media unmistakably demonstrate how social media is changing how we do business. The most popular internet activity is social media, and Facebook, Twitter, and Pinterest account for 22% of all online time. Online social networks are often used by two-thirds of Internet users, where customers may share or find out about goods and services.
One of the biggest changes to the corporate sector in the twenty-first century is the emergence of social media. Because social media has fundamentally altered consumer behavior, it deserves attention. This phenomenon is continually evolving as more people of different ages start using this instrument.
Get Savvy Club was founded by Anna Geary and Anita when they realized that combining Anita's 25 years of strategic marketing knowledge with Anna's actual success on social media created a potent mix to assist you in creating a successful business using straightforward strategies.
Since she was old enough to use the internet, Anna has been researching social media's secrets, and Anita's superpower is coming up with straightforward yet effective tactics that ensure you don't squander a single "like."
The duo specialises in working with entrepreneurs who are in the dark when it comes to social media. Anna says, "If you're not even sure which platform you should be on, you're in the right place. Social Media Made Easy is designed to take you from bollixed to booked in less than an hour a day."
Anna and Anita are passionate about helping entrepreneurs and businesspeople attract dream clients so the next time someone asks how their business is going, they can have a confident smile.
Assisting Businesses to Get Connected
Anna spent several years working in the recruiting industry. Despite enjoying her time spent in an office, she felt she could do more and assist more people. She was only assisting people in securing the employment they desired, but it cost both parties! Before settling on making Get Savvy Club her thing, she attempted several other things. She was proficient at using social media from a business perspective in the areas of real estate, network marketing, training, and health and wellness ventures, but this was the one constant. She naturally mastered LinkedIn years before most others because she worked in recruiting, and she not only found excellent prospects but also new clients. She says, "I trained my recruitment clients to use LinkedIn and was good at it. After meeting Anita, it made sense for us to pull our skills together and go all in on Get Savvy Club as so many great businesses weren't getting seen or heard and we could change this!"
Believing the Process
Anna has undoubtedly faced her fair share of difficulties since the beginning! Because she comes from a family with a history of drinking problems, she decided to give up alcohol 13 years ago and has never looked back. She shares, "I've taken many risks in business that unfortunately led to huge debt and eventually bankruptcy. I wouldn't change any of this as I have learned and grown in the process." She believes that one must be adaptable to change as change is the only constant as none of us are getting out alive!
Anna is a single mother of two and learns from both of her children daily. She has always been one tough cookie and she trusts that whatever happens, it will always be alright.
The Marketing Coach for Your Business
Get Savvy Club is the place for you if you are interested in social media but have little desire to alter lifelong habits despite understanding how it might improve your business. The professional profile writers at Anna & Anita are masters at making you question whether they are actually you. Everyone can benefit from the Get Savvy Club's organized framework. It is a simple, direct, and vivacious approach, and the speakers' genuine excitement rubs off on the audience since it is instructive and encouraging without being dogmatic. Even more seasoned (perhaps "Savvy") social media users than I would profit from the fresh viewpoint it provides.
Get Savvy Club is a highly regarded online company that assists business owners in easily attracting customers through social media! The group offers online tools like Social Media Made Easy to help clients stand out from the crowd, attract more customers, and increase the revenue of their businesses… in less time! Anna says, "We have a number one marketing podcast called Marketing Made Easy too."
Improving and Growing Everyday
Get Savvy Club is a marketing company first and foremost. Lots of businesses focus on individual social media platforms and its strategy is all about doing the things that work. This means getting a return on investment. Anna states, "Our principles work across all the platforms and we know which platforms are getting the most reach at any given time to focus on."
According to Anna, although the Get Savvy Club is not for techies, tech is the lifeblood of what it does! Without the easy tech, it wouldn't have a business. She says, "We do teach our non-techie clients how to use the technology to their advantage and not get too overwhelmed. The easy way! You don't have to have grown up with social media to use it as a tool for your success!"
Daily Anna keeps a close eye and ear on how social media is evolving. She is constantly looking for new buttons or features to push while working closely with a team that does the same. The team can only provide its clients with the road map to successfully apply what they need to achieve once they have learned everything the simple way.
Beginning of a Career
Anna never truly considered her job to be a profession. She always had a lengthy voyage ahead of her, full of detours and turns, and no distinct path to follow. Before making Get Savvy Club successful, she worked in sales, and recruiting, and started several other businesses since she has always been a terrific connector and a people person.
Working in a Leading Role
The first and third Tuesdays and Thursdays of each month are when the majority of Anna's client work is completed. The team runs online classes and 1-on-1 sessions at such time. She selects intriguing podcast guests, arranges interviews with them, and records them. She spends a significant amount of time experimenting with new marketing techniques, talks at other people's events and podcasts, and the team frequently hosts master classes for the neighborhood.
In Anna's opinion, the team's efforts and shared knowledge with clients must succeed for them in order for them to receive the best accolades. She states, "Often people hate social media when they find us. They start making money from it and then love it! Thanks to Get Savvy Club!"
Life and Work Management
Both Anita and she have children of a similar age and want to ensure that they have time to enjoy a life of their own. Anna and her staff have built up the business to not take over their lives. She opines, "Although work is fun, I know I don't have the clearest of boundaries!" Something to work on for sure! All our teams are outsourced workers, so this can be challenging. Anita and I motivate each other and the teams through good communication and energy! "
Approaching to help as many as she can
It's fantastic that Anna will publish a book in September 2022, but the team would really like to expand its Social Media Made Easy program to support thousands more businesses. Her personal goal is to influence as many businesswomen as possible around the world. She says, "So many women aren't living the lives they deserve. I'd like to change that."
Anna believes that living a life that you choose to live, rather than one that other people require you to live, is the key to success. If you can connect it to assisting others in leading the life they desire, then better, she says.
Anna's advice to all female visionaries is to simply go for it. It could seem difficult, and you might not be aware of all the stages just yet, but begin moving and seek out assistance where you can along the road. Of course, you should also reach out to assist others where you can. She points out, "Abundance and success are out there; why not for you?"