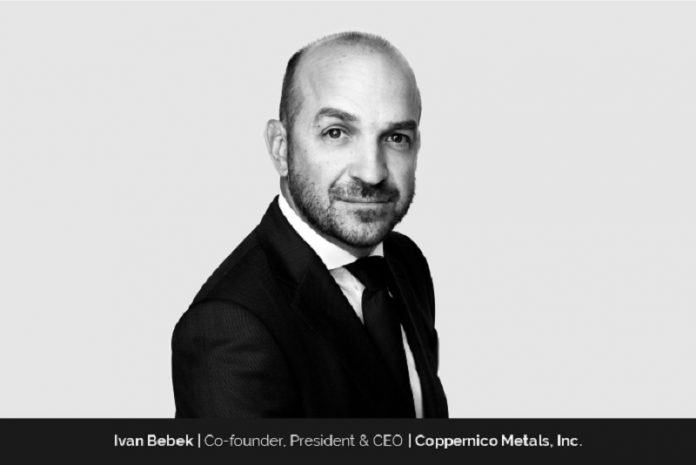 For Ivan Bebek, Co-Founder, President & CEO, of Coppernico Metals Inc., there is a fine line between luck and success. Although luck plays a part in all great accomplishments, it can't be a catalyst for success. According to Bebek, hard work is an essential component of accomplishing one's goals and he firmly believes that the most successful people have a blend of a fearless vision, determination, relentless optimism, perseverance, and undeterred commitment.
The journey of this business leader hasn't always been smooth sailing, and Bebek has faced various challenges across the span of his career. However, through these challenging experiences came major lessons that helped shape his success today. In turn, he realized that patience and confidence in any great vision or endeavour are worth fighting for no matter how many challenges you're facing.
Bebek's formula for success begins with a belief in oneself, followed by the company, vision, assets, and team. Starting with this unwavering belief and work ethic helps to prepare you to face and overcome any challenge that unpredictable business and economic events present. A notable roadblock in Bebek's career arose during the 2008 global real estate crash with Keegan Resources, a company he co-founded with his partner Shawn Wallace. Keegan was successfully trading from pennies to over C$5 per share prior to the crash and halfway through a new discovery of a 5-million-ounce gold mine in Africa, the shares plummeted to C$0.49 cents followed by a 14-month rally to over C$9 per share in 2009. Not only was Bebek humbled by this experience, but he also learned an invaluable lesson in patience and perseverance during fearful and unpredictable times.
Fast forward to the present, Bebek notes that another challenge that many companies in the mining sector are currently facing is low sentiment for investing in exploration and mining. He comments that although the mining sector is cyclical, there are moments like today where fundamentals including metals prices, demand, and most importantly, scarcity of discoveries of much-needed resources are not being reflected in the current investor sentiment or access to capital. In his opinion, the biggest lessons being learned are to have continued discipline in spending and patience in the market and this will help companies get through bear markets.
Origins and History of Success
Inspired by a book written by famous contrarian, Warren Buffet, Bebek began his foray into the mining sector in late 1999 as a stockbroker who was buying penny mining stocks for his clients amidst the dot com boom. After two years of brokering, he realized that the real fun was finding mines through public companies which led him to raise a considerable amount of capital for legendary mine finder, Dr. Roman Shklanka. His time spent with Shklanka not only gave him a deeper understanding of geology, but it also led him to some of the best financiers in the business.
This resulted in a partnership in 2005 with Shawn Wallace who had previously worked with the Hunter Dickinson Group, another renowned mine-finding and building group. Both Bebek and Wallace wanted to follow the path of their mentors and have since built Keegan Resources, Cayden Resources, Torq Resources, and Auryn Resources. Auryn became Fury Gold Mines in 2020 which then spun-out Tier One Silver and Coppernico Metals to create multiple companies with different metals focused on each opportunity from Auryn.
Their track record of success began with Keegan, when the company made a 5-million-ounce gold discovery with shares exceeding C$9 per share and is producing today as Galiano Gold. Then, Cayden was in the discovery phase in Mexico and the company sold the discovery for C$205mm to a major mining company. Prices at Cayden went from pennies to a buyout at C$3.58 per share amidst a bear market. After the sale of Cayden, Bebek and Wallace formed Auryn which raised over C$150mm and identified exploration opportunities that shaped Fury, Tier One, and Coppernico today. Lastly, the pair waited 11 years for the perfect projects at Torq Resources, and this year the company has just embarked on the start of a new discovery at its Margarita Project and also acquired a major discovery opportunity in its Santa Cecilia Project. For all their companies, Bebek and Wallace are looking forward to the upcoming cycle of precious and base metal performance as they aggressively pursue major discoveries around the world.
Clear-cut vision, smart strategy
As a seasoned and successful mining entrepreneur with the success of two companies under his belt, Bebek is now looking to make history with Coppernico Metals. Coppernico is an exploration company focused on the Americas that is looking for some of the world's largest copper and gold mines. Early exploration evidence at the company's flagship Sombrero Project has indicated that it is potential exploration analogue to the nearby Las Bambas Mine, the 9th largest copper mine globally.
His vision for Coppernico Metals Inc is apparent; creating a portfolio of projects with immense discovery potential that could create large returns for investors. The company's strategy reduces risk through various opportunities to repeat success for investors through multiple potential discoveries in one company. Bebek notes that Coppernico has a unique opportunity with the scale of its Sombrero Project as well as an equally exciting opportunity in the sector due to the overwhelming demand for copper as a result of the electrification of the planet in the decades to come.
"We are redefining the exploration space by raising the bar for the caliber of projects. We are also doing more with both our digital investor outreach and communication. We like to look at the full scope of opportunities with the perspective of the end miner in mind and look for projects that could make the global scale in terms of discovery, size, and value."
The ability to raise capital is critical as companies in the exploration sector are not revenue-generating, therefore, gains are achieved through share price performance. For this reason, Bebek and his management team are all committed major shareholders and are constantly looking for ways to increase their ability to raise capital and perform with their discoveries and share price. The small yet dynamic company has been able to attract some of the best and loyal resource investors who have continued to support Coppernico's goals and efforts despite turbulent markets.
Changing mining landscape
Over the last few decades, public perception of the mining sector has begun to make a positive shift as mining companies are now placing a heavy emphasis and importance on the role of ESG. For Coppernico Metals, Bebek understands that a focus on ESG is paramount and the company endeavours to care equally about the environment as well as the communities in the areas that it inhabits. Although Coppernico doesn't mine the areas that they work in, it is essential that the area impacted by the company's activities is treated with the utmost care and respect.
"The biggest impact I see in our space is the role of ESG. We always prioritize the protection and preservation of any areas that we work in. As explorers, we must set the initial tone for all future mining activities in a given area and ensure that our goals of long-term sustainable and positive social impacts are expressed to those who are affected by our presence."
Success formula
One of the secrets of Bebek's success: living by his mantra to "work harder than anyone else in the company". This relentless determination and work ethic has contributed to the many successes in his career to date and has been incorporated into his leadership style with the Coppernico team. However, Bebek notes that at his company this philosophy is getting harder and harder to live by because he is surrounded by some of the hardest working employees that he knows. He says that the shared passion and drive of his team is what helps propel Coppernico forward and aids in continued innovation and creativity at the company.
With such a work ethic in place, Coppernico Metals is well on course to achieve its goals to deliver some of the best exploration opportunities to shareholders. Bebek firmly believes that entrepreneurs and business leaders in the mining sector have a crucial responsibility to cater to the rising demand for metals to support the electrification of the planet, which is the key to building a cleaner world for everyone.
His message to all aspiring entrepreneurs: "You can achieve anything you want if you work hard enough and visualize it right through to completion. Remember to balance your goals both personally and professionally so you can be always at your best and don't ever fear failure."