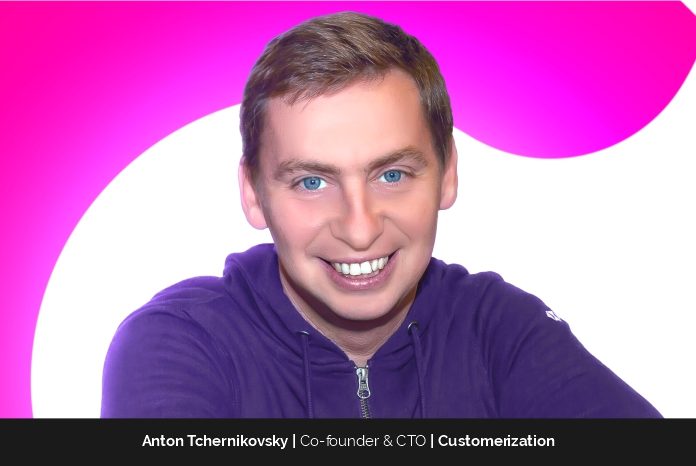 Leadership Is Influence Not Authority
Every leader has a unique definition of success. Anton Tchernikovsky, Co-founder and CTO of Customerization, a Toronto-based Business Automation Startup, believes that success, especially in technology consulting, is based on how well the team you build is empowered to develop the best solution for clients.  A technology company won't grow and scale without having more than just the CEO being capable of delivering solutions. Anton states, "So, I strive to hire the best people who are knowledgeable, creative, and customer-focused team members that truly care about our clients' success.  Creating this type of team means we will be able to help our customers leverage digital technology to automate and scale their business creating a competitive edge."
It is a beautiful synergy that can be created when a leader can build a team that then helps clients build their competitive advantage which leads to further growth of the consulting team.
Anton shares, "We don't make the software customers choose, we make the software customers choose work best for them.  There is a big difference in always being focused on the outcomes and goals that customers have; at Customerization this is our specialty."
 Driving Results Through A Better Consulting Experience
Anton has worked in a variety of consulting companies, both large and small.  Over the last twenty years with direct hands-on experience in delivering client value, one major theme emerged for him.  Anton says, "Focus on value – every minute of our consulting should bring value." He's seen many projects become burdened by layers of unnecessary team members, contradictory methodologies with extra steps required for the sake of billing hours to a project.  This drives up costs and drives down value for clients.
Customerization has been built on this founding principle of delivering results based on the clients' goals in the shortest time possible.  "We hire experienced consultants that can quickly complete complex technical tasks for our clients that allow them to more efficiently manage their business and stay focused on their own revenue goals vs spending excess funds on the IT budget.  Our customers are small and mid-size businesses where every dollar counts, and internal resources are light; so we provide value-focused results that drive business automation and efficiency."
Standing out from the crowd
There are many technology consulting firms to choose from nowadays.  How do you set yourself apart from all the others?
Never assume you know what the clients want.
"When we start a project, we often realize there are other business aspects, players, decision-makers involved, and we learned to document and flag any assumptions we hear.  For example, when someone on the client team says, 'I think', we know to document what comes next as that means there's an assumption that needs to be validated, confirmed by the client and supported by data. We will ask more questions and get clarification, so we are 100% clear on the expected outcome. Only when we are confident and aligned with the client, will we move on. Because we are good at listening to these assumptions upfront, in the end, we lower the risks of missing the desired outcome, reduce rework and waste and therefore, boost the success of the project.
Everything changes, everything is dynamic.
"Even when we have validated everything and worked closely to create the solution the client wants, there still might be new variables that pop up and must be addressed. This is how the world is. What we planned for yesterday may not work today, "states Anton.  He further shares, "In these cases, we discuss the dynamics with the client and what that will mean for their project goals. Even when we need to make a change that extends the project, we still deliver a plan for quick wins in our project roadmap.  Those incremental victories keep the positive momentum as we can finish building a flexible, adjustable, and scalable solution.  Good systems design means that as technology and business requirements change, the system can flex and adapt to those changes.  Because we know nothing stays the same, we build for this dynamic in every client solution."
When clients are looking for a technology implementation partner they have a budget, timeline, and desired outcomes in mind.  Anton shares, "Our goal is to make it easy to choose to do business with Customerization because we listen to stated and unstated assumptions, we design flexible solutions, and we provide results on time and within budget."
Anton's Journey to Customerization
A career is a journey, and every job contributes to the person you are today. One of the most significant steps in Anton's career was to become the practice lead of Prodware Israel, managing dozens of employees. As a practice leader, he not only guided the consultants who served the clients, but he also had complete visibility into the business operations.  He was able to help solve business challenges for clients, while also learning how to efficiently run the practice.  This gave him extensive experience in driving revenue, managing risks, and growing as a manager as he worked directly with the owners and leadership team.  Anton was able to see the vision of what's possible in growing a company.
Anton has worked with people who have crossed oceans, companies, and industries to work with him.  "This means so much to me that these team members are still working with me even as they have grown professionally, they share in my vision for serving our customers well," shares Anton.
 Achieving balance in personal and professional life
Balance is not easy, but Anton tries to maintain it. He allocates time for family, and kids, and disconnects from tech so he is fully present in the moment. "When it's scheduled, I'm fully there. It's not always as much as I'd like, but it's pure quality with my family when I take it," he says.
He is proud that his kids know what dad does, they understand why he's out and what is the purpose of it. They can understand why he does what he does, and even contribute to his presentations. "Sometimes they have cool ideas to add to our communications.  "I love my family being a part of this dream I am building," shares Anton.
The team – our secret weapon for success
"Just like I am driven to building this company to serve our customers well, our consultants share in this vision.  We have an open environment which is the key to growth.  The same style of active and open communication with our clients is exactly how we work with our team– our people are involved. They see their ideas come to life with finished projects! They work with clients in different industries and with different technologies, so there is always an opportunity for personal growth.  They can try new technologies, change the role they play on a team, vary assignments, and always have the chance to learn," says Anton
We always share client feedback with the team as they often get great feedback on a personal and company level; so, they hear the feedback both from clients and the management team. We celebrate wins. Not less important, we ensure the employees are well compensated.
Plans For The Future Of Customerization
Customerization started as a local business in Ontario, Canada. Throughout the last 2 years, we achieved a lot:
Dozens of clients
Canada-wide, US, MX, Europe, Middle East and open to the whole world
Industries: Financial services, non-profit, marketing, and advertising, agencies, manufacturing, coaching, retail, distribution, online education, construction and home improvement, recruitment agencies, and more
International team: CA, US, Ukraine, Philippines, Latin America
Revenue growth: Doubled the business YoY
Anton's plan for Customerization is to be the #1 choice, the go-to for SMB and Small Enterprise companies as a technology partner to achieve their business goals through digitization and automation. He also aims to become the lead partner of Microsoft and Zoho for this business segment.
Wrapping up
Anton's message to aspiring entrepreneurs is:
If you have an idea, go for it; failing is OK – better to try than regret never knowing if your idea would work.
Plan well, think strategically and mitigate risks. The details matter!
Look for all the ways to get advice from more experienced and successful entrepreneurs.
Get long-term mentors and partners.
Take care of your employees so they take care of your customers.