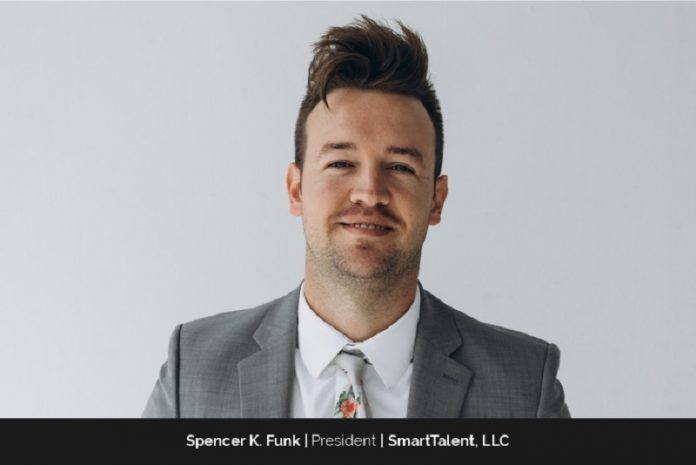 "If I had to define myself in one word, I'd probably have to go with enigmatic," says Spencer K. Funk, the President of SmartTalent, LLC, an agency that helps employers looking for assistance in hiring talent find the right people every time.
SmartTalent provides full-service staffing, recruiting, and workforce management solutions by leveraging industry expertise, technology, and relationships. It helps dynamic organizations find the best person for every job by specializing in office, customer service, accounting, labor, and professional placements.
A family history in the staffing industry
Spencer recalls that staffing has been in his life for as long as he can remember. His mother's entire family was in the staffing industry, starting in 1985, when his grandfather, Fred Paulson, and aunt, Trishna Paulson, founded their very first staffing agency called "Select" in Southern California.
His uncle, Steve Sorensen, joined shortly thereafter, and in the following years, Select continued to grow and expand, not just in California, but in many other states across the country.
In 2001, with the future of Select in Steve's very capable hands, Fred and Trishna had the opportunity to step back and embark on another staffing endeavour, this time based in Washington, where Spencer's grandfather had been raised and where he had always hoped to return.
"As the oldest son of an anesthesiologist and given my extended family's heavy involvement in the staffing industry, I grew up assuming I pretty much had two options in life: I could either become a doctor, or I could go into staffing," notes Spencer.
Succeeding by helping others succeed
As he got older, Spencer started to realize that there were, in fact, other types of careers, but nonetheless, staffing was ever present in the back of his mind. As a kid (and admittedly still as an adult to some degree), he often finds it challenging to explain the concept of a staffing company to friends or others who are not familiar with the industry.
"Fortunately, I could always fall back on the simplest explanation that almost anyone could understand – i.e., 'we help people get jobs'," says Spencer. Despite its simplicity – or perhaps because of it – he found himself constantly drawn back to the industry that he had been surrounded by for all those years.
"It is such a good feeling to know that all of the work we put into our jobs is in the direct pursuit of helping others. Simply put we don't succeed, unless we're helping others to succeed," observes Spencer.
Spencer earned Bachelor's and Master's degrees in Accounting from the Marriot School of Business at Brigham Young University (BYU), and went on to receive a law degree from the J. Reuben Clark Law School (also at Brigham Young University).
Before joining SmartTalent, he worked at KPMG – one of the largest financial audit, tax, and advisory firms in the world.
Spencer was a senior associate in KPMG's transaction advisory practice based in New York City and worked with large corporate and private clients as they contemplated and ultimately executed a wide variety of strategic merger and acquisition transactions.
Each of these transactions allowed him to fully submerge himself into a unique industry, while simultaneously making note of the characteristics that seemed to be common throughout all of the organizations that were parties to successful growth transactions.
Weathering the storms of the post-9/11 economy
SmartTalent was founded just two weeks after one of the most horrendous days in American history: September 11, 2001. As the economy sputtered after 9/11, employers struggled to stay afloat and candidates struggled to find new opportunities.
Though the timing was challenging, SmartTalent dug in, attempting to forge a path to success by putting clients and candidates first. Over the next several years, the agency expanded from its first location in Renton, Washington, to several locations throughout Western Washington and the Puget Sound.
"SmartTalent's commitment and ability to align its services to the business objectives of its business clients and talented employees is what allowed us to grow in the post-9/11 economy and to survive the Great Recession of 2008," observes Spencer.
With the combination of all of these and other circumstances, SmartTalent quickly proved that it was willing and able to help its clients and candidates' weather economic storms, respond to evolving business environments, or otherwise adapt amidst rapidly changing market and industry conditions.
Today, SmartTalent remains an independently and privately held organization with the same mission in mind with which it began: to improve the lives of its employees and associates through meaningful work and giving back to the communities it serves.
Post-COVID, retention is the name of the game
In hindsight, it almost seems like, from its inception, SmartTalent was destined to be an organization that simply would not give up, regardless of what was going on around them.
That includes the present, with the world experiencing one of the most challenging and difficult job markets it has dealt with – navigating the COVID-19 pandemic.
In his short time in the staffing industry, given that he jumped into it in the middle of the COVID pandemic, Spencer notes that in the current hiring space, candidates or employees are King.
In other words, the demand for employees is extremely high, and the supply of those employees is extremely low. That puts the employees squarely in the driver's seat.
What that ultimately means for employers is that the name of the game is retention, retention, retention. So, when SmartTalent manages to find great employees for its clients – that's really only the beginning.
Those clients then have to really step up in a big way to keep those employees, by treating them right. If not, those employees have countless other options at their disposal.
"And just as that is very much the case with our clients, and the employees we send them, it also applies to us in the same way," observes Spencer. "We have to be the example and take care of our own employees the same way we expect our clients to treat the individuals that we've provided them."
As the President of SmartTalent, Spencer sees his primary responsibility as making sure that they take care of their employees and associates, and that everyone within the organization is set up to succeed.
Encouraging people to become better versions of themselves
Spencer notes that what SmartTalent does well is in really looking for ways to say "yes." In other words, anytime they encounter a challenge, instead of thinking about the reasons they "can't" do something, he likes people to think instead about how they can find a way to say yes.
Often that looks like getting on the phone with a client and pleading an associate's case for them, or as the case may be, reaching out to a client who perhaps isn't actively looking for employees, but who they know would actually hire someone, if the right person was presented to them.
Spencer believes that success is a very personal concept, as it can look very different to each person depending on their perspective.
"For me, I like to think about whether or not I have enhanced, or otherwise infused, more positivity into the lives of those with whom I have interacted on any given day," he states.
Spencer feels strongly that every interaction we have with other people is more important than we may realize, specifically because these interactions have a domino effect in the lives of those with whom we're interacting.
In other words, a meaningful, positive interaction with a client, an employee, or even a stranger, will permeate into or otherwise influence the way that person goes about the rest of their day, including subsequent interactions they will inevitably have with others.
"I think that self-improvement is the best way for people to stay motivated. To that end, I like to challenge our employees, and provide a variety of ways in which they can become better, not just at their jobs, but as people in general," states Spencer.
He finds that other "motivators" are often short-sighted, and for that reason they can be easily overlooked. "On the other hand, encouraging people to focus on, and become better versions of themselves, is a much stronger motivator. Who doesn't want to be better?" he asks.