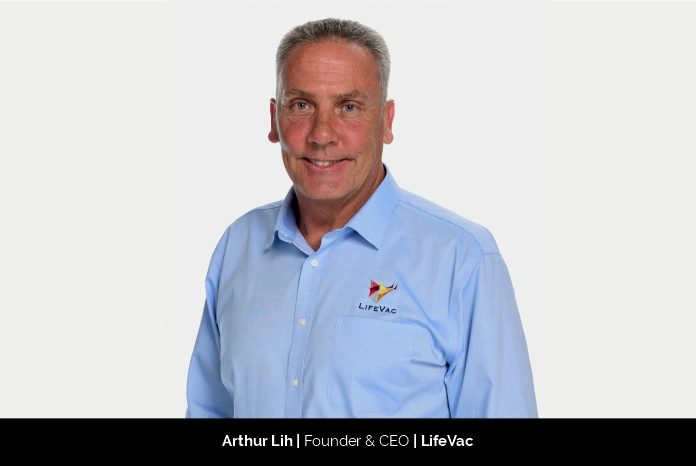 Founded by Arthur Lih, LifeVac aims to practically eradicate the fourth leading cause of accidental death and save the life of a choking victim. He is the CEO and founder of LifeVac USA.  LifeVac is an FDA registered class II airway clearing device that will clear obstructions from a choking victim's airway.
About 10 years ago, Arthur visited a friend in the hospital, which has turned into a decade-long mission to change the world. His friend's mother was having a procedure, so Arthur stopped by to keep him company. While they waited, his friend pointed across the room to a chilly, steel gurney and remarked, "The last time I was here, a 7-year-old child died on that gurney." "He remembered the commotion of personnel feverishly attempting to save this youngster, but nothing could remove the grape." He recalled the parents' agony and unrestrained crying, the staff's tears, and the anguish that filled the room."
Arthur's daughter was seven years old at the time this tale was given to him, and he could fathom the anguish of losing someone you care about, especially a child. Arthur could picture his daughter on the stretcher in his mind, and he knew he couldn't allow anything to happen to her. That night, he began his investigation to determine whether there was anything that could be utilized to save a choking victim if the Heimlich maneuver failed.
LifeVac; A Life Saving Device
LifeVac is a single-patient, non-invasive, non-powered portable suction appliance designed to save the life of a choking victim. The device works by creating a vacuum in the choking patient's oral cavity. The suction generated by the device allows users to remove obstructions in the patient's airway without the residual trauma sometimes incurred through the use of abdominal thrusts. According to the official website, the device is patented, FDA registered, and manufactured in the United States – and it can be used by anybody, guaranteeing that even the most critical circumstances are addressed.
The device resembles a plunger in appearance, and the idea is identical. The plunger is connected to a simple non-rebreather mask which is placed over the patient's mouth to create an airtight seal. Once the user has a firm seal around the patient's mouth, the user presses down on the handle. This motion pushes all of the air out of the device. The device utilizes a patented one-way valve which not only prevents the obstruction from being pushed further into the lungs but simultaneously creates a vacuum in the patient's pharynx and oral cavity. When the user pulls back on the handle, pressure is generated by the vacuum. The effect creates an instantaneous moment of suction that dislodges the obstruction in the throat. The device has shown tremendous results so far. Everything from plastic bottle caps to pieces of bread have been removed from choking individuals.
LifeVac is a life-saving device that everyone should have on hand in case of an emergency. The device is simple to use and may be used on anyone, making it easier to open the airway in any scenario. Because the user may use LifeVac without assistance, no one needs to worry about being alone in an emergency. The device is simple to operate, and the one-way pressure swiftly removes a variety of objects in the airway's route.
The LifeVac device is capable of reducing choking statistics. With one child dying every five days and over 5,000 choking deaths each year, LifeVac has the potential to eliminate choking-related tragedies. In the last 50 years, there have been no advancements in choking procedures. For the first time in history, a major cause of unintentional fatalities may be virtually eradicated.
Life before LifeVac
After graduating from Stony Brook University in New York, Arthur entered the air transportation sector, swiftly learning everything there is to know about trucking and air freight before launching his own logistics firm, ALBS Logistics. Over the following 18 years, he and his partner amassed an astounding yearly income of more than $20 million. He adds that his expertise in creating that company was critical and helped with the success of LifeVac when he first launched it.
Arthur produced the first LifeVac device in his garage many years ago using supplies he bought at a local hardware store. The prototype would go on to be modified into the current model on the market. His past experience in shipping aided in the logistics of transporting merchandise all over the world.
Stepping on a Path to Saving Lives
Arthur was 47 years old, had sold the firm he had created from the ground up, and was getting ready to retire. He couldn't bear the notion of something happening to his daughter after hearing the story of a child who died after choking on a grape. When the Heimlich technique failed to save a choking youngster, he began his studies to discover whether there was anything else that could be done. There were a few different items, but they all featured a long, thin tube coupled with some kind of suction. He shares, "I felt that if I was in a panic, I would not trust myself to use one. I thought that there needed to be a safer, panic-proof way to save a choking victim if all other measures were unsuccessful."
He knew he could save his daughter and asked himself, "How could I not help save other lives in a choking emergency?" He further adds that it was a decision he knew he had to make and in building a company, Arthur knew he could save so many lives with the rescue device. 
In June of 2016, Arthur received news that the device had saved the first life. He mentions, "2022 has not ended and we have saved 370+ lives from choking deaths when the BLS protocol failed or could not be performed." Our medical devices have changed so many families' lives."
Arthur shares that success to him means: "Being able to take care of my family, raising a well-rounded and proper daughter, being able to give back, and helping others." And he will continue on his path to end accidental choking tragedies and save countless lives.
Success has No 'Easy Path'
"Persevering to continue on a path when I was told time after time this could not be done," says Arthur. It took Arthur around 4 years to get LifeVac from a prototype to a product that could be manufactured. During that period, dozens of independent third-party tests were completed, medical journals were published, and preparations were made to bring the LifeVac to market. LifeVac is currently available all over the world.
Arthur made something out of nothing. Creating and manufacturing a life-saving medical device was a massive undertaking. He and his team grew LifeVac into a global medical technology firm devoted to saving lives all around the world.
A small group of determined people can change the world. Considering himself a successful person while holding a child in his arms whose life was saved with the LifeVac device, Arthur shares, "Our LifeVac staff wants to stop senseless choking deaths."
The Motivation to Save Lives
"When we receive a report from a family letting us know that they saved their loved one with LifeVac, we celebrate that life saved," says Arthur.  Every day, his team works hard to raise awareness about how LifeVac's product may save a life in a choking situation. He says there is no higher satisfaction than knowing you contributed to someone's life being saved.
Arthur's goal is to save a million lives before his time here is up.  He shares he will continue to give it all he has and says "Never give up!  You can achieve your dreams."  His motto is "Sometimes you have to do the impossible just to prove that nothing is."