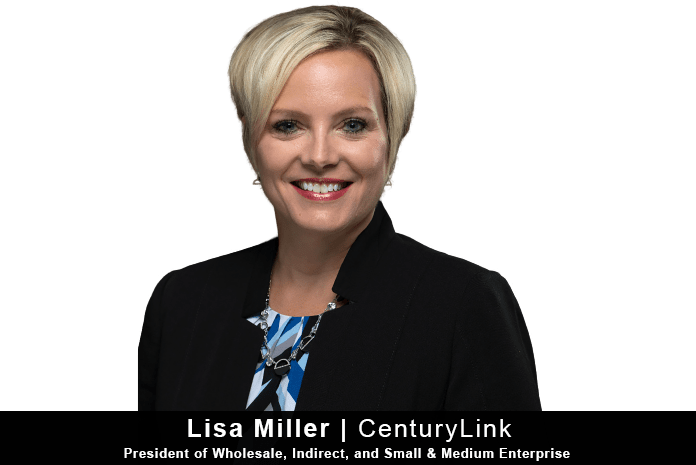 CenturyLink began as one of the country's leading technology companies where two telephone company employees fell in love, married, and in 1930, purchased the 75-customer Oak Ridge Telephone Company for $500. From those small beginnings, the telephone company started by William Clarke Williams and his wife, Marie, has grown into CenturyLink, a New York Stock Exchange and Fortune 132 company, providing technology services to millions of customers across the globe.
Today, the company continues to transform and grow under the thoughtful guidance of strong leadership, including Lisa Miller, President of CenturyLink's $7 billion Wholesale, Indirect, and Small & Medium Enterprise business units spanning over 2,400 employees. With a resilient spirit and determination to overcome every roadblock, Lisa epitomizes effective leadership and is an inspiration to every individual who is pursuing their dreams. We are excited to share her success story as a study of excellence for our readers, especially aspiring businesswomen.
Hard Work and Focusing on The Customer Goes a Long Way
Lisa Miller grew up in a small town in Iowa and came from a family of confident, vocal, driven people. Her parents owned a furniture and auction business and their success was dependent on taking care of the customer and their tactical marketing efforts. She remembers, "writing on their store windows with bottles of shoe polish to make a very visible impact to potential customers." The combination of a customer-first mentality, focus on excellence in customer service, differentiating yourself in the market, along with a hard work ethic has been foundational to where Lisa is today.
From Telecom to Technology Powerhouse
CenturyLink's success over the years has been driven by the hard work of its employees, the loyalty of its customers and its adherence to running its business in accordance with the unifying principles established by Mr. Williams in the early life of the company. As CenturyLink moves into the future, these principles of fairness, honesty and integrity, a commitment to excellence, positive attitude, respect, faith and perseverance will continue to serve as the guideposts that will drive the company's success.
Over the past several years, the company has been focused on driving growth for the enterprise business and that will continue to be its focus moving to the future. As the 2nd largest U.S. communications provider to global enterprise companies, CenturyLink wants to deliver network reliability, and secure and reliable services to meet the growing digital demands of businesses. As CenturyLink looks to automate and transform its services, Lisa Miller and her team are focused on automating and transforming operations within the Wholesale, Indirect and Small and Medium Enterprise business units to enable continued growth across these segments. This transformation is making it easier for customers and partners to do business with CenturyLink.
On the small and medium business front, CenturyLink is working to simplify and streamline the way customers can purchase business-critical services and expand services that can be ordered directly online. Within the indirect channel, CenturyLink is enhancing its sales support and resources to optimize the customer and partner experience. Leadership is focused on making CenturyLink extremely easy to do business with for customers and partners. Lisa wants CenturyLink to be the trusted, partner of choice for today's digital businesses.
CenturyLink: A Solutions Portfolio Built for the Enterprise
CenturyLink is a technology leader delivering hybrid networking, cloud connectivity, and security solutions to customers around the world. Through its extensive global fiber network, CenturyLink provides secure and reliable services to meet the growing digital demands of businesses and consumers. The company strives to be the trusted connection to the networked world and is focused on delivering technology that enhances the customer experience. CenturyLink believes that the key to enabling digital business is a focus on adaptive networking, IT agility and connected security.
Adaptive networking improves connections with cloud-like flexibility, built-in automation, adaptable management and integrated security. Services include:
Network Services/Hybrid Networking

Internet
MPLS – IP VPN
SD-WAN
Broadband
Ethernet
Wavelength

Business Bundles
Content Services

Content Delivery Network (CDN)
Vyvx Linear Broadcast Service
IT agility enables faster application delivery and increased business responsiveness to help meet customer needs. Services include:
Cloud Services

Public Cloud
Private Cloud
Cloud Application Manager
Cloud Connect

Integrated Solutions with Cloud Applications

Big Data as a Service
IoT
SAP Ecosystem
Resiliency Services
Connected security solutions allow businesses to see and stop more with a thorough approach to network security and real-time threat intelligence and automated response. Services include:
Network Security Services

Adaptive Network Security Services
DDoS Mitigation

Premises Security Services

Managed Firewall
Managed Web Application Firewall

Analytics and Threat Management
Business Bundles
CenturyLink also offers voice and unified communications services including VoIP, traditional voice, unified communications and contact center solutions, as well as a variety of managed services.
An Authentic Leader for Today's Business Environment
After attending the University of Northern Iowa, Lisa held a few hospitality roles before beginning her telecom sales career with Sprint Communications. She was at Sprint for ten years before she joined then Level 3 Communications — which was aquired by CenturyLink. With 30 years of experience, Lisa has held a variety of senior leadership roles across the Wholesale and Enterprise sales channels. She has enjoyed leading global and national sales teams, as well as cross-functional strategic programs to improve sales effectiveness. Throughout her career, there were few women in senior leadership roles.  It motivated her to work even harder, produce greater results, be vocal and excel so she could break the glass ceiling and have a seat at the executive leadership table.
Lisa is an advocate and leader for women in STEM and serves as a mentor, working to develop rising talent, as well as contributes her insights on the importance of women in technology. She was recently named as one of the CRN 2019 Women of the Channel Power 100 which recognizes women leaders whose vision and influence is a key driver of their companies' success and instrumental in moving the entire IT channel forward. Lisa is a Board member of Alliance of Channel Women and is a member of Women In Cable.
"I am humbled and honored to be in a capacity where I can be an example to other women. We need more female leaders and voices in key positions at every company. It's important to me to give back for all of the professional opportunities, guidance and support I have received during my career. I take the time to be a trusted mentor and coach to developing leaders. It is important to me to nurture and develop leaders to their full potential." Lisa, shares.
Thriving and Leading in Rapid Evolution and Change
A healthy, positive, thriving work environment keeps Lisa and the employees motivated. Lisa thrives off great challenges and there is no goal too lofty. CenturyLink is committed to a corporate culture program called "One Company, One Culture." As an executive sponsor, Lisa helped champion this program as they integrated CenturyLink and Level 3 Communications to instill practical methods for employees to remain positive, motivated, happy and productive during a time of change. The program focuses on the common experiences that they go through as employees and provides tools to maintain a dynamic, positive, thriving culture to foster productivity and a great place to work. A relentless focus on the customer and providing an excellent experience for customers and employees also motivates Lisa. She wants CenturyLink to be the best and to create a work environment that can deliver on that goal. It drives her that she is in a position where she can make change happen to build a successful, innovative technology company that is making a positive impact in many lives and communities.
The technology industry is rapidly evolving and changing. Keeping up with this change is a constant challenge. Lisa surrounds herself with the smartest, most savvy thought leaders to keep a pulse on the industry. She shared, "During times of change, it's critical to remain focused on the customer and Partner experience while embracing digital technologies that will simplify and enhance our customer experience. It is a balance to ensure this rapid transformation positively impacts our customer experience."
Lisa's proudest professional moment, when she realized her hard work had paid off, was when she was given the opportunity to be a President at CenturyLink in November 2017. Lisa felt pride in what she had achieved, and her ability to make a big impact at a company the size and scale of the new CenturyLink. In this moment Lisa reflected on her many milestones and the people that have helped her reach this level. Anytime she was promoted in her career, she has been grateful to have the opportunity to grow and lead. Lisa also is reminded that competition is fierce and someone else is willing and capable to do the same roles. "I am humbled as the large shadow I cast in my role as President comes with great responsibility. The decisions you make and the vision you convey sets the tone for your team."
CenturyLink is Focused on Global Growth
CenturyLink strives to be the trusted connection to the networked world and is focused on delivering technology that enhances the customer experience. The company understands that life and business is powered by connections. With its extensive global network reach, significant local presence and innovative technology solutions, combined with a focus on delivering an exceptional experience for customers across enterprise, government, wholesale and consumer channels, sets CenturyLink apart of its competitors.
Approximately 450,000 global route miles of fiber
150,000+ on-net buildings
Provide internet or voice services to approximately 6 million consumer broadband subscribers in 37 states
CenturyLink has one of the world's best fiber infrastructures and the ability to scale and grow it at a pace that it unmatched by competitors. Its fiber network positions CenturyLink for growth in the U.S. and globally, thanks to the continued need for more bandwidth capacity, higher levels of security and the management of applications and services in the cloud. The company plans to deploy 4.7 million miles of fiber across the company's intercity networks in the U.S. and Europe, the first phase of which was completed in June 2019 in 50 U.S. cities. CenturyLink also added 5,000 new fiber-fed buildings in the second quarter of 2019.
CenturyLink is focused on delivering network reliability and a service experience that differentiate it in the market and influences customer decisions to buy and stay with CenturyLink. The company is expanding not only its network, but its service capabilities globally. In the indirect channel, Lisa is also focused on international growth. In September, CenturyLink announced that its Channel Partner Program had expanded to EMEA. This expansion gives its current North American Partner base direct access to resources in EMEA to better service customers. CenturyLink will recruit new partners in the region who can take advantage of its extensive global solutions and network footprint. The company is also looking to expand its Channel Partner Program in both LATAM and APAC in the future.
In the Small and Medium Enterprise space, CenturyLink is focused on expanding its services outside of the legacy CenturyLink footprint, which has been a core focus in the past. This provides tremendous opportunity to grow the business's position within this segment. A growing on-net building footprint also provides CenturyLink with a unique opportunity to reach more small businesses and provide them with better service.
The Importance of Balance in Life
Being an authentic leader is Lisa Miller's biggest strength. She is an honest, transparent, passionate and thoughtful leader. She takes pride in motivating others to be successful and to rally behind the vision she creates. Decisiveness is another strength. She analyzes a situation to drive the best decision as quickly as possible. Finally, passion is key to her success. Lisa is passionate about the company, their customers, partners, and employees.
In today's workforce with corporate pressures, it is important to have a healthy balance between your personal and professional life. Lisa admits this was not a strength early in her career. She now prioritizes and protects her personal time for family and friends. It is important she maintains the right balance. Lisa has learned she cannot be the best Mom, wife, or President without this balance. "You must feel empowered and comfortable trusting and relying on your capable teams so you can take time off, rest and reset. I have hired and surrounded myself with exceptionally talented and smart professionals. Let your Team help you maintain the right work-life balance so you can be a more powerful, productive, and inspirational leader."
Words of Wisdom for Aspiring Businesswomen
Most of her career, Lisa was the only female at the table in business conversations and meetings. Her message is simple to other aspiring businesswomen: "You deserve to be in the role you are in and at the leadership table. Women are vital to a company's culture and success. Business should be gender-neutral: Women leaders have just as big of an impact and it is time for leadership seats to be filled with confident, successful women."
Lisa also wants to share with other businesswomen that they are more prepared than they think they are to be successful in business. "I often say, 'fake it until you make it' and sometimes that is what you have to do. No one is born completely ready for the roles ahead of them — take the chance, go for the job and learn as you grow. Respect your teams, learn from them, be an authentic and transparent leader, and you will flourish." She wants to challenge other women to be more confident, vocal and better negotiators. "You deserve the same things in life, and you must have the confidence to step up and make things happen. Through continued hard work and focus we will reach gender equality in the workplace," Lisa affirms.
Lisa is inspired every day as a woman in senior leadership. She is proud to see constant improvement and transformation at CenturyLink. From her parents who gave her the work ethic, to her four daughters and spouse, her family is her number one source of energy and drive. She wants to inspire her own children and employees to be their best— just like her parents did for her.