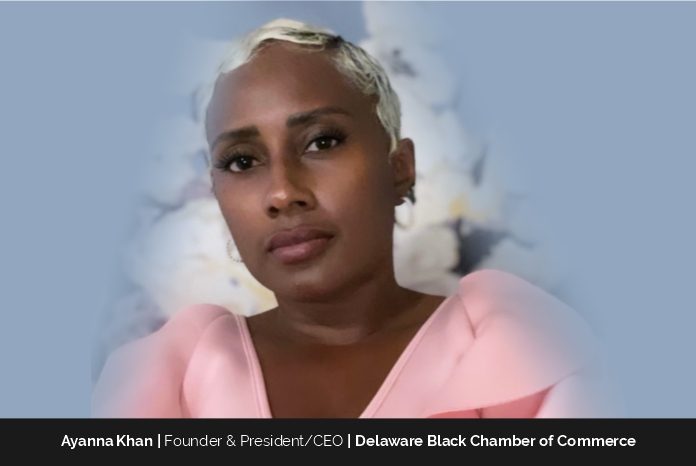 With the mission to support the initiatives of black business owners and foster an enterprise that focuses on success and viability, Ayanna Khan founded the Delaware Black Chamber of Commerce in 2020. Ayanna uses advocacy to raise awareness and exposure of the company's initiatives at the local, state, and federal levels. The organization attempts to empower Black business owners with access to education and training that keeps them up to date with the ever-changing standards of Delaware's economic playing field.
The vision of the DEBCC is to serve the needs of black-owned businesses and provide economic opportunity and support to them as well as the communities they serve. Ayanna says, "We strive to leave our footprint in the sand of Delaware's business landscape and forge a path that leads to a steady flow of resources beneficial to our business members through relationships, partnerships, and apprenticeships."
Prior to forming the DEBCC, Ayanna founded Khan Consulting, where her mission was to assist organizations with funding needs through research, fundraising, and grant proposals; provide and assist organizations with writing clear and convincing grants and ensure that they received consistent, timely, and reliable services. Recognizing the problems she encountered as a company owner, along with her desire to make a difference, inspired her to establish the DEBCC.
Ayanna opines, "Our purpose is to strengthen our role as a vital hub for connecting Black business owners and entrepreneurs with the resources needed to assist them in growing their enterprise and creating new economic opportunities and job growth all throughout Delaware."
Coupling Passion with Vision
"Challenges always make you stronger, and perseverance is the key," says Ayanna. Within the word "Impossible", Ayanna sees the words "I'm possible." She shares roadblocks that taught her valuable lessons were the inequities. She recalls, "I was witnessing minority owned businesses, which inspired me to help make a change in this world. I am incredibly gratified by both the support I've received and the success we've collectively realized to date."
As the owner of a consultancy company and a minority business owner, Ayanna noticed that the playing field wasn't always equal, and that many of her fellow minority business owners were struggling to find a fair seat at the table or get the required tools to expand their business. Recognizing these needs, combined with her desire to make a difference, Ayanna set out to establish the DEBCC in Delaware, with the mission of assisting others in succeeding and providing the resources that are required throughout the minority business community, as well as developing an all-inclusive chamber on the premise that together, as an entire diverse business community, we can make a difference.
A Work Driven Leader
Ayanna was laid off from her corporate job after 10.5 years in 2015. She knew she didn't want to work for another firm since she didn't want to risk another significant corporate move, so she chose to establish her own business. Khan Consulting was started in 2015 by Ayanna to provide non-profit and small company owners with the resources they needed to build their enterprises. She asserts, "Grant research and grant writing became our primary services and the greatest need for our clients." The work that Ayanna does now as the DEBCC is an extension of what she has been doing since 2015, when she started Khan Consulting LLC.
One of Ayanna's favorite honors has been being named one of the DBT Top 40 Women of the Year. She sees it as acknowledgement of all of the DEBCC's collaborative efforts to date, as well as the company's achievements in the business world.
Ayanna can be found at the office or working from home on any given day, producing a proposal, an op-ed, or a grant. Her role as the DEBCC's Founder, President/CEO is to guarantee that the organization runs smoothly and effectively. Within the corporation, she wears various hats. Ayanna begins her day at 7 a.m., sending emails and making plans for her daily meetings. Ayanna typically has an average of 3–4 meetings a day. She shares, "My daily meetings are not limited to anyone from our community partners, existing or future members, or elected officials."  She also adds, "I also sit on a few committees, so I also have to fulfil my civic duties."
Ayanna sees her greatest gratification as empowering others. She says, "If I know that I have helped one individual, or one business achieve their goal, or if I have made a positive difference in someone's life, or within the community, I can tell myself that I had a successful day." She believes that her passion and drive to help elevate others is what gets her out of bed every morning and drives her throughout every day.
Future Plans  
"I am driven and motivated by my passion to help others. At the end of the day, that keeps me going, "says Ayanna. As a woman in leadership, Ayanna wishes to inspire others to see that within the word "impossible," they will see "I'm possible," and to chart a course forward so that other minority women will face a much more level playing field as they pursue their goals.
"I work hard, and I play hard," says Ayanna. She has always believed that if one loves what they do, they never have to work a day in their life. She finds that while it is indeed very hard work, it is also an incredible labor of love.
Ayanna's future objectives for the DEBCC include expanding its membership, developing new programs to satisfy the needs of its members, and unifying and elevating the whole business community to provide a fair playing field for all.