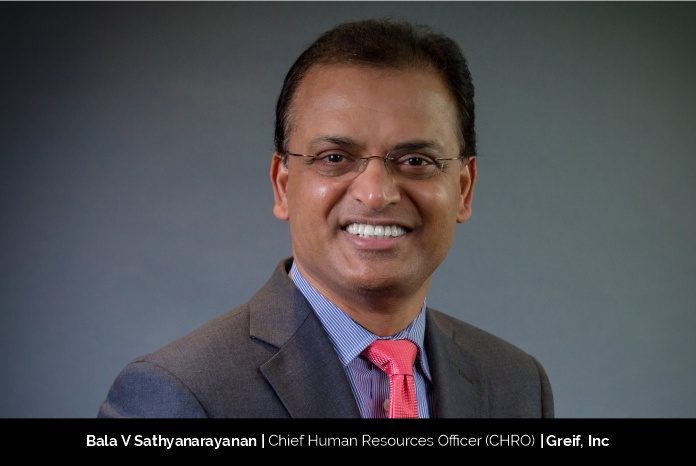 Bala V. Sathyanarayanan, Executive Vice President and Chief Human Resources Officer of Greif, Inc. wants to leave an indelible mark on the people he works with so that the impact of his leadership continues to guide them throughout their career.  He believes that success is less about himself and more about helping others achieve their goals. He shares, "Success in a global organization is about alignment. Aligning our global colleagues, roles and responsibilities to our company goals and priorities, toward the organization's purpose of serving our customers, which in turn, working together, helps deliver sustainable success."
His parents, who made a profound impact on him, taught him early in life that service to others is what brings joy. It is good for your mental health, emotional well-being and most importantly your self-esteem. They taught him that if you serve others, the benefits will pay itself forward.  Thus, his priority is working to help others achieve greater things, rather than focusing strictly on his own career goals. He also says, "My stints as an Eagle Scout during my school days and other leadership roles in school and college reinforced that quality of – always being prepared – so that you can serve people in ways to succeed that they may never have visualized for themselves."
Bala has received many awards and accolades such as Outstanding 50 Asian Americans in Business (AABDC) (2014), HR Hero Elevating the Strategic Role of HR (2018), Executive of the Year by Columbus CEO Magazine (2019) and Top Inspiring Business Leaders of the year (2020). However, he feels his greatest accomplishment has been the ability to inspire the next generation, by coaching other diverse individuals to become CXOs in major global firms and sponsoring future talent as an opportunity to give them hope.
Redefining the packaging and containers industry with Greif Inc.
Founded in 1877 in Cleveland, Greif Inc. is a world-class global industrial packaging products and services provider. Positioned in more than 44 countries, the brand is fulfilling its vision of delivering the best industrial packaging and customer service in the world. It caters to different packaging products, from steel, plastic, and fiber drums, intermediate bulk containers, reconditioned containers, flexible products, containerboard, uncoated recycled paperboard, coated recycled paperboard, tubes and cores and many other specialty products.
Greif's core values shape its future and have helped the company stay on top of all competitors. Being Ethical and strong with diverse cultures, Grief stands high owing to its sustainability quotient and commitment to consistent improvement.
With the Greif HR vision of "to enable a world-class, diverse and engaged workforce to deliver on Greif's global strategic priorities", the leadership team needs to ensure that the organization has the right workforce with the right mindset to become successful and stay competitive in the market. He knows that this goes beyond hiring diverse talents. It involves retaining and promoting best-performing talents as well as ensuring that there is a development platform within the organization.
Life before Greif Inc.
Prior to Greif, Bala served as Executive, Vice President for Business Transformation and Human Resources at Xerox Corporation. He also led the human resource function for the America's Enterprise Business at Hewlett-Packard Inc. and have had leadership roles at Avaya Inc., Coca-Cola Inc., and United Technologies Inc. where he started his career as their Graduate Engineer Trainee working for Otis Elevator company.
Moving from Asia to the United States as a non-native English speaker and transitioning from technical roles to leadership roles was quite a challenge for him. However, he made use of strategic thinking and smart execution to bridge the gap between technical capabilities and leadership capabilities. His influential charm and ability to handle conflicts with empathy enabled him to stand apart, and he uses those skills as part of his leadership strategy today.
Role at Greif Inc.
As the Executive Vice President and Chief Human Resources Officer at Greif, his responsibility is to build a global workforce that can execute the business strategy and create value for the customers. He is a strategist who helps in designing new organizations, implementing change and predicting the organization's future with the CEO, the Executive Leadership Team, Leadership Council and the Board of Directors.
As a leader, he keeps the employees motivated with regular personal recognition, which engages them in delivering better customer service and leads to higher business yields. Doing so, he says, "If we take care of our employees, the employees will take care of our customer and if we take care of our customer, the customer will take care of our company."
He calls himself a "Relator" and is quite comfortable working with everyone. He creates an amicable space so that strong relationships can form. Taking time out of your busy schedule to do small things like, smile, lend a helping hand, ask someone how they are doing helps bring balance in all aspects of your life. It helps build strong relationships and strong teams. We need to be servant leaders to be truly fulfilled as a human and as a leader.
Balancing personal and professional life
Bala says, "My regular day is playing the role of a strategist, an activist inside the organization to shake things up, helping the organization become more innovative. My role as the Global CHRO is to manage the present while laying the foundations to help sustain global success for the future."
He feels grateful to have a supportive family who stand by him under all circumstances. There is no balance, only integration of different aspects of life.  Being committed to his work as well as family, he tries to engage in both equally.  He adds, "It is about managing paradoxes and bridging them, and not balancing them. You always feel guilty that you are missing your son's soccer game! Today, in a virtual world, I am making the most of it. I can spend more time with my family today than I had spent in the last decade when I used to travel 70 percent of my time."
Bright future Goals
He expresses, "Greif's the 7th oldest public traded company in the United States with the same stock symbol. Our continuous plan is to make sure that the organization focuses on more market-creating innovations for the organization's future in Industrial Packaging across the globe."
In addition, he also serves as the Director on the board of Balmer Lawrie – Van Leer Limited, a publicly traded industrial manufacturer. He also serves as a director on the board of Columbus Council for World Affairs which is an education-driven, not-for-profit organization.