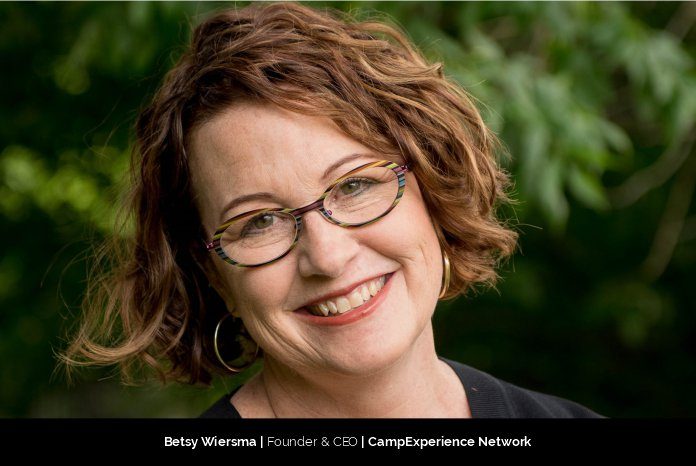 It only takes a good thought to start a revolution that empowers and motivates people to live a better life. Betsy Wiersma was driven by a noble vision to empower women, as a result she built a cohesive network for women to help women. She created The CampExperience™ Network that has been building a diverse network of amazing women. The 15-year-old CampExperience™ Network of 5000+ amazing women has raised over $1 million cash and in-kind support for charities. With a goal to create a network that connects women, gives back, and helps them grow as individuals and in their professional endeavors, Betsy is living her dream through the success of The CampExperience Network.
Betsy Wiersma is not only a serial social entrepreneur but is an artist and a marketing professional who relentlessly continues to grow and develop the company with new ideas.
Betsy has received three ESPRIT event excellence awards and numerous special events industry honors. She is a self-motivated leader and an over-achiever who has come a long way in her professional journey. We are privileged to capture her wonderful journey in this exclusive interview, that inspires many women across the globe to step out and follow their dreams.
Were you always passionate about empowering women? Tell us, what inspired the foundation of CampExperience™ Network?
I moved to Colorado in 1999 and only knew my boyfriend (now husband of 20 years) Doug Lane.  In my past life in Indianapolis, IN, I was involved in many leadership roles and had not only my family but many close women that share my same interests in helping the community.  In Colorado, I needed to find my "tribe" of like-hearted women and replace my "Sisters."   In 2005 we gathered 15 volunteers and asked, "How can women help women" and what is a BIG IDEA for creating a Network to Do Good and Have Fun!?  Now 15 years later the CampExperience™ Network has raised over $1 million cash and in-kind services for more than 50 charities in Colorado and around the world.
Setbacks are a part of every growing business. Tell us about a few roadblocks and learning lessons that helped you and the company grow through the years?
I have created the CampExperience™ Network from scratch with an all-volunteer "army" of a committee, sponsors and speakers.  No one is paid to help us help the world!  And our marketing is grassroots and very word-of-mouth with 90% of new members we call "Camp Sisters" hearing from a friend about our offerings.  We attract the right women who want to grow their business and themselves.  And we do not have any paid advertising.  So, growth is steady and I as the owner have trust and patience in the process.
Explain the products and services of CampExperience™ Network in brief and how do these services help women across the globe?
We are a "Sisterhood By Choice" who Do Good and Have Fun!  That means we offer a year of engagement both (and especially during the COVID crisis) on-line and in-person where we focus on education, inspiration and the connections you need to grow your business and live your best life.  This looks like a monthly in-person networking called Coffee & Conversations, a virtual monthly networking called CampConnections and live and virtual events.  In 2021 we are launching three new Signature Extra Special Events which will add to the fun of our annual Fall Retreat (September 17-19, 2021.)  There is no membership fee for the Network and some events are ticketed.  Everything is underwritten to committed Camp Sponsors who bring their own programs and support our outreach.
How has the client response been since you first started and tell us about your contribution in making CampExperience™ Network a successful company.
I am amazed that we have served over 5000 women who have participated in our major events and Fall Retreat and who have helped us raise the money for many charity causes.  This company has been led and held closely by me and the Founder and in 2021 will be growing with more staff taking leadership roles.  I am still "the mother" of the Network and I am happy to say now I can empower some talented younger staff to showcase their vision and talents.  I also lead our Boost Power Podcast, Sisters Strong podcast and Sisters Stories podcast which are part of our Global Sisterhood Podcast Network.  https://campexperience.com/podcast
What is your vision for the company?
Moving into year 16, we have a new start-up Charity Partner, a focus on "Micro Giving" and the three new events to add to the Fall Retreat.  We are bringing on our first Title Sponsor and are growing the Sponsor Co-op.  I believe we are vibrant and growing to serve even BIGGER.  In 2019 we started the Global Sisterhood Network and went to 3 continents to Do Good and interview women.  We collected socks and donated them in the local communities and brought our Do Good Have Fun good works.  My vision is to travel the world and united great women for Good while doing podcasts and art as connections.  I know our podcasts will grow and we will help other women share their voices with podcasting as part of our Global Sisterhood Podcast Network.  https://campexperience.com/podcast
Share with us your view on the changes you have observed in empowering women.
Women still love the "sisterhood" of other women.  And using unconditional love as a business tool is very different.  We build relationships first and the business follows.  TO add to the mix in November 2020 we have launches The STEW: Smart Talk Exceptional Women, a 200-page, full-color book featuring the stories of 62 women from the CampExperience™ Network. https://campexperience.com/the-stew  I think the podcasts really add to the personality of our organization and allow women to get 24/7 support when they need it the most!
What marked the beginning of your career? What do you regard as your greatest achievements?
I started my first business in 4th grade making macrame bead bracelets and made $40 profit!  I am a serial entrepreneur, and I did 7 internships at Purdue University and helped to start a for-profit corporation.  I love BIG IDEAS and making them happen by gathering women for fun collaboration for helping the world and each other!  I am so honored we have served all over the world and have created over $1 million for Good!
As the creator of CampExperience™ Network, what are your major roles and responsibilities?
My job is the vision and the BIG IDEAS for the Network and creating projects like The STEW book.  I raise the sponsorship money, organize our Charity Partners and our Acts of Kindness efforts and run the Marketing Co-op.
Also tell us what inspires you and your employees to innovate?
I am the queen of BIG FUN and my employees are given the power to share their own gifts.  We really do what we say.  We Do Good and find time for Having FUN as a leadership team.  I also give my team the ownership of their areas so they can do the work in their own style.  I see the results in our fantastic website https://campexperience.com/ totally redone by staff Meagan Osgood and our new 2021 virtual networking format lead by staff Lara Smedley.
How do you manage to maintain a balance in your personal and professional life? What is your message to the aspiring businesswomen?
I always make room for the fun!  This looks like stopping at a Thrift Store on the way back from a business meeting or making a business meeting a walk!  I have an outlet in my art and that is where I find my soul.  Now my prints have become products and my works is also in The STEW book. https://betsywiersma.com/
What does the roadmap of CampExperience™ Network look like, for the future? What are your goals for the next few years and how does CampExperience™ Network plan to extend its services, globally?
Funny, my "roadmap" is more a blank piece of paper!  I really believe the CampExperience™ Network is here to serve the women we find and find us!  We will continue to innovate and inspire!  We will create new products, services and adventures for connecting women.  We will grow our podcasts and the voices of women in the world in the Global Sisterhood Podcast Network.  And we will always Do Good and Have fun!
Betsy's motto is simple, "Do Good and Have Fun". From an entrepreneur to an artist to a successful philanthropist, Betsy Wiersma's does not cease to inspire us to pursue our dreams and while we are at it, she encourages us to enjoy the road to success.
Learn more and get our monthly newsletter:  https://campexperience.com/
Contact:  Betsy@CampExperience.com  303-994-1911