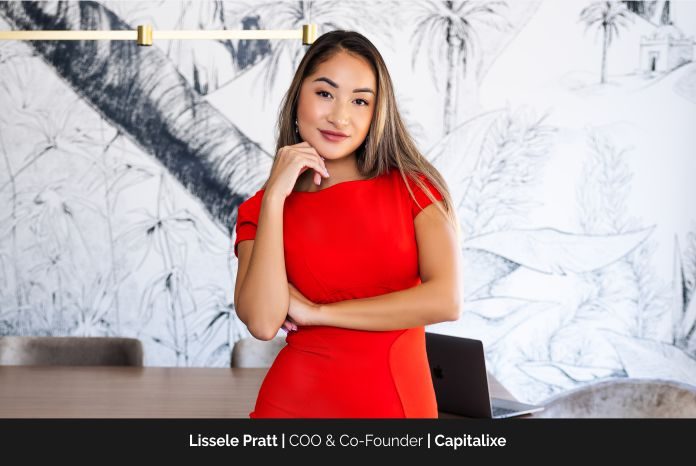 As COO and co-founder of Capitalixe, Lissele Pratt helps companies in medium to high-risk industries obtain the latest financial technology, payment, and banking solutions. With eight years of experience in the financial services industry and a global perspective, Lissele is a recognized thought leader in foreign exchange, payments, and financial technology. Her entrepreneurial spirit took her from crafting her first business at the age of 16 to building a million-dollar fintech consultancy within three years.
"Dream big, make a plan, and take action on it! That's my secret to success"         – Lissele Pratt
Success for this entrepreneurial-minded businesswoman is about having the freedom to live her life on her terms – from being able to travel frequently and have the financial independence to pursue her passions, to building up a successful business that solves problems and supports people in need.
"I'm extremely passionate about helping others achieve success too. Whether in business or personal life, I believe that true success is only achieved when you can create greater opportunities for the people around you," states Lissele. Growing up she didn't really have anyone to support or encourage her, and when she started her entrepreneurial journey, she says that she also felt a lack of support. Thus, Lissele always wanted to be the person that she never had.
Everything you want is just outside your comfort zone
Lissele has always been the type of person who takes risks and likes to challenge herself, so when the opportunity arose to start her own business, she knew it was something that she wanted to pursue.
"I'd already had a few businesses before this, but I never really felt like I was able to reach my full potential. But this time, I was determined to make it work," she states.
Lissele's travels across Asia also helped her decide to take the plunge. Seeing different cultures and experiencing different ways people worked and lived gave her a new perspective. She realized that if I could recreate some of the innovative methods and skills she'd seen, then she could build a successful business from anywhere in the world.
"I always say it's okay to fail as long as you fail forward. Challenges are an inevitable part of life. By pushing through them, you learn valuable lessons and become stronger," says Lissele.
One of the biggest roadblocks she faced was at the beginning of her fintech career. As the only woman on the trading floor, she was met with a lot of resistance. Many people thought she wasn't qualified or didn't belong there – all because of her gender. But despite the obstacles, Lissele persevered and proved them all wrong.
Another challenge was at the start of her business. They happened to lose a big client which accounted for 50% of their revenue. Lissele claims she learned an invaluable lesson from this experience – to always keep your foot on the accelerator, even when success comes, and always be creating your own opportunities.
"Don't wait around for opportunity to come, you have to create your own!"           – Lissele Pratt
Capitalixe – Passionately redefining the fintech industry.
Capitalixe is an innovative fintech consultancy that provides tailored solutions to medium to high-risk industries, allowing them to access reliable payments and banking services. They provide their clients with the solutions they need to grow their businesses and stay competitive in a rapidly changing banking landscape.
They work closely with a global network of banks, payment providers, and crypto solutions to ensure their clients can always access the right services. All this is backed up by their passionate team, who strive each day to ensure underserved businesses are never left behind.
"I've always had a passion for innovation and ensuring that the right people have access to fintech services. At Capitalixe, I strive to ensure that we constantly keep up with the trends, so our clients can stay one step ahead of their competitors," states Lissele.
Lissele also strives to create a culture of integrity and innovation at Capitalixe. They want their team members to feel inspired, appreciated, and challenged. This means providing them with an environment where they can learn, grow, and thrive. It also means creating opportunities for them to get involved in projects they are passionate about, promoting a culture of collaboration and knowledge sharing across the organization.
A successful path into the business world filled with untraditional alleyways
Lissele claims that she didn't particularly have the most traditional path to get to where she is today. Growing up, she moved around a lot, so she never really found her place in school; actually, she hated it with a passion. So, when she dropped out early, Lissele was quite lost and didn't know what career path she wanted to pursue.
Lissele tried her hand at a few different jobs, including working at a gym, being a nursery teacher assistant, and even working at a bar. But eventually, she decided to move to work in the city. After months of searching, she finally found an entry-level role working as a forex broker at 18. That's when her career in fintech began, and things have gone from strength to strength ever since.
"My career in fintech began with a forex broker role, and I quickly rose through the ranks, eventually becoming a successful businesswoman. The best recognition I've had was that hard work could pay off no matter where you come from or your background. It was even more exciting to find out that it's harder to make it onto the Forbes 30 Under 30 list than it is to get into Harvard or Stanford – that was an amazing feeling!" Lissele exclaims proudly.
Responsibilities as the Co-Founder of Capitalixe
As the Co-Founder of Capitalixe, Lissele has a range of responsibilities. On a typical day, she oversees the operations side of the business, looking after their clients and ensuring they're getting the best service possible. She is also responsible for managing the team and ensuring everyone works hard to achieve their company goals. Lissele is also constantly strategizing and looking for new ways to grow the business.
"In a word, I would define myself as a "strategist." I believe it's important to always have a plan and look ahead to succeed. That's why I'm always thinking of new strategies to help Capitalixe reach its goals and stay ahead of the curve," she says. Lissele believes that it's all about being prepared for whatever comes one's way, and she always strives to do that.
"Alone we can do so little; together we can do so much"
Lissele states that running a business is like having a baby – in reality, there is no "true balance" – You're always thinking about your baby and are there when it needs you. However, Lissele does try to set some boundaries to maintain a balance. She has a rule not to check emails when she's about to sleep or when she is having quality time with family and friends.
Lissele says that she is lucky to be surrounded by a passionate and talented team. Keeping them motivated is something that she takes very seriously. At Capitalixe they have monthly 1-on-1'ss. They do regular training sessions in different areas, share their goals, hold each other accountable, and celebrate each other's accomplishments – no matter how small. This helps keep everyone motivated and engaged, which leads to better work and more success for us all!
The motto at Capitalixe is – "Teamwork makes the dream work."
Vision for a bright future in business and innovation
Lissele's vision for the future of Capitalixe is to continue growing and expanding its range of services while staying at the forefront of innovation. She believes that at Capitalixe, they truly have the potential to become one of the most trusted financial services companies in the world, and she is committed to making that happen. "The sky is truly the limit," she states.
Lissele's personal goal as a female leader is to continue to share her story and help others see they can achieve anything they put their minds to. She trusts that when women support each other, incredible things will happen.
As an inspiring businesswoman, Lissele's message to aspiring businesswomen is – to stay focused on your goals, never give up and remember that anything is possible.