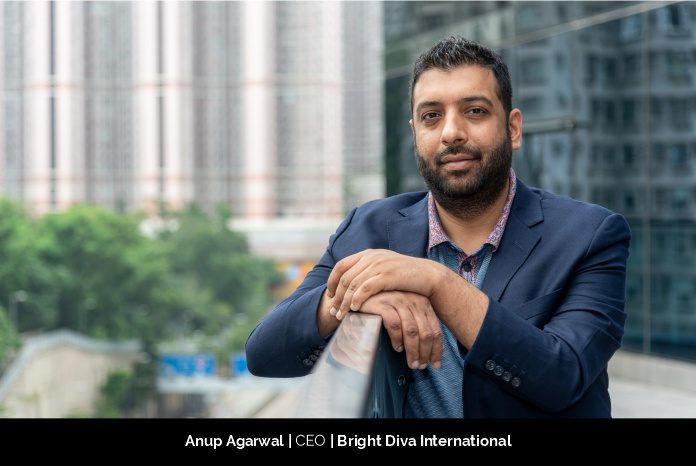 Bright Diva is a well-established and fastest-growing distributor in cosmetics, beauty care, personal care, perfumes and FMCG products in the global market. Founded by Anup Agarwal, Deepak Agrawal and Xu Chun He, their mission is to provide consumers with precisely based, high-quality products and treatments to satisfy their head-to-toe beauty needs.
A result-oriented distributor of international beauty brands
Bright Diva endeavors to become the most reliable and considerate distributor for cosmetics brands in their territories. They constantly strive to choose the best products and brands which possess unique positioning in the market. They are incredibly agile in spotting newer trends in the beauty industry which helped them become the leading distributor of K-Beauty brands in Hong Kong in seven years since the establishment of the division in 2015.
They possess deep knowledge of various distribution channels and it permits them to choose the most appropriate channel for the brand, which helps discover the true business potential within the region. The combined experience of their team in market awareness and professional expertise adds value to any brand seeking to foray or grow into these markets.
Market adaptability
Pandemic has adversely affected human lives and businesses worldwide. Staying agile, responding to the market needs and approaching the unforeseen obstacles through a new approach has kept the industry afloat. Anup Agarwal, co-founder of Bright Diva International, believes that the FMCG industry and Bright Diva will be expanding faster as the global lockdown has brought about digitization to the last remnants of traditional business aspects. Remote teams, online conferences and digital expos are a new norm.
A Distinctive Business Model
Bright Diva offers bespoke and curated solutions to partners, customers, vendors and even employees based on their needs. They present an environment of integrity and inclusivity which helps strengthen relationships with their esteemed partners and employees.
Bright Diva's uniqueness lies in extending end-to-end solutions to the business partners and covering various aspects of the business. These business aspects include Market Planning, Sales and Marketing, Channel Mapping, Market Insights and Creative Logistical Solutions. Ultimately, distribution is all about synchronizing the objective and vision of brand owners with retailers and meeting the requirements of end-users.
Electronic business has truly helped Bright Diva to recognize the significance of inventory management and deliveries. This makes its business model distinctive as it assures customers with ready stock and same-day deliveries.
A Rapid Ascent
Bright Diva has tasted success within just two years of operation by becoming one of the leading distributors of K-Beauty Brands. They have succeeded in gaining a 15% market share of K-Beauty Brands in Hong Kong in 2019. They have rapidly expanded their operations to nine countries, supported by 250 highly energetic and result-oriented employees.
Their principals have always been incredibly pleased with Bright Diva because they endeavor to add value to the distribution channels by offering world-class marketing solutions which enhance the brand's image and increase shareholders' equity.
Trust, Transparency and Teamwork
Integrity and Innovation are the key pillars to building a successful organization and Bright Diva strives to foster a culture of Integrity and Innovation. They achieve this through:
Interactive and discussion-oriented working environment
Celebrating 'New Ideas'
Employee empowerment which gives them the freedom to lead multiple functions and a sense of ownership.
The core values on which Bright Diva functions are Excellence, Innovation, Customer Focus, Integrity, Openness and being Socially Responsible. 'Trust, Transparency and Teamwork' are their three critical tenets.
Harnessing Technology to Stay Germane and Competitive 
Traditional business models are increasingly turning towards potentially disruptive digital technologies, such as AI and big data, which are becoming the driving force behind the success of online business giants and the new crops of start-ups. Anup realizes that it is incumbent upon him to recognize the need to embrace digitization and be technologically sound. However, there are also some challenges in recruiting the right talent, making the right digital endeavor with existing business models, systems and processes. These challenges consequently slow down the move to AI and big data. Anup also feels that a leader must be flexible and at the forefront of examining the practicality and feasibility of disruptive technologies within the existing business model and engage the best talents, technologies and processes to stay competitive.
The Bright Diva Pathway
There has been a lot of recognition that Bright Diva has already received including the latest one from Alibaba (Tmall Global). Of all the suppliers of Alibaba direct buying model, only eight were recognized and Bright Diva was proudly one of them.
Even so, Anup considers the client feedback received after supplying masks to key customers in Hong Kong as the best recognition. During the peak of Covid 19, there was a huge shortage of masks in Hong Kong. Bright Diva sourced close to half a million masks using their network and supplied them to key customers who agreed to sell out to consumers at very low retail pricing. This increased mask availability to consumers at a time of no supply. Those customers appreciated the help and community service offered by Bright Diva. Anup is immensely proud of this achievement.
An Accessible Leader
At Bright Diva International, Anup has the following responsibilities:
Defining and interpreting new opportunities- Delivering sustainable growth every year by expanding the product offering or foraying into newer territories
Shaping the values and standards of the organization
Balancing sufficient outcome in the present with necessary focus on the future
Nurturing and grooming future-leaders
Encouraging the employees into entrepreneurship.
Anup believes in creating an environment where a leader is highly accessible by employees, colleagues, and partners. Innovative leaders initiate a warm and collaborative relationship with employees to ensure a smooth road to the targeted goals.
As a leader, he continuously strives to motivate his employees. He makes sure that ideas and goals are conveyed to the team with enthusiasm and conviction. He understands the power of persuasion but is also aware that ideas should be accepted and not enforced. He concedes that the most innovative solutions and ideas bubble up from below. Therefore, he encourages upward communication and promotes ideas to permeate from all team members.
T.O.P. Qualities
Anup has been inspired by a lot of people in his life. There are two important lessons he has learned over the years- 'believe in yourself' and 'respect every work'. He has an acronym for the three basic qualities, that he thinks are essential to grow in life – 'Trust yourself, Ownership of responsibility and Passion in your work (T.O.P.).'
Anup does not believe in sitting back and resting on their many laurels but strongly feels that Bright Diva has a lot to achieve. His vision is to work towards the recognition of Bright Diva as the best distribution company in Asia and maybe globally within the FMCG and fashion and beauty industry. Bright Diva aspires to be the most preferred and strategic partner for great brands wanting to have their footprints within their respective countries. Even though they face many challenges, they are very confident that they will be able to achieve these goals