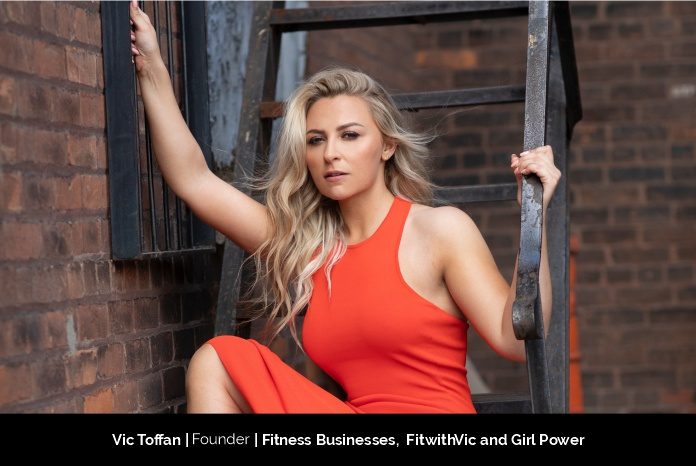 Vic is the CEO of an innovative Dental Supply and Technology Company, a Primary Care Paramedic in Southwestern Ontario founded two of her own Fitness Businesses, FitwithVic and Girl Power.
"I am ambitious, hardworking, positive and passionate about everything that I do. I sincerely love to help others reach their fitness goals, through self-development and online coaching and I am determined to help as many women as possible feel confident and beautiful in their own skin, while we achieve their dream physiques."
Recently, Vic founded Girl Power, a self-development and fitness company for pre-teens and teenage girls.
Girl Power is a virtual Program for pre-teens and teens that inspires girls to feel beautiful and confident in their own skin, and helps them recognize that they have the ability to achieve anything they set their mind to. It is a 30 day program that consists of virtual self-development lessons, live fitness classes, and wellness discussions.
"It is fulfilling to me to inspire the younger generation of girls to grow up feeling confident, self-assured and happy with who they are – as they are," Vic stated.
Girl Power was created with the idea of promoting the power of positive daily habits, self-discipline, and continual self-development during some of the most influential years of a pre-teen and teenage girl's life. With Girl Power, I feel grateful to have the opportunity to positively impact the lives of many girls, and to help them feel inspired to achieve their biggest dreams while feeling confident enough in themselves to do so.
A Powerhouse Herself
"I am the owner and operator of FitwithVic, where I take on a specific amount of fitness and lifestyle clients at a time, to ensure premium online coaching. In addition to this, I founded and operate Girl Power."
In addition to her fitness companies, Vic is the CEO of an innovative Dental Supply and Technology Company, full time. "I have been in the Dental Industry for 14 years, and the technology Industry since 2018. I am passionate about improving healthcare through technology, and with my experience have the opportunity to do so."
Lastly, Vic works as a Primary Care Paramedic in Southwestern Ontario. "It is fulfilling to help others during the most critical stages or events of their lives, and to have the opportunity to make a positive lasting impact for my patients and their families."
Positive Energy and a Strong Mindset
Through evidence-based methods, I create custom plans for my FitwithVic Online Fitness clients to lose weight and to sustain the weight-loss long term. I specifically work with
women between the ages of 25 and 40 who want to sculpt a fit and feminine physique through resistance training. We fuel their success by building strong mindsets that improve their adherence and transfer over to successfully improve many other areas of their lives.
"My clients come to me with specific physique goals. We work together to sculpt their bodies, increasing muscle mass in specific areas, and decreasing body fat simultaneously, so that they can achieve their specific goals." Vic puts a strong emphasis on resistance training and education to teach her clients how to lift weights properly, so that they can increase muscle mass, increase their basal metabolic rate and become less reliant on cardio for physique changes. "Through prioritizing resistance training, my clients feel stronger and achieve a toned and sculpted physique."
In addition to their physique goals Vic works with clients to increase their basal metabolic rate while decreasing their body fat through a reverse diet.
"This is a method used with clients who have chronically dieted, or find themselves
cardio-dependent to maintain their BMR. It is always my goal to maintain a high caloric rate and a low expenditure for my clients, while seeing progress. This method helps to support healthy metabolic and endocrine systems, and a more balanced, sustainable lifestyle long term."
Vic is hardworking and dedicated to making a lasting positive impact on the world, and people around her. She is known for the positive energy she brings to a room, and her consistent hard-work and execution.
"I am passionate about contributing to the digitization of healthcare solutions, as well as providing a positive impact to the clients and people that I work with or care for," said Vic. "I believe that if we have the opportunity to uplift and support other women, we should, and I will continue to inspire the women and girls (through Girl Power and FitwithVic) that I work with, to help them recognize their own strengths, beauty and to amplify their confidence.