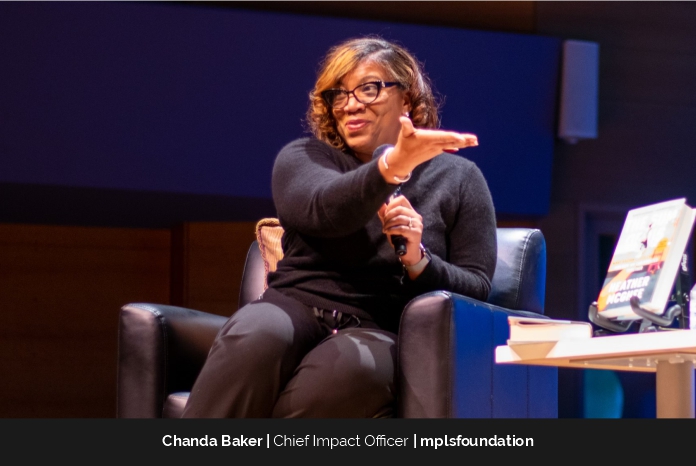 Chanda Smith Baker has more than 20 years of experience working in, for, and with underestimated communities. Before joining the Minneapolis Foundation in 2017, she spent 17 years at Pillsbury United Communities, culminating her career there as president and CEO. She has served on numerous nonprofit and philanthropic boards, including as a trustee at the Women's Foundation of Minnesota and a board member for Common Bond Communities. Her civic leadership has been recognized with several awards and commendations. As the Chief Impact Officer and Senior Vice President of Minneapolis Foundation, Chanda oversees the foundation's grantmaking programs and provides strategic direction to community initiatives and partnerships. She is also the founder and podcast host of Conversations with Chanda.
Challenges are part of leadership, growth, and success.
Chanda strongly believes that success is the outcome of hard and consistent work, yielding results, over time. She has spent her career focused on creating the conditions for others to succeed, whether as the President and CEO of Pillsbury United Communities or in her current role as Chief Impact Officer at the Minneapolis Foundation. "I am inspired by seeing companies, communities, and people succeed," she states.
Chanda claims that her greatest challenges have been the moments where she is navigating personal circumstances while also being in high demand at work. When there's this confluence of personal and work responsibilities, it can be very challenging to figure out how to balance those demands, however, it has been in those moments that she has emerged with greater leadership skills.
Minneapolis Foundation and its services
The Minneapolis Foundation drives collective action to realize strong, vibrant communities. They cultivate generosity by acting on the greatest civic, social, and economic needs – partnering with nonprofits, facilitating grantmaking, driving research and advocacy, and providing services to donors seeking to make a difference in their communities. Chanda notes that the Minneapolis Foundation exists to make an impact in communities, and so the innovation has real-world implications.
One way the Minneapolis Foundation stays abreast is through the podcast that Chanda hosts, where they bring on guests who are experts in areas such as diversity, equity, and inclusion, inclusive business strategies as well as social issues facing different communities. "This strategy allows us to keep up with the latest research and listen to diverse points of view as a regular practice," says Chanda.
Leading with a sense of integrity and innovation
"You have to *be* a leader with integrity. You need to create the conditions for success to happen," Chanda states. Integrity and innovation are both built on the foundation of trust. She notes that your team will not tell you the truth if they're afraid of your response, and that can lead to a lack of integrity and opportunity for your business. She personally takes inspiration on how to be an exclusive leader from this quote by John Wooden – The most powerful leadership tool you have is your own personal example.
In 2021, Chanda received the Mary Lee Dayton Catalyst for Change award. The Women's Foundation of Minnesota presents this award annually to recognize philanthropists who use their resources and leadership to advance gender and racial equity in Minnesota.
Chanda's professional journey as a dynamic and inspiring leader
"I have always been clear that I wanted to be a difference-maker in organizations that are committed to making a difference in the community. I have been fortunate to be able to fulfill that vocation in the organizations where I have worked, the roles I have held, and the boards I have served on," says Chanda. Throughout her career, she has provided strategic leadership locally and nationally in a variety of ways including serving on numerous boards, task forces, and committees.
Chanda meets every day with people who are committed to making a difference in their community, whether they are donors, corporate, social sector, or public sector leaders. She states that it is very rewarding to be in these strategic conversations and opportunities that improve business impact and community conditions. She gets to do this while working with an incredible team of people.
Plans for the future of the foundation while influencing change in philanthropy.
Chanda believes that a community foundation should be accessible and available to anyone who wants to engage in philanthropy and difference-making in their community. "In order to be that we must always push to diversify our ideas and our approaches and to be bold about the solutions that we offer,' she says.
One of Chanda's biggest projects over the past few years has been helping to guide the Minneapolis Foundation through the creation of its strategic framework. This framework represents a significant shift in how they do their work, calling for them to listen more closely to the communities they serve, and broaden beyond their traditional role as a grant maker and invest in communities through other methods such as advocacy and convening. "It enables us to move forward with boldness, optimism, and responsiveness to the people who are most impacted by our community's biggest challenges. Now that the framework is launched, my work is focused on implementing it in every aspect of my team's work," she explains.
Either you run the day, or the day runs you.
Chanda states that it is tricky to maintain a work-life balance and it is an ongoing intentional decision to lead a full and balanced life by design. She prides herself on planning her time off allowing for focused time alone, as well as with family and friends. She is a big proponent of "work hard, play hard."
"In order to keep your employees motivated, you need to know your employees. You must spend time with people and know what motivates them – not what you want them to be motivated by. You must build joy into the work and create ways for people to shine," states Chanda.
Her personal goal is to continue to lead forward, find new boundaries, and bust through ceilings that haven't been broken. Chanda is consistently seeking opportunities for growth and ways to lend her leadership skills, specifically in board governance.
Advising aspiring businesswomen Chanda says, "it's important to spend time knowing who you are as a leader, invest in your own leadership development, and pay attention to what's not said as much as what's said. Trust your instincts. Be visible and Dream Big."