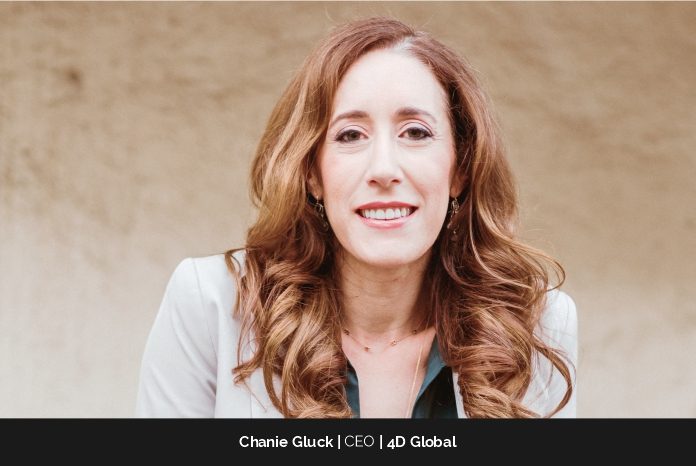 Chanie Gluck, the CEO of 4D Global is a growth-oriented entrepreneur and healthcare leader who comes from a family of entrepreneurs and considers herself to be blessed for the same. She comes from a family of entrepeners and has been watching her family members grow their businesses since she was a child. Her father entered entrepreneurship at a later point in his life when Chanie was a teenager.
"I was able to observe the difference between entrepeners that own a job and those that create a scaleable business. I decided to create a scalable organization," Chanie states. She had the idea to start her billing company at age 18. She entered the healthcare industry as her first job by joining a medical practice in Brooklyn, NY as a medical billing specialist directly after high school. At the age of 24, she started her own healthcare billing and coding business.
A brief about 4D Global and Chanie's leadership
4D Global is an Indian-based medical billing staffing company servicing U.S. medical billing companies, healthcare software companies, hospitals and medical centers. They help Healthcare Companies scale their business easily and increase profitability by leveraging a global workforce. They apply their medical billing expertise and exceed clients' expectations in delivery, performance and accuracy. Chanie launched 4D in 2015 and since then the business has grown tremendously. Today, she has over 400 full-time employees.
"I vowed to treat her staff with respect, we would focus on company culture and make it a happy and enjoyable place to work. We would celebrate birthdays, weddings, births and holidays," she notes. Chanie aims for 4D Global to be the place where Indians will want to work; the good ones will stay and advance within the company, and they provide great opportunities for growth and advancement. Chanie proudly states that they have been able to do all of that and more.
Roadblocks help you learn valuable lessons to grow and become successful.
Chanie's definition of success is having the confidence, freedom, and capability to make decisions independent of what others are saying and doing. Her success and the success of her team are determined by her ability to trust herself and empower her team to make the best decisions that are rooted in the company's core values.
She also believes that it is not the challenge itself that makes you stronger. "I've learned that my response to those challenges – how clearly I think, how composed I am when I respond and being able to see the glass half full – is what is most critical," she says.
One of the biggest challenges of Chanie's professional life was when she tried to start her first BPO in India. She recruited a few employees and asked a colleague that had an office in Chennai to rent their office space. She hired the people and went back to the US. The office owner handed her a ridiculous contract that her attorney advised her not to sign. He then took her people and started his own BPO with her core group of employees. "I was too trusting and took his word instead of having a signed agreement. The experience taught me to get everything in writing before doing business with anyone," she states.
Chanie's contribution in redefining the healthcare industry.
Chanie claims that the way to redefine the healthcare industry is too de-stigmatize offshoring and show the human side of a global workforce.
The culture in 4D Global's Indian office is just as strong, if not stronger, as their culture in the US. By creating a culture where every person gets a say, where their employees can build careers, and introducing a democratic working style in predominantly autocratic work standards in India, they aim to plant seeds of integrity and innovation.
"I am always delighted with the innovative methods and diligent studying our team does to make an impact for our clients. We have innovation days where employees are encouraged to present their best ideas. Ideas are rewarded and encouraged," explains Chanie.
Chanie's journey towards becoming a successful healthcare leader.
The beginning of Chanie's career was marked by a strong desire to lead a lifestyle of freedom and impact. She notes three important professional milestones before her time at 4D Global:
From 18-24 years old I became a medical billing specialist directly out of high school. I focused on specialty billing including Cardiology, Neurology, GI, Dermatology, Podiatry, Hematology/Oncology, Gynecology, Pulmonary and Internal Medicine. I learned everything I could learn about the medical billing industry.
When I was 24, I founded 4D Medical a Medical Billing company I ran and owned the company for 13 years. I sold 4D Medical and founded 4D Global in 2015.
In 2009 I was a Managing Director for a medical billing division within a larger company. My primary responsibility was to set up and establish a BPO (Business Process Outsourcing) in Chennai, India, which I completed in a few months. During that experience, I fell for the people and culture in Chennai.
When Chanie started 4D Global, she shared that she wanted to build a healthcare company that was worthy of the Inc 5000 list. This summer they learned that they ranked in the list, making them the 72nd largest business in Arizona and number 125 in healthcare services. "This is a journey partially realized and the most rewarding recognition for me and the whole 4D Global team," she exclaims.
Core responsibilities as the Founder and CEO of 4D Global
"My responsibilities as the founder and CEO of 4D Global are twofold: create a culture that can deliver high-quality work consistently for our clients and ensure a profitability model that propels our Great Place to Work culture," explains Chanie.
She further states that the beauty of her role is that there is not just one regular day at work. She could be attending conferences and industry events one week, visiting the Chennai office the next, interviewing people on her Growing Global and Leaders in Medical Billing Podcast and networking with other thought leaders in the space in between. Chanie loves the variety in her work and enjoys hiring others to fill her blind spots, and weaknesses, or otherwise, take her out of her zone of genius. She reads a ton, listens to podcasts, hosts her own podcasts and is constantly working on herself to be a better person and Leader.
Staying motivated and maintaining a healthy work-life balance
Chanie is happily married and has four children, so balance is something she strives for each day. The way she maintains a healthy balance is by taking care of herself. When she feels run down, she rests. When she needs a break, she works out, listens to music or gets together with friends. "When I care for myself, I can care for my immediate family and those entrusted to my care in a business setting," she states.
Chanie is a planner and schedules everything on her calendar, even the time she spends with her kids is on her calendar. This way she can make sure that she doesn't neglect the most important relationships in her life.
The way she keeps everyone motivated to deliver the highest quality services is by treating them with care and respect. "I listen not just to hear, but to understand, then respond in kind. I also listen to myself and assess my needs to make sure I stay connected to what is most important," she says.
Plans for the future success of 4D Global.
The plan for 4D Global is to build client relationships for decades. They will expand their impact and humanize the dedicated and highly qualified team members in India. Their goal is to provide jobs to 10,000 employees in India.
Chanie's personal goal as a healthcare leader is to advocate for their offshored resources and deliver a working environment that is fair and invigorating to their staff and thus invigorating and rewarding to their clients.
The message Chanie wishes to relay to aspiring business leaders is this: the answer is within you. Simply embrace a growth mindset, take risks, treat your people well and keep going. There will always be challenges and how you deal with those challenges will determine your success.