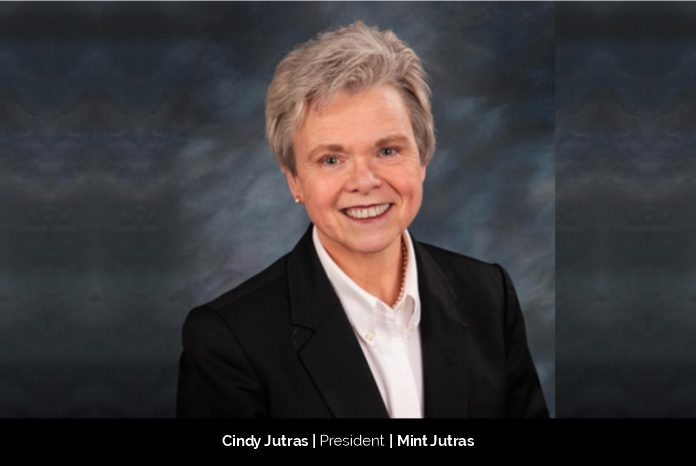 We are often caught in awe of inspiring personalities and leaders who have stepped above the conventional and achieved something that sets them apart. Another phenomenal example of this is the exceptional journey of a woman who dared to go against the odds and pursue her dreams despite the society norms. Cindy Jutras, CEO of Mint Jutras is a global expert today, who is recognized as a powerful leader in the field of technology. Cindy is backed with years of industrial experience that makes her journey an inspiration. Choosing a career in IT back then, was a bold step for a woman and Cindy took that step with an enduring spirit. We are truly delighted to share the remarkable story of Cindy Jutras and her company that defines her success.
The Founding of Mint Jutras
We are all familiar with the opportunities and exposure women had back in time and we have seen that change over the years. However, Cindy, began her own small wave of revolution back then by choosing a career in IT (formerly known as data processing), in a time where most women sought careers as either nurses or teachers. Cindy knew she wanted to do something different from the crowd, and she did. She began her career as a programmer/analyst in a manufacturing company. Within six months she was heading data processing. Subsequently, two years later she began working for a software company and spent the next 30 years working for companies that produced and sold enterprise applications. After 14 different acquisitions (sometimes as the acquirer, sometimes the acquired) Cindy had done just about everything she ever wanted to do in software, from designing and writing code, to product management, marketing, pre-sales and consulting and a lot of things she never wanted to do (pricing and licensing and alliance management). That moment was when Cindy became an industry analyst, covering the software she once designed, wrote, marketed and managed. Her experience, knowledge and prudent decisions led to the founding of Mint Jutras, that specializes in analyzing and communicating the business value enterprise applications bring to the enterprise.
The Products and Services of Mint Jutras
Mint Jutras is an independent research and advisory firm that specializes in analyzing the business impact of enterprise applications. Combining deep and broad domain expertise, years of technology experience and fresh primary research, they offer actionable insights on how to make software investments pay dividends. Mint Jutras delivers this insight through content such as published reports, blog posts, speaking engagements and advisory services. They write and speak to business decision-makers; their customers are the solution providers of enterprise applications.
Mint Jutras conducts primary research. Through online electronic surveys, they follow industry trends and benchmark corporate performance – potential and realized – achieved through investments in enterprise applications. Customizable tools, benchmarks, data and analysis combine to provide profiles, practices, strategies, investments and results. Custom surveys can add depth and focus to the data they routinely collect. They assist solution providers in making business and product decisions that maximize the return on their investments in product and marketing and helps them communicate the potential business benefits of their enterprise business systems.
With deep domain expertise and over40 years of experience in designing, developing, marketing and analyzing the business benefits these applications bring, these are just a few ways Mint Jutras is uniquely qualified to assist.
The Distinguishing Factor of an Efficient Leader
At the very core of enterprise applications is Enterprise Resource Planning (ERP) and nobody knows ERP better than Cindy Jutras of Mint Jutras. Yet the expanding role of enterprise applications over the past 25 years has led to the extension of ERP, penetrating more broadly and deeply throughout the enterprise, touching virtually every aspect of the business. Leveraging these solutions to their full extent is key to keeping any business in "mint condition." These factors distinguish Mint Jutras from the lot.
Cindy is a self-motivated leader. "Some people would call me driven. But I am also what most people today would call a "maker." I derive great enjoyment and satisfaction out of producing something. In my professional life, this includes my surveys, writing and speaking, as well as mentoring younger professionals. At the end of the day, I love seeing something tangible come from my efforts." She shares.
A Leader who Redefined Business
Embarking on a sole journey and founding Mint Jutras was a bold venture that Cindy undertook. Cindy had years of industrial knowledge backing her, however, when she began, she had no supporting infrastructure – no IT team, no legal team, no one marketing her or her services, no one selling them and no paycheck. "I was competing with every other independent analyst, as well as the large firms like Gartner, Forrester and IDC, and I was operating under a non-compete agreement with my prior firm. I needed to define my own unique business model and differentiate myself in a crowded market – fast!"
Cindy worked hard with passion and dedication to succeed in her field. Major achievements include, tripling the company revenue over the past 8 years and having real influence in the market. However, the most important achievement is the market acceptance of those signature products that she has developed, and the strengthening of the reputation of both Mint Jutras as a firm, and Cindy Jutras as an analyst.
Cindy has always been on the go to innovate and keep doing her job with passion. At this point in time, her goal is simply to continue to deliver the kind of unique value that has become the hallmark of Mint Jutras. "In life, my goal is to leave the world a better place, whether that means adding beauty (I am also a craftswoman, an artist and a gardener), being a role model, influencing younger people to recognize and realize their full potential, or giving back to the community."
A leader of caliber, strength and potential, Cindy has outshone in every aspect. A few words of wisdom from her to every potential entrepreneur who carries the passion to make a difference: "Clearly define your business, develop a business model and evolve with it. Be willing and able to take risks. You no longer get paid just for showing up."